Traveling to Mexico during the Day of the Dead celebration is one of the main reasons people visit Mexico each year. This traditional Mexican holiday is known in Spanish as 'Día de Los Muertos' and happens every year on November 2.
Mexicans believe the souls of their deceased relatives come back to visit their family members on this special day. For this reason, they visit graveyards and set up altars with traditional foods, drinks, and family photos.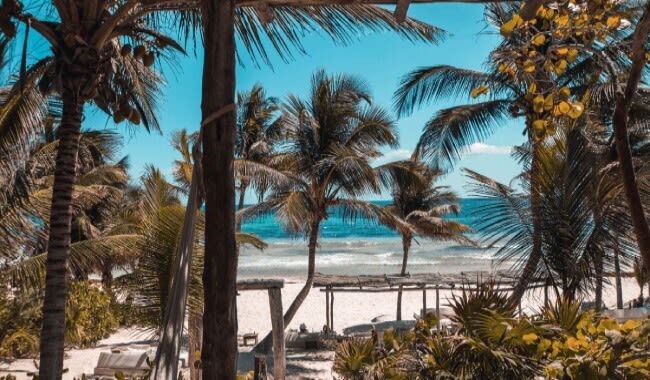 Before you visit Mexico and indulge in some 'pan de muerto', experience the unique Mexican traditions, and celebrate the Day of the Dead festivities, you need to know a few things first before packing. Keep reading below to ensure you're well prepared and check the necessary visa or document advice before traveling to Mexico.
Depending on your nationality, you may need what is referred to as the Mexico Tourist Visa, the Tourist Card Air, or the Tourist Card Land for a smooth entry to Mexico. Find out all you need to know here.
Day of the Dead history and meaning
Contrary to what the name inspires, the Day of the Dead is quite the opposite of morbid or sad; it's a celebration of life and honor. The deceased family members or loved ones are celebrated and honored in a colorful and joyous way in Mexico.
In traditional Mexican culture, the afterlife is regarded as an essential part of beliefs. In pre-Hispanic Latin America, the lost loved ones were buried very close to or underneath family homes. This way, they could maintain ties with the dead, believed to still exist on a different plane.
It is believed that on Día de Los Muertos, the spirits of the dead return to celebrate with the living family members. It is believed that the spirits of babies and deceased children (the little angels) arrive on October 31st at midnight, spend 24 hours with their families, and leave before adult spirits arrive the following day.
Because Souls Day, or Saints Day, as it may also be known, is such a monumental and important part of Mexican heritage, it is recognized by UNESCO as part of the cultural heritage of humanity since 2008.
When do the Day of the Dead and All Souls Day celebrations take place?
Day of the Dead celebrations are held each year on November 2. Leading up to the holiday, on October 31st All Hallows Eve is celebrated, and on November 1st, the Day of the Children, or in Spanish 'el Día de Los Inocentes' is celebrated.
Much of the Día de Los Muertos traditions are a family affair. However, if you are visiting Mexico City, you'll be able to participate in various modern Day of the Dead activities, including walking through candlelit cemeteries or more significant events, like a Day of the Dead parade or concert in the streets.
Enormous altars are put up in Mexico City's Zócalo (central plaza), and unique nighttime boat rides along old canals with special Day of the Dead performances take place. While you're there, why not try some Pan de Muerto, one of the favorite foods, or paint your face just like one of the sugar skulls?
How do Mexicans celebrate the Day of the Dead?
The All Souls Day celebrations happen mainly at graveyards, where Mexicans decorate the tombstones or altars of their loved ones with sugar skulls and other objects, from toys for children to alcohol for adults. Also, locals often bring scented flowers and play music that are said to guide the dead back to their homes.
During the weeks leading up to Día de Muertos, it is tradition to bake pan de muerto (Spanish for 'bread of the dead'), a type of sweet bread traditionally baked in Mexico. The bread is used to adorn the altars of the loved ones graves, and offered in baskets to their spirits as gifts which are said to nourish the dead when they return to the land of the living.
What do the skulls on Day of the Dead mean?
The skulls are what made this Mexican Holiday famous, an image well known worldwide, but what do they mean during this Mexican holiday? Also referred to as 'sugar skulls' these bright ornaments represent departed loved ones. Each elegant skull represents a person and is usually displayed on an altar or gravestone as an offering to the deceased's spirit.
The sugar skulls are often intricately painted in bright colors with the name of the dead, representing both death and rebirth, a symbol of the afterlife.
Local Mexican cultures strongly believe in the importance of life after death, and only by accepting death and celebrating those who have passed can we become closer to life.
Day of the Dead costumes
If you have ever googled 'Day of the Dead' you will have seen images of women adorned in traditional Mexican dresses, painted faces, and big flower crowns. Men, women, and children paint their faces to resemble sugar skulls, and, mimicking the Calavera Catrina, they don bright and colorful suits and fancy dresses.
People usually dress up as part of the parades and parties, where they sing, dance, and make offerings to honor their deceased loved ones.
Day of the Dead Flowers meaning
In some villages, flower petals are laid on paths from the cemetery to family homes, so that the spirits can find their way back. Traditionally, bright orange and yellow flowers like Marigolds were used, because the strong fragrance helps guide the souls back home.
The bright colors of the flowers definitely add to the celebrations! In general, the fragile nature of flowers is also supposed to represent the fragility of life.
Traditional decorations for the Day of the Dead
Besides the colorful Marigold flowers described above, it is believed that every altar should include something to represent the four elements: water, wind, earth, and fire. Water is left so the spirits can quench their thirst, traditional paper banners represent the wind, earth is represented by food such as the traditional pan de muerto, and candles represent fire.
Depending on the different locations throughout Mexico, the Day of the Dead is celebrated in different ways. Festivities are more colorful in the south of Mexico, particularly in Michoacán, Oaxaca, and Chiapas.
Traveling to Mexico for the Day of the Dead celebrations
As part of planning your trip, you will need to check if any entry documents are required. Mexican authorities request that each visitor obtains a Tourist Card - Air or Land before entering Mexico. Although most believe this document is a visa, it's actually only a travel authorization.
Our team can support you in obtaining these documents for your trip to Mexico for the Day of the Dead.
What is the Tourist Card - Air or Land?
The Mexico Tourist Card Air or Land, is a travel document required for most visitors to enter Mexico for tourist purposes. Although it is popularly known as a tourist visa, the Tourist Card is not officially a Mexican visa and does not replace one in any way. If nationals of your country require a visa, you will need to apply for your Mexico Visa separately, and you'll be asked to present it on arrival.
You must apply for the Mexico Tourist Card (Air) if you plan to arrive in Mexico by air. Apply for the Mexico Tourist Card (Land) if you plan to enter Mexico by crossing one of its many land borders.
The process to apply for your Mexican Tourist Card with iVisa is simple, completely online, and will only take 10 minutes.
How long is the Tourist Card valid?
The Mexico Tourist Card Land and Air allow a maximum stay of 180 days in Total.
However, immigration officials at the border are at their discretion to give foreign nationals a Mexico Tourist Card for 30, 60, or 90 days as opposed to the full 180. You must leave the country before the Mexico Tourist Card expires.
The Mexico Tourist Card is valid for a Single Entry only.
What do I need to apply for my Mexico Tourist Card with iVisa.com?
If you want to visit Mexico city or the rest of the country to celebrate the Dia de Los Muertos festival, you will need first to check if you are eligible to apply for the Mexico tourist Card. You can do this using our convenient Visa Checker tool.
Travel requirements and required documents to apply
Here is what foreign citizens need in order to fill out the Mexico Tourist Card successfully online and keep in mind before visiting Mexico:
Contact information and passport information.

Valid passport - Travelers who want to visit Mexico must have a valid passport for the duration of their visit to Mexico or at least six months. This must be the same passport used to fill out the Tourist Card form.

Flight details.

Full name of the hotel or address where you are staying in Mexico.

Valid email address to send you the Mexico Tourist Card.

Credit or debit card to pay.

A printer to print out the tourist card.

If you are flying to Los Cabos International Airport, please print your Tourist Card (Air) (double-sided) on one piece of paper.

Make sure the Mexican officials stamp your tourist card when you enter the country.

You should write down your FMM number in case it is lost or stolen.

If you are traveling from a country that requires a visa to Mexico, make sure you have your Mexico visitor visa approved and printed. Mexican officials will check the Mexican visa document and the Mexico Tourist Card.
Steps to applym for the Mexico Tourist Card
You can apply for a Mexico Tourist Card (Land or Air) within 30 days of your arrival in Mexico. The application process is quick and easy to complete:
Step 1- apply online, - Fill out all the required information, and double-check to make sure everything correctly entered.

Step 2 - Choose your preferred processing option and pay the fee accordingly with your credit or debit card.

Step 3 - Sit back and wait for your Mexican Tourist Card to arrive by email. Download and print the card before you go.
When you arrive in Mexico, you must present your printed Tourist Card and passport. The Immigration Officer will check your details with the information in the system and stamp your card.
Costs and processing times of the Mexico Tourist Card
iVisa.com provides three processing options to apply for the Mexico Tourist Card online:
Mexico Tourist Card Air

Standard Processing - 24 hours - USD $25.99.

Rush Processing - 4 hours - USD $46.49.

Super Rush processing - 30 minutes - USD $79.99.

Mexico Tourist Card Land

Standard Processing - 24 hours - USD $93.99.

Rush Processing - 4 hours - USD $145.99.

Super Rush processing - 30 minutes - USD $208.99.
The tourist card land comes with a government fee of USD $32.00 which is included in the total processing fee.
I have more questions, who can I talk to?
If you want to know more about the Day of the Dead in Mexico or the Mexico Tourist Card Land or Air, don't hesitate to get in touch with our incredible customer support agents, available 24 hours a day via chat or email at [email protected].