Finally some good news this year! The WTTC (World Travel and Tourism Council) has announced that Cancun and the Mexican Caribbean are the first places in the Americas to have received the Global Safety Stamp since Cancun has prevailed at containing and preventing the spread of COVID-19. This has paved the way for several travel perks at several establishments for example, a particular resort is offering 2+2 nights and car rentals, free stays for 2 kids when 2 adults book plus 20% off at certain theme parks, golf courses, and spas! If that isn't enough incentive to wind down and relax, we don't know what is.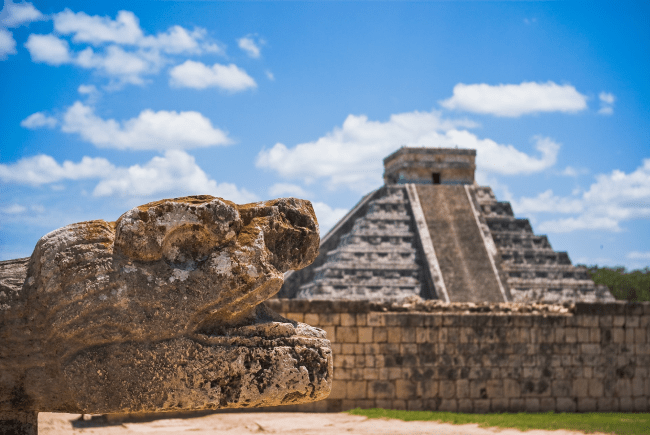 Cancun is divided into two areas - Downtown, aka Ciudad Cancun and Cancun Island, or The Hotel Zone or "Zona Hotelera". As the names suggest, Cancun Island is inundated with the best of the best hotels and resorts whereas Downtown Cancun gives you a glimpse of the local culture, quaint little shops, lip-smacking street food, lively native Mexican music, and wrestling! There's so much fun that awaits you. Now all you need to do is get yourself a Mexico FMM Form with iVisa, decide which of the following activities you want to enjoy, and get on that plane!
1. Aquatic Adventures
Cancun really is every kind of water lover's paradise. Whether it's the lighter activities like snorkeling, scuba diving, or dolphin/coral reef viewing or the more adrenaline-raising ones like speed boating, deep-sea cave diving, or surfing - there's something for everyone here. This coast is probably the most well-known spot in the world to see endangered whale sharks and all kinds of sea turtles (if you're lucky you might even get to see a giant leatherback sea turtle i.e. the largest turtle in the world!) Cenotes are natural pools filled with turquoise blue waters that are great for a swim or snorkel adventure, and if you want to go deeper, you can get a guided scuba tour of the underground caves, rivers or even the MUSA - an underwater art museum with over 500 sculptures which were installed to encourage the growth of coral and replenish the habitat of tropical marine life.
Visit this place in your next vacations! Let iVisa help you obtain your Mexico Tourist Card on time.
2. Theme Parks
Who doesn't love an amusement park? Add the word luxury to it, and we're all sold on the idea! If you're looking to shake things up a bit in your relaxed beach vacation, Cancun has a wide array of water and eco-parks for you to explore. Start with some fun water rides, thrilling slides, the classic wave pool, a beautifully lazy river, or a spa - you know, for when you need a break from your break. Why not try some kayaking, zip-lining, and rappelling while you're at it? But if being wet all day isn't your thing, try out the jungle theme parks with zip-lines and hammocks galore!
3. Food and Drink Tours
Eat, drink and be merry while exploring Cancun through its soul - food. Try a taco tour or two, accompanied by a local beer tour that you just cannot miss. Skip the lines and pick these tours that come with transportation so you can be comfortable on your culinary adventure. Up for seafood? Just pick a tour and you'll be shown a variety of choices ranging from the marketplace to a fancy restaurant - the only thing that matters is taste. For a more refined experience, go for a private Mexican wine tasting tour that you can end with a Mayan chocolate ceremony to leave your tastebuds tantalized.
Grab your bags and travel to México now with iVisa!
4. Island Tours
Whether you're in the mood for a romantic yacht tour of a lagoon where you can end the day watching the sunset with fine wine and lobster, set to the soundtrack of the beautiful Mariachi bands; or something a little more upbeat - like a tour of a tequila factory and all the shacks on all the beaches with a little nightlife action, you're in the right place. Not forgetting the endless array of oceanfront restaurants and hotels that are meant to delight all your senses.
5. Visiting Archaeological Sites
Soak in the pre-Hispanic, colonial, and modern influences in the scenic towns neighboring Cancun, with brilliant architecture and majestic churches through a short day trip! You must also visit places like Chichen Itza - a UNESCO World Heritage-listed archaeological site, an ancient Mayan city in Mexico that was abandoned in the 15th century with its stepped pyramids and temples still intact!
So much to see and...well, so much time! Cancun, Mexico is full of fun activities for you and your loved ones to explore - or for you to make friends in and explore with as well. What's keeping you waiting? Get a hold of the Mexico FMM Form with iVisa and make those Mexican dreams a reality.