Traveling to Mexico means that you most likely need to obtain some kind of travel document that allows you to cross the border. If you are eligible, you can apply for a Mexico tourist card, and iVisa.com can help you get it in as little as 30 minutes.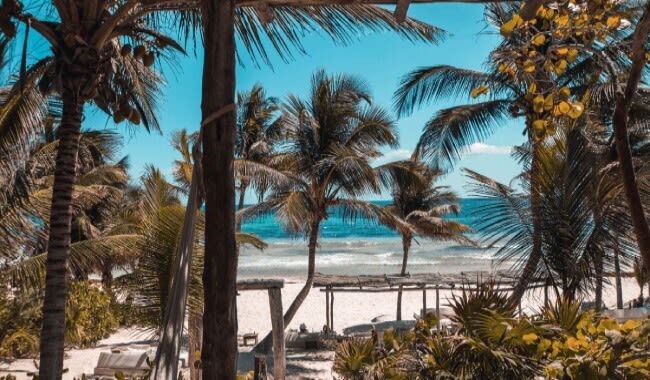 What you need to know is that the tourist card is free if you travel by air. You will receive an application form in the plane, or you can fill one out when you get to Mexico. However, if you do not want to stand in line when you arrive in Mexico, you have the option to apply for one before your departure. The process is entirely online but it is going to cost you.
Frequently Asked Questions
What are the Mexico visa Fees?
A visa for Mexico cost 48 USD when submitted to the embassy of Mexico. However, If you just require the Forma Migratoria Múltiple, it can be obtained for USD 20.00 when selecting standard processing.
What is a Forma Migratoria Múltiple?
As you may well know, when you travel abroad, you need some documents to cross the border. The documents are not always the same. Sometimes it is just the passport, at times you are required to obtain a visa, and sometimes all you need is a tourist card. The Forma Migratoria Múltiple is a Mexican tourist card. It's a special fee that certain citizens who want to travel to Mexico must pay.
What are the documents that I need to apply?
To get this FMM you do not need a huge amount of paperwork. All you require is:
Passport with at least 6 months of validity.
Airplane ticket (Air Arrival - including the Flight number).
Email address, where documents can be sent safely.
Trip information, such as the state and address where you'll be staying in Mexico.
Credit/Debit card for the payment.
What are the prices of the FMM?
You are given three options:
Standard processing time – this is the slowest processing time, but most people go for it because it is also the cheapest. And all things considered, it is not as slow as you may think. Your application is processed within just 24 hours. As for the cost, you only need to pay the service fee which is USD 20.00.

Rush processing time – the in-between option is neither the fastest or the slowest. You receive your Mexico tourist card in 4 hours, but you are charged USD 40.00.

Super Rush processing time – as the fastest processing option you have at hand, this one is the most expensive. You must pay USD 60.00, but your application is processed within just 30 minutes.
Click here if you want to begin processing your eVisa.
How can I get a FMM?
The process could not be simpler. iVisa.com puts at your disposal everything you need to do. First of all, you need to gather some documents, which we already mentioned before. Once you have all of those, you can get onto the next step, which is the application.
Filling in the application should take you about 5 to 10 minutes. You need to write in your basic information like name, gender, date of arrival, etc. Then you need to choose the tourist card type and processing time. According to your selection, the prices will be established.
The difference between a land tourist card and an air tourist card is the visa cost. If you travel by plane, there is no visa cost, which means you have to spend USD 32.00 less than if you travel by land. However, the rest of the fees remain, as we already explained to you before.
How many times can I enter Mexico with a Forma Migratoria Múltiple?
This Mexican Tourist Card has Single Entry, so you're able to enter Mexico just once upon arrival. Remember that if you're considering to re-enter the country on your trip.
I am planning to go to Mexico by car, can I use the same Tourist card?
No, you can't. There are two different types of Mexican Tourist Card: By air and by land.
The FMM by plane or air is only available if you travel this way. But in case you enter the country by car (land), then you have to apply for an FMM by land.
Is it safe to get my Forma Migratoria Múltiple with iVisa.com?
You can trust our services if you want to travel to Mexico. Don't worry about any risk of getting your information leaked, since we proved maximum security, especially with our professional team that always works to keep your personal data completely safe.
You can check what thousands of customers say about our services here.
How much does Mexico Cost?
Mexico will average about 60 USD per day depending on your destination and tourist activities. Meals can cost an average of 12 USD and 8 USD for transportation. Be sure to check your destination for up-to-date prices and information.
Is there more information about this eVisa?
You can find more information about the FMM through its page here, or you can easily contact one of our customer service agents if you prefer something more personalized.