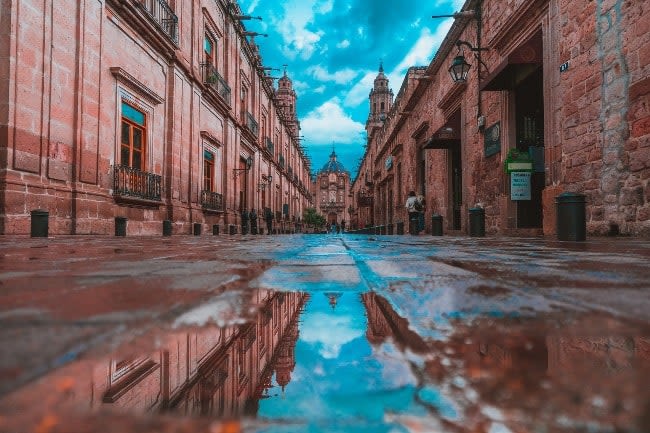 I hate traveling. I know it's not a thing I should go around telling people, especially as a travel writer, but there's no point in hiding it. It's really a love-hate relationship. I hate it because I'm a really anxious person, and getting out of my comfort zone and having to take care of planning, preparation, and paperwork triggers my anxiety. But once all that is taken care of, I really love traveling. Once I'm sitting on that plane looking forward to having a great trip, all my anxiety melts away and it's one of the best feelings in the world.
And I know I'm not alone in the feeling. We all have a million destinations on our bucket lists that we keep postponing to visit just because the first part, all the planning and paperwork, puts us off.
On my bucket list, there was a trip to Mexico. My husband and I have been looking forward to taking this trip for a long time. But we didn't want to deal with the first part. So, as a first step, and to get the ball rolling, I decided to find out how to obtain a Mexico Tourist Card online quickly and easily.
I'll share with you what I found and what we did on our lovely trip to Mexico.
Visa and Requirements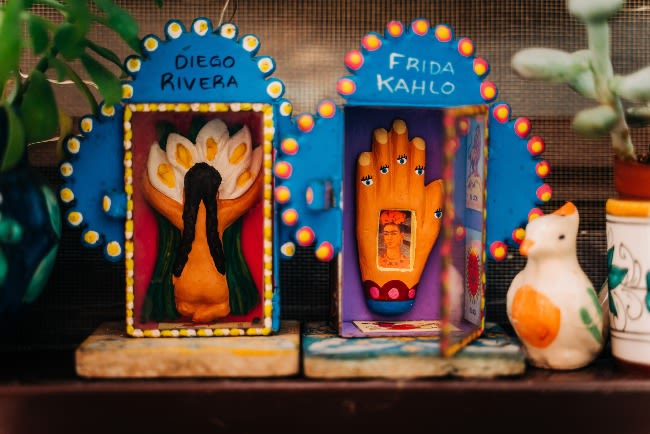 To travel to Mexico, I knew we needed to get a Tourist Card, so the first thing I did was to research 'How to obtain a Mexico Tourist Card online'. I don't know about you, but if given the choice, I prefer to run all my errands online. I got too used to remote life, so if I can solve it from home, I definitely will.
What's a Mexico Tourist Card?
It's a mandatory travel document that foreign travelers need if they're visiting Mexico for tourism purposes.
It's also known as "Forma Migratoria Múltiple" (FMM or FMT) and is popularly referred to as Mexico tourist visa. However, one of the things we learned when researching 'How to obtain a Mexico Tourist Card online' is that this document is not a visa. So, if you come from a country that requires a visa, you'll need to apply for that in addition to your Mexico Tourist Card.
Do I need a tourist visa to enter Mexico?
It depends on your nationality and the visas you currently have.
If you have a valid visa to enter Canada, the European Union, Japan, the United Kingdom, Peru, or The United States, you do not need a visa to enter Mexico.
Also if you're a permanent resident of Chile, Colombia, Canada, the European Union, Japan, the United Kingdom, Peru, or The United States, you also do not need a visa.
If you're unsure as to if you must get a visa to enter Mexico as a tourist, I recommend you go to the visa checker tool on iVisa.com. It's pretty easy to use and they'll tell you which documents you need and if they can help you with any of them.
They will make getting all the information about your visa as simple as how to obtain a Mexico Tourist Card.
If I need a visa, where can I get it?
Sadly, you will need to go to an embassy or consulate to get your tourist visa. You can do the first part online, which is to get an appointment and upload your documents, but you do have to step into an immigration office somewhere along the process.
For how long is the Mexico Tourist Card valid?
The Mexico Tourist Card is valid for 180 days after arrival. That time starts running the day you arrive in Mexico. You can only use it to enter Mexico once, which means you'll need to get one every time you travel to Mexico. The good thing is that once you learn how to get a Mexico Tourist Card online, it will only take around 10 minutes to do it again.
Can I get the Mexico Tourist Card for free?
Yes. When researching how to obtain a Mexico Tourist Card online I found that it has no government fee.
However, processing it on your own can be very troublesome. You might not find the form in your language, and it might take you a few tries to get all the information right.
If you prefer to save yourself from the hassle of multiple applications or experiencing errors in the form, you can apply through iVisa.com. They will offer you assistance throughout the application process and tell you exactly how to obtain a Mexico Tourist Card Online.
When should I apply for the Mexico Tourist Card?
The government recommendation is to apply 30 days before your flight. However, the processing times with iVisa.com are as short as 30 minutes. So even if you forgot to apply for your Mexico Tourist Card or you're making a last-minute trip to Mexico, there are ways to obtain your Mexico Tourist Card quickly and easily to get it in no time.
I'm arriving by car, do I need to apply for a Mexico Tourist Card?
Yes. There are two types of Mexico Tourist Card available, Land or Air, depending on how you're traveling to the country.
Make sure not to get confused about how to obtain a Mexico Tourist Card online and that you're applying for the right one for your trip.
Can I apply for the Mexico Tourist Card upon arrival?
Yes, you can. But travelers have reported long waiting lines and cumbersome migration processes. That is one of the things I found when looking at how to obtain a Mexico Tourist Card online.
On top of that, you'll be risking getting your Mexico Tourist Card rejected and missing your holidays in the country.
Because I'm super anxious, I always prefer to handle my paperwork beforehand, that way I can get into my holiday vibe as soon as possible.
Besides the Mexico Tourist Card, do I need any other document to enter Mexico?
Yes, you'll need a visa if your nationality requires it.
If you want to get information related to the COVID-19 requirements, I'll explain a bit more about it below under the COVID entry restrictions.
Do I need to get a yellow fever vaccination certificate?
When looking at how to obtain a Mexico Tourist Card online I found that you need a yellow fever vaccination certificate only if you come from a yellow fever risk country. If you're not sure whether you need one or not, check the WHO list of risk countries here.
Which documents do I need to apply for the Mexico Tourist Card?
Not many, that's why this article is called 'How to Obtain a Mexico Tourist Card Online Quick and Easy' You just need:
Your passport
Your airline ticket
Your passport needs to remain valid for at least 6 more months after your arrival in Mexico. Also, when you upload the scan of your passport to the system, you'll need to make sure that there are no blurs, smudges, or glares on it that prevent government officials from checking your personal details.
COVID Restrictions
What are the Mexico entry requirements due to COVID?
Mexico doesn't require vaccines or quarantine to enter the country. They also don't require travelers to present a negative PCR test.
However, as the requirements are regularly changing, I would encourage you to stay tuned to the Mexico Tourist Card product page. It is frequently updated to reflect the current restrictions on how to obtain a Mexico Tourist Card online.
What's a Mexico Questionnaire of Identification of Risk Factors in Travelers and how can I get it?
It was a mandatory document that helped government officials assess and manage the risks associated with the COVID-19 pandemic. When researching how to obtain a Mexico Tourist Card online, I also found that this questionnaire was associated with a QR code that you needed to present it to immigration officials upon arrival.
Fortunately, since March, 2022 this document is no longer required for entry to Mexico. As this document is not required anymore, you will only need to apply for the Mexico Tourist Card.
What's the COVID-19 self-testing kit? (U.S. residents only)
It's a ready-to-go COVID-19 test you can take the day before you head back to the U.S. It's a great way to save every precious minute of your holiday for fun and relaxation instead of spending your last day looking for a testing site in Mexico.
You can order one through iVisa.com and it comes right to your doorstep perfectly packed, so you just need to put it in your bag and take it with you on your holidays.
It comes with detailed instructions on how to use it and it will give you your results in just 15 minutes.
How to obtain a Mexico Tourist Card online and travel to Mexico is easier with the eMed COVID-19 self-testing kit.
Applying with iVisa.com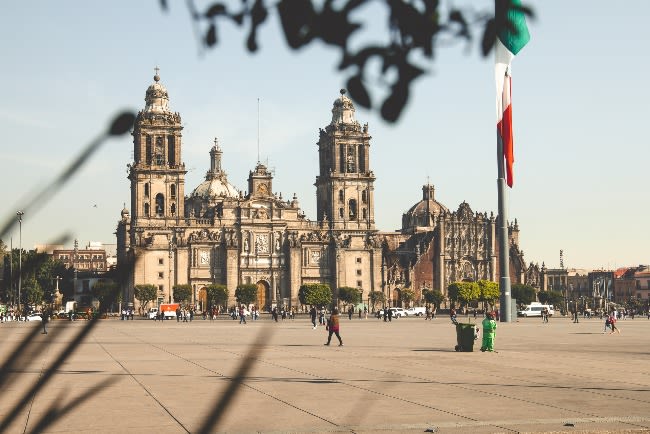 Why should anyone use iVisa.com services?
Basically, to have some peace of mind. I like to remove as much stress from planning a holiday as possible. Having someone else take care of making sure my visa application is correct does the trick. This makes traveling much more enjoyable and relaxing.
At iVisa.com, how to obtain a Mexico Tourist Card online is very easy. I just enter my nationality on the visa checker tool and they tell me what I need to travel to that country and if they can help me. Their prices are fully transparent, listing the government fee and their processing prices separately. I know exactly what I need to pay and when I'll get my documents. No hidden fees, and clear communication.
Also, their application process is very straightforward and easy to complete, and if I run into any issues, I just reach out to their customer service agents and get all my questions immediately answered.
How can I process my Mexico Tourist card online with iVisa.com?
It's actually pretty simple. Once you have your passport and your plane ticket at hand, in the case you're traveling by air like me, you just need to follow these three simple steps.
Step 1 - Fill out the form with your personal information and some details about your trip. At this point, you can choose one of the processing speeds offered. I'll detail them in the next section.
Step 2 - Check that all your personal details are correct. You want to avoid any mistakes in your application. After you're sure everything is correct, you can proceed to pay. You can use either a credit or debit card.
Step 3 - Upload a clear scan of your passport information page and of your plane ticket, if you're traveling by air, and you're all done!
Applying with iVisa.com takes less than 15 minutes.
The process of how to obtain a Mexico Tourist Card online is bullet-proof when each application is carefully reviewed before processing. They streamline the application process and prevent any silly mistakes that might end up in a rejected application.
What are the costs and processing time of the Mexico Tourist Card?
iVisa.com offers three different options when it comes to processing times and fees depending on your time needs.
Standard processing – your application is processed within 24 hours. This service costs USD 20.00.
Rush processing – it only takes 4 hours for your Mexico Tourist Card to be ready, and it costs USD 40.00.
Super Rush processing – this is the fastest and most expensive option. Your application is processed within just 30 minutes. It costs USD 60.00.
Once you fill out your application, you'll be able to choose among these processing speeds the one that fits your needs best, and in no time the process of how to obtain a Mexico Tourist Card online will be done!
I need further guidance on how to obtain a Mexico Tourist Card online?
We've all been there. There's so much confusing information about what we need and what we don't, that we don't know what to trust anymore. Don't worry, you can easily reach out to a customer service agent through chat right on the site.
The best part? They're available 24/7!
How can I trust iVisa.com?
This one is a hard question because the web is full of shady places. But I always check the reviews of any site I'm using for the first time. If they have many good reviews, then they can be trusted.
iVisa.com Recommends: What we did in Mexico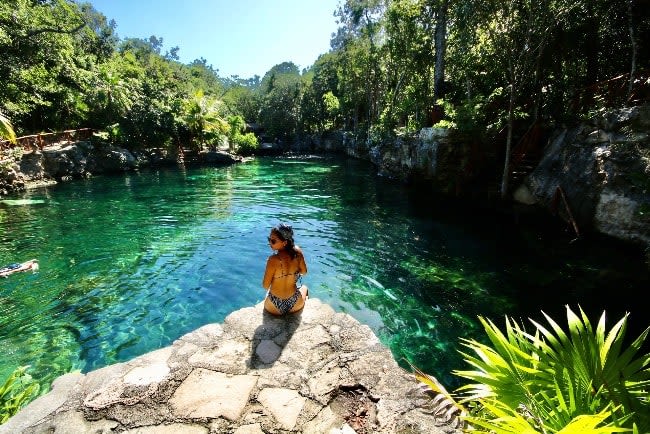 Mexico City
We started out our trip in Mexico City. This massive city has so much to offer, but we were there for just two days. That meant we needed to set our priorities and a strategy to be able to see as much as possible in the little time we had available. We know we would end up exhausted, but we would have the rest of our holidays to recover.
Our flight arrived in the evening, so that first night we didn't do much but eat at a great traditional restaurant near our hotel. We decided to get tacos because we wanted to try the real deal before exploring what the Mexican gastronomy had to offer. They were absolutely delicious, but the spiciness level was pure fire! Good thing I packed my tums.
Frida Kahlo Museum and the Luchadores
The next morning we got up early, had a quick breakfast at the hotel, and headed out to see the Frida Kahlo Museum. We learned that it gets very crowded, so we had better chances of avoiding the crowds if we got there first thing in the morning. It was also a bit far from where we were staying. We had to take two trains to get there. But it was definitely worth it.
The whole museum sits in a beautiful blue house in Coyoacán, and this is the very home where the artist lived most of her life. Everything in it reflects an aspect of her intimate universe. The entire house is like being in one of her paintings and it's incredible to admire not only her work but all the peculiar objects and knick-knacks you find in every corner of the museum.
In the afternoon we went back downtown for lunch. We decided to skip the restaurants and went directly to a local market - Mercado de San Juan- to enjoy traditional Mexican food. After lunch, we walked around the market to get a couple of souvenirs and some Mexican spices to bring back home.
In the evening, we went to Arena de Mexico to enjoy a match of the great luchadores. This was one of the things I was most looking forward to experiencing on our trip. The luchadores are like the local superheroes. They all have their backstories and archenemies. It was a lot of fun watching them wrestle and see the crowds go mad. We found cheap tickets right at the booth. The seats were not the most comfortable, but as we spent most of the night right at the edge of them enjoying the show, it didn't matter.
The next morning we got up a bit later and headed out for a bike tour around downtown Mexico City. We got to see a lot of Mexico's rich history in just under 4 hours. After some quick packing, we headed out to the airport.
Tulum: Magnificent Wildlife, Emerald Waters and Ancient History
We arrived in the evening to have some light dinner and rest to get ready for the next few days. We rented a beachside bungalow to stay in Tulum because we wanted to be able to squeeze in as much beach time as we possibly could.
On the first day, we decided to go to Reserva de la Biosfera Sian Ka'an and Punta Allen. In the morning we took a guided tour along the canals in the reserve. We spotted a lot of birds, howler monkeys, and tapirs. We also went kayaking in one of the reserve's beautiful lagoons. In the afternoon, after a nice lunch of fresh fish in Punta Allen, a small fishing village within the reserve, we went on a dolphin and turtle watching tour. We also brought our snorkel gear to take advantage of the diverse marine wildlife in the park. We came back so exhausted, we didn't have any dinner, just a shower, and collapsed on the bed until the next morning.
The next day we took a shuttle van to Tankah Tres, one of the amazing cenotes in the Yucatan peninsula. I must say I have never seen any other place like it in my life. The clear emerald waters, the mangrove forests, and the colorful little fish everywhere we looked made our day at Tankah Tres magical. We swam, dived, and snorkeled all day, like children, enjoying the warm waters of the cenote. By sunset, we got a drink and walked along the nearby beach. It was a perfect day.
On our last day in Tulum, we visited Tulum ruins. This ancient site offers visitors a great historic place surrounded by one of the most beautiful beaches on the peninsula. We decided to start our day at the beach. As it was our last full day in Tulum, we wanted to soak ourselves as much as possible in the Caribbean. After lunch, we went for a walk around the ruins. We decided to hire a guide so we could learn as much as possible about the history behind this wonderful place. My favorite building was El Templo de las Pinturas. I was impressed by the masterfully carved figures telling the story of the Sun God. It was all so fascinating.
The whole trip was incredible. We really hope to visit again. Next time the whole planning will be easier now that we know how to obtain a Mexico Tourist Card online.