After the past few months, we know that plenty of our readers are starting to dream of getting away. Traveling is becoming easier and if you want to visit the best summer beaches, you're likely to find that they are in Mexico. Now, with iVisa.com, it is easy to find out the latest news regarding travel regulations as well as staying updated on entry requirements and other necessities to make your trip safer. And if reading up on this topic has left you with more important questions, specifically: Do I need a vaccine to travel to Mexico?, you will find more answers below in the following frequently asked questions section.
How do I get a visa with iVisa.com?
Fill in the application form with your private information.
Review the information you gave to make sure is correct, then pick your preferred processing time and pay the fee.
Upload and attach any essential document scans, and after that, click on submit. The document will be sent to your inbox when it has been approved and processed. That's all! iVisa.com makes it simple for you. Start the process here.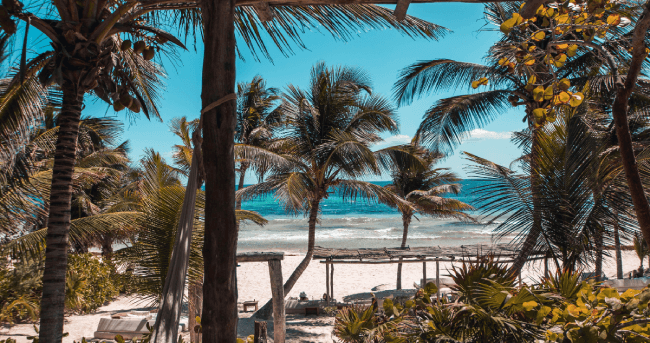 Frequently Asked Questions
Do I need a vaccine to travel to Mexico?
Mexico doesn't have any outbreaks of Yellow Fever, although you may be required to show evidence of having received the vaccine already to prevent incoming travelers from bringing it in. Otherwise, standard vaccines for Hepatitis A and B as well as Diphtheria are recommended although most readers will already have been vaccinated against these illnesses in their home country. Malaria is a concern in some regions of the country so we suggest that you check a map to see where you're going and take medication to protect yourself from Malaria in those areas. Our professional team will keep you informed of travel updates like Do I need a vaccine to travel to Mexico?
Can iVisa.com help me with the travel documents required?
Yes, we can help you process the travel documents your need depending on the type. In case you need a paper visa, you'll have to apply at a local embassy, but otherwise, we'll be ready to help you.
Click here to see what your options are and choose the best one for you.
Does the Tourist card I need to enter Mexico have any cost?
At iVisa.com we want to save people from the stress of filling out time-consuming government forms. iVisa.com offers 3 processing speeds so you're covered even if your trip is tomorrow. The options are as follows:
Standard Processing : This speed is perfect for planners who have a lot of time available and have the lowest price.

USD 20.00

-

24 hours

.
Rush Processing : When your flight is this week, but you will have to pay more.

USD 40.00

-

4 hours

.
Super Rush processing : if you just remembered to request your document and your flight is later today, choose this option, but you will have to pay a higher rate

USD 60.00

-

30 minutes

.
You can pay the fee with a debit or credit card, as well as with Paypal.
So if you're curiously thinking, 'Do I need a vaccine to travel to Mexico?' then you'll be delighted to know that you don't- although it's a good idea to discuss malaria medication options with a healthcare professional.
Will I need to fetch a lot of documentation for my iVisa.com application?
The list of documents and items required might change depending on the type of travel requirement you need to enter Mexico. However, with our services, we mostly ask you to have the following:
Passport, with a scan of the information page.
A credit or debit card to pay the processing fee.
An email address to get the eVisa. Start the application.
How long am I allowed to stay in México?
If you apply with iVisa.com, you have the right to spend 90 days in Mexico with your Tourist card.
Using Visa Checker Tool is the best way to find out what documentation people with your citizenship need. This feature was created for ease of use and to provide the maximum amount of information relevant to your unique travel situation.
Check out the blog for more information and contact the team to discuss any queries like Do I need a vaccine to travel to Mexico?
How can I apply to have a Tourist eVisa?
The team at iVisa.com wants to give you an easy way to get your documentation ready for when you arrive at the border. In three simple steps, you can apply for your Tourist Card.
Complete the application with your personal information.
Pay the processing fee, making sure your documentation is all in order.
Upload copies of your documents and apply.
Is it safe to use the iVisa.com platform?
The objective of iVisa.com is that users are 100% sure that their procedures are in the right hands. We use the highest quality protection software to protect our platform with the best security so that your data is safe with us. You can also read the reviews section to learn more from satisfied customers.
Where can I find more information?
To know more about activities, places, or questions about Do I need a vaccine to travel to Mexico?, click onto the iVisa.com website for more information or speak to one of the expert team members by chat or email.
iVisa.com Recommends
This colorful country boasts a paradise coastline, along with delicious local food that makes the most of fresh fish and ingredients to serve diners tacos and burritos that are celebrated around the world. Sip a cocktail and listen to live music while soaking up the relaxed vibe that surrounds Mexico.
Mexico has many iconic colonial sites to visit, but what usually stands out in this country are the Mayan and pre-Columbian ruins. An example of this can be the famous pyramid of Chichén Itzá, one of the main archaeological sites in the Yucatán Peninsula. This place is an important vestige of the Mayan civilization and a mandatory stop for any tourist.
Another example is the Archaeological Zone of Tulum. Tulum was a walled city of the Mayan culture located in the State of Quintana Roo, in southeastern Mexico. It is currently a great tourist attraction in the Riviera Maya and next to it is the modern town of the same name. This city is part of the Tulum National Park.
One last example that we can offer you is the Xcaret Park, an eco-archaeological park that allows you not only to learn about the Mayan culture but also about the natural beauties on the coast of Mexico.
All this without counting the beach beauties that exist in Mexico, especially in the areas of Cancun and Acapulco. Apply today for the Mexico Health Declaration and get ready for this adventure.