As an Indian citizen, when you want to spend your holidays in Mexico, you need to go to the nearest Mexican embassy and apply for a visa. But that's not all, you also need a Mexico Tourist Card or (Forma Migratoria Multiple) to ensure your entry to the country. The good thing is that you can get this last option completely online.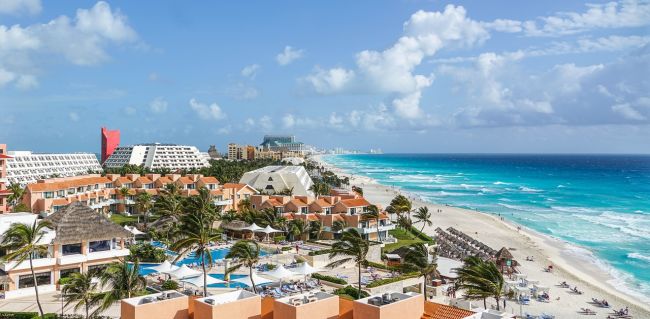 And when it comes to that, iVisa.com can help you. If you apply online using our services, the card can be approved in just a lot of less time than the traditional way, so we're ready to show you how in this post.
Frequently Asked Questions (FAQs)
Do I need a visa to enter Mexico if I'm from India?
Yes, you surely need a visa if you want to enter Mexico. However, you also need an FMM or Forma Migratoria Múltiple. Any foreign country requires to apply for an FMM for a tourist or business visit to Mexico.
How Long can Indian Citizens stay in Mexico?
All visitors from India can stay in Mexico only for 180 days in Total. Just don't forget that during this amount of time you shouldn't get any paid work or employment, especially if your visits are limited to tourism.
How many entries can I have with my India passport if I travel to Mexico?
As a citizen of India, you're able to have a Single Entry visa. You can go to Mexico just once with your FMM.
What requirements are needed if I'm from India?
While the process of getting a consular visa may be demanding, to obtain the Mexico FMM online is almost effortless. The first thing you have to do is to make sure that you have the following:
Passport – you cannot apply for a Mexico tourist card unless you have a valid passport. Plus, according to Mexico's visa policy, the travel document has to remain valid for at least another 6 months from your arrival.

Airplane ticket – you only need to meet this requirement if you make the trip by air. iVisa.com is interested mostly in the flight number. If you travel by car, you do not need another document that attests to your arrival.

E-mail address – when you apply online for your tourist card, you will receive the document via e-mail in PDF format. It would be best if you printed it out before you leave. Also, just in case you lose your FMM card, or it gets stolen, we recommend that you write down the document's number.

Means of payment – when you apply online, you need to be able to make the payment online as well. iVisa.com accepts credit or debit cards, but you can also use PayPal.
What is the price to get a Mexican FMM and How long does it take?
When it's about costs and processing times, you are given three options, and the one you select will establish the cost of your Mexico tourist card. You can pick one of the following:
Standard processing – most people prefer this option because it is the cheapest and simplest one. You receive your Mexico tourist card in 24 hours, and you are charged USD 20.00.

Rush processing – the in-between option delivers your tourist card in 4 hours. Obviously, this option is more expensive. You must pay USD 40.00.

Super Rush processing – this time, your application is processed within just 30 minutes, but you will be charged USD 60.00.
As for the means of travel, you should know that when you travel by car, the cost of your Mexico tourist card will be additional. As a result, you will be charged USD 49.00, USD 69.00 and USD 89.00, respectively for each processing time.
How is the application form to the Mexican FMM?
After you gather all the items on the list above, you can move on and fill in the application form. You should not find it particularly challenging, but if you need help, you can contact iVisa.com's customer support service 24/7. The service does not charge.
The form you find on the application page is split into three steps.
1.The first one asks for your personal information, but you must disclose your means of travel and choose a processing time as well.
2.Step number two expects you to cover the payment and review your form so that it does not contain any errors.
3.Now, the third step requires you to upload the documents that support your application. After you do everything that you are asked, submit your request, and iVisa.com will handle everything that follows.
As you can see, the citizens of India have easy access to a Mexico Tourist Card, even if the tourist visa is only available at the embassy. If you're ready to go for it, apply here and start your journey.
What happens after I complete the entire application form?
If you're done with your application form, you'll just have to wait for your FMM to arrive by e-mail. You don't have to deal with the embassy at all. We do it for you so you can save your valuable time. The next thing you could do is to print your Tourist FMM and take it with you once you enter Mexico, but this is not extremely necessary. Remember you already have it linked to your passport.
Do I need to get a special FMM for my kids?
If traveling with kids, you have to apply for them too, individually, just like any other passenger. There are no exceptions.
Can I apply for friends or family members?
You can do that online, but as long as you have their basic information to apply on hand (you can check them above).
In case the application is just for one person, just do it here introducing their information. Otherwise, if you need to apply for more than one person, you can easily do it if you click 'Add new applicant' in the application form.
How would I know if my FMM is ready?
We always inform you about that. We will let you know by e-mail whenever possible after the Mexican Government approves the FMM
Is it ok if I use iVisa.com's services to get my Mexican FMM?
Yes, for sure! We have a specialized and skillful team that's been issuing official e-Visas since 2013. Many citizens fear for their personal data getting easily leaked anywhere on the web, but with our services that's not something you should be scared off.
You can prove our compromise with what our happy customers say about us.
What can I do if I make a mistake in my application?
If that's the case when entering your data online, you have to contact our customer service representatives as fast as possible. But we recommend you to be careful with this process, you can't correct any mistake once the visa is sent
I have more questions that aren't solved, where can I find more information about Mexican FMM?
No problem then! If you want a personalized and faster resolution, click here and start chatting at once with one of our customer service agents. Otherwise, you can also get more info and FAQs here..
Start here if you're more than ready to apply for your Mexican FMM. iVisa.com knows how to simplify the process to apply for and receive your Mexican Tourist Card, and the best is that it comes with a 9.5 'Excellent' rating from more than 18,000 reviewers on Trustpilot. Start planning your vacation to Mexico!