Same as many other nationalities, the citizens of Ireland can travel to Mexico without a visa as long as the trip is for tourism purposes. Nevertheless, you have to purchase a Mexico tourist card, also known as a Forma Migratoria Multiple (FMM). It's possible to apply for this document on the plane or on arrival, but by using iVisa.com, you can obtain it before departure and spend only 30 minutes of your day.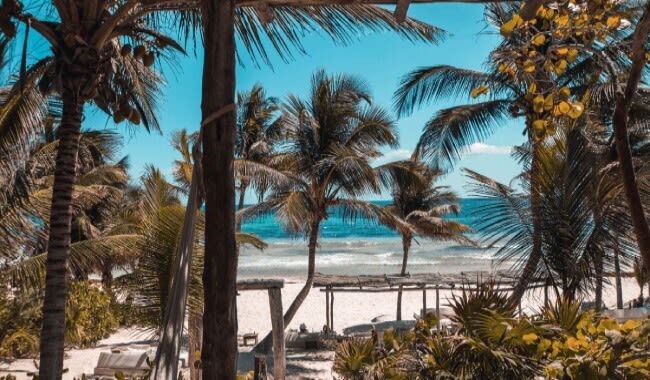 Check out the questions below to see how to apply for it.
Frequently Asked Questions
What is a Mexican FMM or a Tourist Card?
This document works as a travel permit to enter Mexico. It's not the same as a visa because it doesn't fulfill the same functions as the visa, and for that reason, it's easier to obtain it. To apply for your Mexico Tourist Card you just need to fill out an online form and that's it!
What are the documents necessary to apply?
While the online process is not at all demanding, you still need to check if you meet the requirements. That shouldn't be difficult, and chances are that you already have what's necessary. What you need is:
Passport: you cannot apply for a Mexico tourist card unless you have a valid passport. Plus, according to Mexico's visa policy, the travel document has to remain valid for at least another 6 months from your arrival.
Airplane ticket: you only need to meet this requirement if you make the trip by air. iVisa.com is interested mostly in the flight number. If you travel by car, you don't need another document that attests to your arrival.
E-mail address: when you apply online for your tourist card, you will receive the document via e-mail in PDF format. It would be best if you printed it out before you leave. Also, just in case you lose your FMM card, or it gets stolen, we recommend that you write down the document's number.
Means of payment: when you apply online, you need to be able to make the payment online as well. iVisa.com accepts credit or debit cards, but you can also use PayPal.
What is the price of this online document?
As far as the processing is concerned, iVisa.com offers three options:
Standard processing: most people go for this option because it's not as expensive as the others. You receive your Mexico tourist card in

24 hours

, and you are charged

USD 20.00

.
Rush processing: the in-between option delivers your tourist card in

4 hours

. Obviously, this option is more expensive. You must pay

USD 40.00

.
Super Rush processing: this time, your application is processed in only

30 minutes

, but the price increases to

USD 60.00

.
As for the means of travel, you should know that when you travel by car, the cost of your Mexico tourist card will have an additional of USD 49.00, USD 69.00, and USD 89.00 respectively for each processing time.
Keep reading more details about the Mexico Visa for the citizens of Ireland on iVisa.com.
How is the online application process?
Once you get the items at your disposal, you can move forward and fill in the application form. You should not struggle with it, but if you have questions or concerns, you can contact iVisa.com's customer support. The service is available non-stop and free of charge.
As soon as you access the application page, you will notice that the form happens in three short stages:
The first one asks you to insert your personal information, but you also have to disclose your means of travel and select a processing time for your application. The choices you make affect the cost of your Mexico tourist card.

The second stage requires you to cover the payment issue, but you also have to carefully review your form and make sure it doesn't contain any mistakes. Failure to do so can lead to an invalid tourist card.

And finally, the third stage is the point at which iVisa.com gives you instructions on how to upload the supporting documents of your application.
Once you are finished, you can hit the submit button, and iVisa.com will handle the rest.
What other things should I know about the Mexico Tourist Card?
For the citizens of Ireland, the FMM is valid for 180 days after arrival. You can stay in Mexico a maximum of 180 days in Total and you're granted a Single Entry, meaning you can only enter once!
Another thing you should consider is that all travelers going to Mexico need the Mexico Tourist Card, including children.
Can I apply for my friends and family?
Sure! If you have all the documents required and their personal information, you can totally apply online for them.
Can I see a sample of the FMM?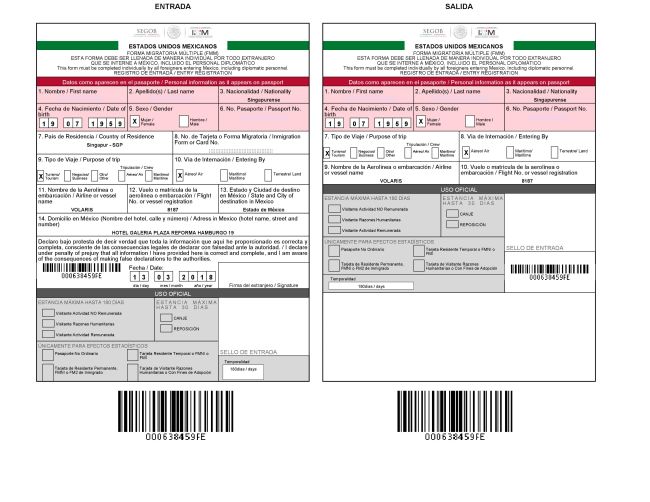 Where can I get more information about the Mexico Visa for the citizens of Ireland?
If you have more doubts, remember you can always contact iVisa.com customer support service! If you want more answered questions you can click here.
Can I trust iVisa.com for this process?
Of course, you can! We are a trustworthy company that keeps your information private and safe. Check our testimonials if you have any doubts.
As you can see, iVisa.com makes the process of obtaining a Mexico tourist card simple and easy, so take advantage of it to visit Mexico soon!