Travelling doesn't have to be stressful anymore, especially now that our expert team is on hand to provide an individually tailored service for those of you wondering 'Do Jamaican citizens need a visa for Mexico? - How to go and visa requirements'.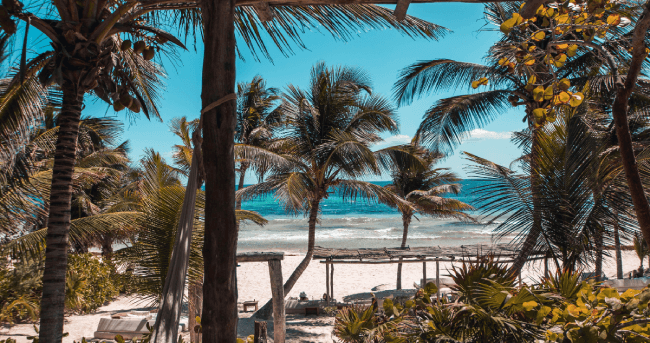 Do Jamaican Citizens need a visa for Mexico? - How to go and Visa Requirements
If you're asking yourself, 'do Jamaican citizens need a visa for Mexico? - How to go and visa requirements' then you've come to the right place. Bear this in mind when you're arriving in Mexico from Jamaica:
You won't need a visa as citizens from Jamaica are exempt from needing one when they go to Mexico. However, you will need to fill in a Forma Migratoria Multiple. Apply online at iVisa.com.
There are no COVID testing requirements to enter Mexico at this time.
It is not necessary to observe a period of self-isolation in Mexico.
Respect local health and safety regulations put in place to protect the vulnerable from the virus.
Why apply in advance?
Applying in advance is an easy way to get ahead when planning for your Mexican adventure- and you don't even have to pay extra. When you apply in advance with iVisa.com, we will store your information until the right moment so you'll never be left in the lurch.
Frequently Asked Questions
How can I get the Mexico Tourist Card I need?
To get your Tourist Card we recommend that you take advantage of the simplified form on the iVisa.com webpage. In which case you'll only need:
A passport with at least 6 months remaining before the expiry date.
A credit/debit card to pay the processing fee.
An email address so we can send out your Tourist Card.
What processing speeds does iVisa.com offer for emergencies?
We've found that one of the main reasons why our customers apply for their Tourist Card through iVisa.com is because we offer three different processing options and there's even one for urgent cases:
Standard -

USD 20.00

for

24 hours

processing
Rush -

USD 40.00

for

4 hours

processing
Super Rush -

USD 60.00

for

30 minutes

processing
What's the Mexican Tourist Card process with iVisa.com?
If you're ready to apply for your Mexican Tourist Card with our helpful team standing by to help you, you should:
Visit iVisa.com and complete the form you need on the Mexican Tourist Card page.
Check that you haven't made any spelling mistakes.
Pick the processing speed you intend to use.
Pay electronically- either with a credit/debit card.
It's really that easy! Once you submit the form just wait for the document to land into your inbox.
Do Jamaican Citizens need a visa for Mexico? - How to go and Visa Requirements if so
You'll be pleased to hear that Jamaican citizens do not need a visa to visit Mexico, so once the iVisa.com team send you the Tourist Card then you're ready to go.
Can I trust iVisa.com with important documentation?
We've left no stone unturned in our quest to provide the best quality protection to all of our databases so that our customer information will never fall into the wrong hands. That's why you can trust us with your Tourist Card application.
Where can I find out more about the query 'Do Jamaican citizens need a visa for Mexico?
If you still have more questions to discuss regarding information about ''Do Jamaican citizens need a visa for Mexico? - How to go and visa requirements" then we suggest you head on over to the iVisa.com webpage for more detailed blogs and to reach out to a team member using chat or email.
iVisa.com Recommends
Mexico City is a vibrant place to visit, and its massive size means that travelers are often floored by the sheer amount of tourist spots they need to fit into a short visit there. For starters, we recommend that you consider spending at least a week in Mexico City. That might sound like a long time to spend in a busy place, but we can guarantee that you'll need to take it easy in order to fit in everything you want. Sunday is often the best day to start. Get up early and head down to La Lagunilla antique market, where traders begin selling their wares from 6 AM. Pour over the unique goods and pick up a bargain by haggling for what you want. No trip to Mexico is complete without seeing a Lucha Libre fight. These masked, staged fights are great entertainment for all the family and the Arena Coliseo can hold over 23,000 people - so you're sure to get in the mood with the fun atmosphere all around you. For panoramic views of the whole region, slip into Torre Latinoamerica which boasts 44 floors of height!