As a Lithuanian citizen, if you plan to go to Mexico, you should know that you are exempt from getting a visa. However, you still need to get a Mexico tourist card (Forma Migratoria Multiple). You can do that once you arrive in the country, but you also have the possibility to apply online before your departure. iVisa can make sure that your request is approved as soon as possible.
In this article, you'll read the answer to some of the frequently asked questions about the Mexican FMM.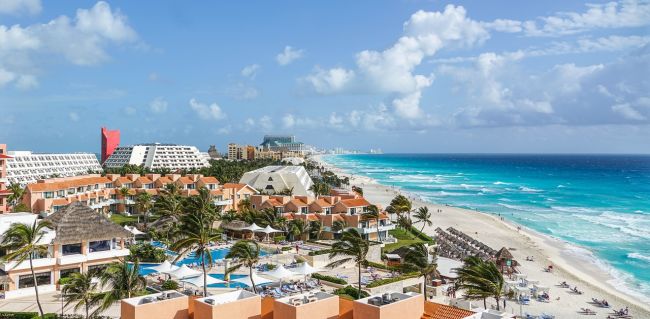 Frequently Asked Questions (FAQs)
I have a Lithuanian passport, do I need to request a visa to enter Mexico?
No, you don't have to. What Lithuanian visitors need is a Tourist Card. Check the requisites on this page.
I know that the FMM is free, why do I have to pay for it?
We work hard to make things simpler for you, that's why applying with us online you will avoid long rows in the airport that can make you waste time. For that reason, you need to pay us a small fee.
What is a Mexico Tourist Card?
It is a special authorization required for all visitors planning to travel to Mexico.
How long is the Mexico Tourist Card valid for?
It has a validation for 180 days after arrival, and it grants a Single Entry. You can be in the Mexican territory for 180 days in Total. Take into consideration that you must use the Mexico Tourist card only for tourism purposes.
WHAT ARE THE DOCUMENTS REQUIRED TO APPLY?
What you need to do first is to verify whether or not you have everything necessary for an online application process. However, you will be happy to learn that the list is pretty short. Here is what you need:
Passport – you cannot apply for a Mexico tourist card unless you have a valid passport. And according to Mexico's visa policy, this document has to remain its validity for 6 more months from your arrival.

Airplane ticket – you only need to get this requirement if you make the trip by air. If you travel by car, you do not need another document that attests to your arrival.

E-mail address – when you apply online for your tourist card, you will receive the document via e-mail in PDF format. As an advice, you should print it out before you leave. Also, just in case you lose your FMM card, or it gets stolen, we recommend that you write down the document's number.

Means of payment – when you apply online, you need to be able to make the payment online. iVisa accepts credit or debit cards, but you can also use PayPal.
What are the procedure times and fees for a Mexico FMM?
We have 3 great options for you to select depending on how soon would you like to have your Mexico tourist card. Look at the choices here:
Standard processing – this is the cheapest process that we have and it takes 24 hours to get your legal authorization. The total sum is USD 20.00.

Rush processing – your FMM card will be done in 4 hours, and the total amount is USD 40.00.

Super rush processing – it will take 30 minutes to obtain your official authorization and the fee is USD 60.00.
All the mentioned amounts cover the service fee.
Keep in mind that these fees are valid only if you travel by air; nevertheless, if you request a Mexico FMM by land you will have to pay more. Look at these other prices here.
Are you ready for your fantastic journey? Enter here and begin your request.
How long does it take to apply for a Mexican FMM?
You need less than 20 minutes to fill out the application form with iVisa.
How is the application form for Lithuanian Citizens?
As soon as you have all of the requirements mentioned above, you can move on and fill in the application form. You should not experience any difficulties in the process. In case you have concerns, just contact our customer support. The service is available day and night and it is entirely free of charge.
When you access the application page, you will see that the form you have to complete has three steps:
The first one consists of filling in your personal information. You also have to disclose your means of travel and select a processing time option for your application.

The second step focuses on payment and revision.

In the third step you'll get instructions on how to upload the documents that support your application. After that, you can submit your request, and iVisa will deliver its end of the bargain in the timeframe of your choosing.
As you can see, the virtual process of obtaining a Mexico tourist card is better than filling a form on a plane or standing in a line at the airport. You can start your application here.
Is it necessary to acquire a Tourist Card for my kids too?
Yes, totally. Every traveler who wants to enter Mexico needs a visa, including kids.
Do I need a Tourist Card if I'm just transiting through?
No, you don't have to apply for a Mexican FMM if you stay in the International Transit lounge.
I'm traveling by land, what can I do?
If you travel by car, you must apply for the Tourist Card too, but in that case by land. Get this document by clicking here.
What should I do if I make a mistake in my application?
In case you realize you made a mistake while entering your information, immediately contact our operators. Note that if we already submitted your request you can't make any modification and unfortunately, you'll have to apply again but we will not charge you an extra fee.
How will I know if my Mexican FMM is ready?
We always inform you about the process via e-mail. We will let you know when this document is ready by e-mail as soon as the Mexican Government approves it
Is it safe to use iVisa's services to obtain my Tourist Card?
We always care about the quality of service we provide our clients, including the protection of their personal data. In addition, we invest a lot to protect our security system in order to keep safe not only your data, but also the whole process. We invite you to see the testimonials of hundreds of satisfied customers here.
If I have more questions what can I do?
For a better resolution, enter here and chat with one of our agents. Furthermore, read more about this topic here.