Mexico is a famous border destination in the US, which is why many citizens decide to plan a holiday trip to this place. However, you should know that as an American you cannot enter Mexico just by showing your passport alone. You have to also apply for a second document online first.
The Mexico Visa for the citizens of the USA (not actually a visa) is better known as a the Mexico Tourist Card, and it is a travel permit that allows you to enter this country.
While you can fill in an application on the plane on your way to Mexico, or get the document on arrival, you also have the option of applying online. With the services provided by iVisa.com, the card can be yours in no time.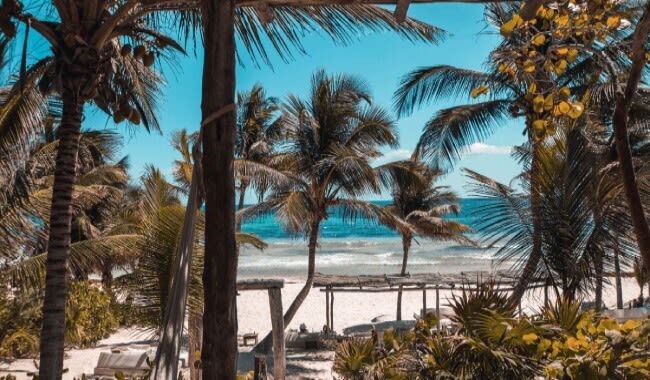 Frequently Asked Questions
What is a Mexico Tourist Card?
A Mexico Tourist Card or FMM ("Forma Migratoria Múltiple," previously referred to as an FMT), is a tourist permit required for all foreign travelers wishing to enter Mexico. This document is necessary for you if you don't get involved in any type of remunerated work.
Contrary to a conventional visa, the FMM can be obtained online, so you don't have to visit the Mexican embassy to get it.
This document has a validity of 180 days after arrival, it grants the holder a Single Entry for a maximum stay of 180 days in Total. It can be used only for tourism purposes.
Do I need a Mexico FMM if I'm from the United States?
Yes, travelers from the US need to apply for a Tourist Card before entering Mexico. However, this document isn't complicated to get with iVisa.com.
Remember that iVisa.com wants to make things easier for you. By applying online you avoid lines at the airport that can make you waste time. But, that's why our service has a price and it cannot be offered for free. However, you should know that these prices are always affordable.
What items do I need to apply?
To successfully process your Mexico Tourist Card, we need to have some items first. These items aren't difficult as you probably already have part of them:
You have to give us your passport details and a scanned copy of the first page.
An airplane ticket (including the Flight number).
Credit/Debit card for the payment.
Your trip information, such as the state and the address where you'll be staying in Mexico.
Lastly, you have to provide an email address where you'll get the FMM.
What is the price of the Mexico Visa for the Citizens of the USA?
Don't forget that before entering Mexico, you need to apply for the FMM, which is not the same as a paper Visa. This one is easier to get.
You can get it through Mexican websites, but they might be tricky if you're not used to online procedures. Another thing you have to consider is that you'll probably have to wait for their availability (sometimes the servers get too crowded).
With iVisa.com you don't have to worry about that because we offer you an online form that's fast and simple. However, you have to pay a small fee in order to get your document fast.
Depending on how fast you want your FMM, you can choose one of these options:
Standard processing: this option allows you to get the FMM in

24 hours

, and the price is

USD 31.99

(service fees included).
Rush processing: your card will be ready in

4 hours

, and the total price of it is

USD 61.99

(service fees included).
Super rush processing: by choosing this processing time, you'll only wait

30 minutes

, and you'll be charged

USD 95.99

(service fees included).
You can easily apply for this document in less than 10 minutes.
What is the application process for my document?
Once you access the application page, you will notice that the form consists of three steps:
The first stage is to fill in the form with your general information. You also have to choose the processing time from the options mentioned above.
The second stage is to check step one and make the payment.
The last stage is to upload the documents required. It's at this point when you need to upload your passport scan and a photo if necessary.
You can start your online application here. Once you finish this process, don't forget to hit the submit button. After that, iVisa.com will work with the rest of the process so you can get your FMM on time. If you have questions about it, iVisa.com has a fantastic support service ready to help you.
Do I have to apply for my kids?
Every foreign traveler wishing to visit Mexico must apply for a Mexico Tourist Card, including children. Nevertheless, we recommend you to contact us to get more information about the Mexico Visa for the citizens of the USA.
What should I do If I'm just passing through Mexico?
If you're just passing through Mexico, then you don't need the Mexico Tourist Card, but keep in mind that as soon as you leave the airport there, you'll have to apply for the document.
What should I do if I make a mistake while applying?
We recommend you to contact our customer service representatives as soon as possible via online chat to assist you in this case. Remember to keep an eye on your information while applying.
How safe is iVisa.com?
We can say that our services are very safe because we have an up-to-date system that won't risk any detail you offer. Plus, our agents are always ready to process your eVisa or Travel document carefully so you can receive it as soon as you want without any issues.
We've offered excellent services for many years, and you can see that in our reviews.
If I have more questions about the Mexico Visa for the citizens of the USA, what should I do?
If you still have doubts about this document or other travel documents, we recommend you read other articles related to this topic on our blog page. Or you can simply contact our customer service team here.