Turkish citizens who wish to have a nice vacation in Mexico can now apply for a electronic Travel Authorization (eTA).
This document can be purchased from the airline you are traveling with or when you arrive in Mexico, but there is a easier alternative. If you use the services provided by iVisa, you can get your electronic Travel Authorization (eTA) in as little as 30 minutes.
Keep reading to find out more information about this travel document.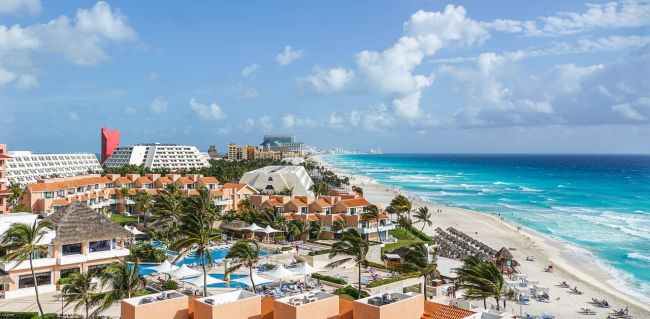 Frequently Asked Questions
What is a Mexican eTA?
The Mexican Electronic Travel Authorization is a travel document required for certain citizens who travel to Mexico for tourism purposes, not paid work.
How long can I stay in Mexico?
You can stay for 180 days Per Entry.
What are the requirements?
First thing you should know is that the process of getting a Mexico eTA is not as time-consuming as obtaining a regular visa. Nonetheless, you still need to make sure that you have the necessary documents, which are:
Valid passport – you cannot get a electronic Travel Authorization unless you hold a passport. Plus, the visa policy of Mexico requires that the passport should be valid for at least another 6 months from your date of arrival in Mexico.

Flight ticket – remember that this requirement applies only to tourists who decide to travel by air. The flight number is what matters. People who travel by car do not need a substitute document.

E-mail address – as you can imagine when you apply online for your eTA, the document arrives via e-mail in PDF format. You must remember to print it out before departure. We recommend you carry more than one physical copy.

Means of payment – when you apply online, the payment must be made online too. As to that, iVisa is pretty flexible. You can pay using a credit or a debit card, but PayPal is also acceptable.
What are the prices and processing times?
Your choices will establish the cost of your Mexico tourist card. As far as the processing times, you have the following options:
Standard processing – this is the most commonly preferred option because it is the cheapest. Your application is processed within 24 hours, and you are charged only USD 20.00.

Rush processing – if you wish for faster processing, you can select this one. It takes 12 hours for your Mexico eTA to arrive, and the fee is USD 40.00.

Super Rush processing – this time, your application is processed within just 30 minutes, but the fee gets a bit higher. You will be charged USD 60.00.
How can I apply?
As soon as you are ready, you can go ahead and fill in the application form. This is very easy to complete, but if you need assistance or have concerns about the process, feel free to reach iVisa's customer support. The service is available 24/7 and entirely free of charge.
The application form has three steps:
In the first step, you must provide your personal information, but you also have to choose a processing time for your application.

The second step is even shorter. All you have to do is to make the payment and review your form carefully so that you can be sure it does not contain any mistakes.

The third stage focuses on supporting documents, meaning that you have to upload them. When you are finished, you can click on the submit button, and iVisa will take care of the rest.
It is important to remember is that while iVisa cannot facilitate the process of obtaining a Mexico Visa for the citizens of Turkey, it can help with the Mexico eTA.
The document is valid for 180 days after issued, and it allows for a Single Entry to Mexico.
Do I have to apply for my children?
Yes, you have to apply for an eTA if you travel with your children.
How does this eTA look like?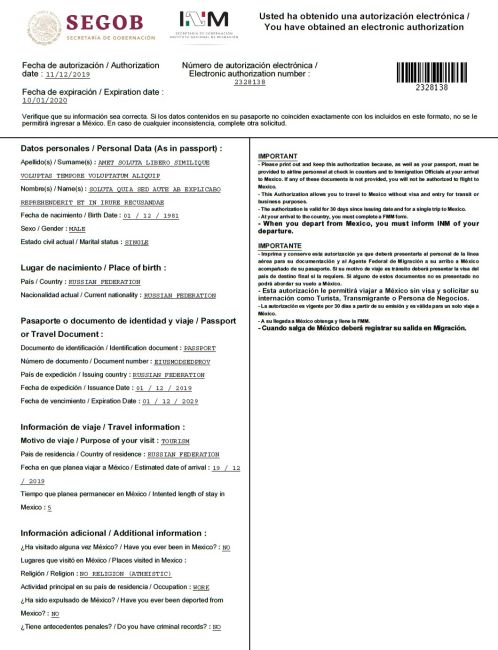 Where can I read more?
The bottom line is that iVisa cannot help the citizens of Russia to get a Mexico Visa, but we can facilitate the process of acquiring a [Mexico Electronic Authorization]/mexico-e-visa-sae?nationality=RU).
The document you receive in your e-mail inbox is valid for 180 days since your arrival in Mexico, and it covers a single entry. You can always contact us at any moment of any day. And if you need more information click [here]/mexico-e-visa-sae?nationality=RU for more details. Help us help you have a trip you'll never forget!