As a Ukrainian national, you don't need to apply for a tourist visa if you want to spend your holiday in Mexico.
Now you can request a Mexico Electronic Authorization. You can get this travel document from the airline you are traveling with or when you arrive in Mexico. If you want, you can use our services in order to obtain your ETA.
Keep reading this article to learn more about this travel authorization.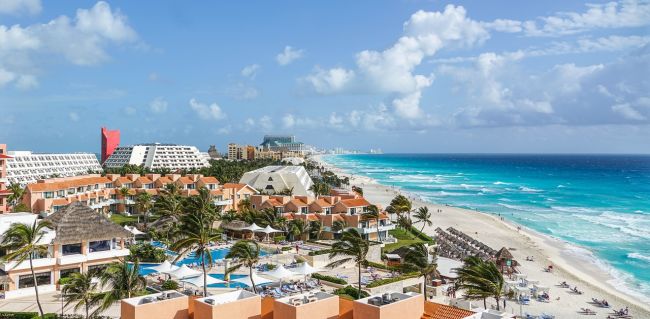 Frequently Asked Questions (FAQs)
Do I need a visa to enter Mexico if I'm an Ukrainian Citizen?
No, you don't need a visa. What you need is a Mexican Electronic Authorization or eTA. Remember that Ukraine is one of the countries required to have this document to enter Mexico legally.
How Long can Ukrainians stay in Mexico?
If you're from Ukraine, you can stay in Mexico only for 180 days Per Entry. Keep in mind that during this amount of time you can not seek paid work or employment.
How many types of Mexican Electronic Authorizations or eTA are there for Ukrainians?
There's only one type of eTA for Ukrainian citizens.
What is a Mexican eTA?
It's a special document that allows you to enter Mexico. This document was made available for certain countries from the EU.
What are the requirements for Ukrainian citizens?
Before you start the online application process, you need to check if you have everything you need to apply. Fortunately, you do not need much. Only the following:
Valid passport – you cannot get an ETA if your passport is not valid for at least another 6 months from your date of arrival in the Mexican territory.

Airline ticket – if you decide to travel by plane, just provide the ticket number.

Email address – it's essential that you give us a valid email because we will send your electronic visa via e-mail in PDF format. Also, just in case your Tourist Card gets lost or stolen, make sure to have the FMM number written down somewhere.

Payment options – pay for your application using a credit or a debit card or if you have a PayPal account, you can also use it.
Keep in mind that the following documents are the most important that the Mexican Government will ask to approve your eTA:
Legal Guardian 1 Passport Page Scan (if applicable)

Passport Personal Details Scan (if applicable)

Selfie holding the physical credit card used for the transaction is needed to verify payment. Only the last 4 digits of the credit card must be visible in the picture. Only one image is needed per order. (if applicable)
How much does it cost to apply for a Mexican Electronic Authorization?
This will depending on how fast you want to get your eTA. In other words, if you're not in a rush or if you prefer to have your eTA as soon as possible. By knowing that you will know how much you will spend on your Mexican Electronic Authorization. These are the choices:
Standard processing – it is the cheapest and your travel document will be completed in 24 hours. The payment will be USD 20.00.

Rush processing – it takes 4 hours to get your ETA, and the cost is USD 20.00

Super Rush processing – in 30 minutes, you'll acquire your travel document and all you have to pay is USD 20.00.
Remember that these fees are available only if you apply with iVisa.
How can I apply for the Mexican eTA?
After you make sure that you meet the requirements, you can move on and complete the application form. You should be done in no more than 20 minutes but remember that if you need help or have questions, iVisa offers 24/7 customer support at no charge.
The form in questions consists of three steps:
The first one focuses on personal information, means of travel, and procedure time for your request.

The second step consists of payment and review properly.

Now the third is the point at which you must provide to iVisa other supporting documents for your application. You are going to have to upload them. You can submit your request once you complete all three steps, and iVisa will handle the bureaucracy that follows. But your job is done.
The bottom line is that the online process of getting a Mexico Electronic Authorization involves little effort on your behalf as you might have seen.
After I complete the application form, what should I do?
In that case you just need to wait for your eTA to arrive on your e-mail box. You don't need to deal with the embassy. We do it for you in order to save you valuable time.
The next thing you have to do is only to print your Electronic Authorization and take it with you as soon as you arrive in Mexico. Don't forget that you already have it linked to your passport, but it's recommended to take a copy.
And what if I'm traveling with children?
In case you're planning to travel with children, you have to apply for them too, individually.
Can I apply for other people?
As long as you have their basic information you can apply online for other friends or family members.
In case the application is needed only for one person, you can do it here introducing their basic information. On the contrary, if you want to apply for more than one person, you can easily do it by clicking 'Add new applicant' in the application form.
How can I know when my eTA is ready?
We will properly inform you by e-mail. This will be possible after the Mexican Government approves your eTA
Can I use iVisa to apply for the Mexican eTA?
Absolutely. We have an skillful team that's been working with official e-Visas for more than 6 years. Many citizens fear for their personal data getting leaked just like that and anywhere on the Internet, but with our services that's not something to be scared off.
Where can I see a sample of this document?
Here's a sample of a Mexican eTA: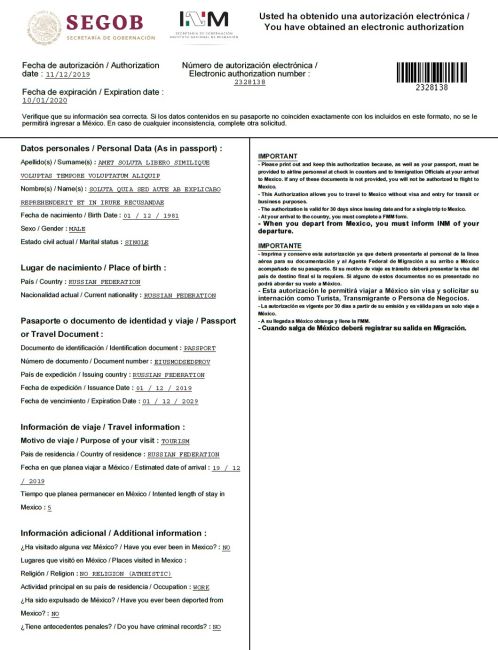 I have more questions, is there more info?
Yes, it is! If you want a personalized attention, click here and start talking to our customer service center. Or you can simply get more info and FAQs here..
Start here your application form if you're ready than ever to get your Mexican eTA. iVisa works hardly to simplify the process, and the best it that it comes with a 9.5 'Excellent' rating from thousands and thousands of reviewers on Trustpilot. Start planning your vacations to this exotic country now!