A trip to Mexico entails more than packing a bag and finding accommodation. You also need to check what type of document you need to cross its borders. Many nationalities are visa exempt, and as a result, all they need to do is pay the tourist fee and enjoy their vacation. On the other hand, if you are not from a visa-exempt country, you need to pay a visit to the nearest Mexican embassy and apply for a visa.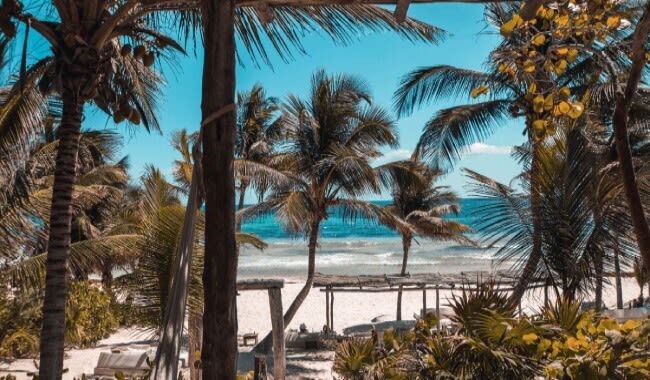 To find out which category you are in, you can use iVisa's Visa Checker Tool. In the top right corner of this page, you will see a green button that says 'Get a Visa.' Click on that, and you will be redirected to a page where you need to select your country of origin and your destination. The result will tell you if you are eligible for a simple Mexico Tourist card or you need a consular visa.
We cannot help much if you need to obtain a visa for Mexico. All we can do is provide a list of available embassies that are nearest to you. However, as far as the Mexico tourist card is concerned, we can help you get it in just 30 minutes. All you must do is follow the steps.
The first thing you need to do is make sure that you have everything you need. Here is what you must have at hand:
Valid passport – a Mexico Tourist Card application process is not possible without a passport. Plus, the document needs to remain valid for at least another 6 months from the date of arrival in Mexico. Check its expiry date before you apply.

Airplane ticket – this requirement is valid only if you travel by air. If you choose to go to Mexico by land, you can ignore this condition.

Method of payment – the Mexico tourist card application process is entirely online, which means it makes sense for the expenses to be covered online as well. You can use a credit or a debit card, but iVisa accepts PayPal, Alipay, and WeChat as well.

E-mail address – iVisa will send you the tourist card via e-mail in PDF format. Do not forget to print at least one physical copy before departure.
As soon as you put all of that together, you can move on to the next step, which is the application form. That should take you about 20 minutes and iVisa has an excellent support service should you need some help along the way.
The form happens in three stages. The first one covers your general information and wants you to choose a processing time for your application and the visa type you want to apply for. The second focuses on payment and revision, while the third asks for your application's supporting documentation. When you are done, you can submit your form, and iVisa takes it from there. Clear as day, isn't it?
The bottom line is that you either need a visa or a tourist card for Mexico, and it all depends on your nationality. If you come from a visa-exempt country, a card is all you need, but if you do not, you must go to the nearest embassy to get a visa. We recommend that you call ahead to find out the requirements.