As a Filipino citizen, you must get a visa to spend your vacation in Mexico. That can happen only at the nearest Mexican embassy. You will also need a Mexican Tourist Card, otherwise called a Forma Migratoria Multiple.
While you can obtain your FMM on the plane on your way to Mexico, or when you arrive, you also have the chance to apply for the FMM online before departure. That is where iVisa.com comes it. With our services, you can acquire the tourist card in just 30 minutes.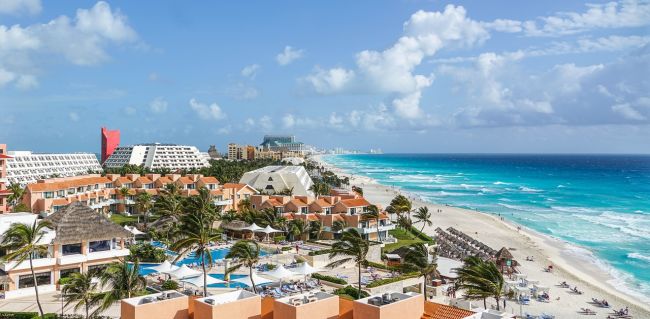 Can citizens with a Philippines passport travel to Mexico?
Yes, Filipino citizens must apply for a Tourist Card to travel to Mexico. The tourist card (Forma Migratoria Múltiple) is an admission document for citizens of the Philippines. You can see the requirements here.
If the FMM is free, why do I have to pay for it?
iVisa.com works hard to simplify things for you, that's why by applying online you avoid a burocreatic and tricky process. By paying just a small fee, you can enjoy your trip in the best way possible.
What is a Mexico Tourist Card?
A Mexico Tourist Card or FMM (Forma Migratoria Múltiple), is an authorization made for all foreign citizens planning to enter Mexico.
How long is the Mexico Tourist Card long for?
Your FMM expires 180 days after arrival, and it offers you Single Entry. You can stay in the country 180 days in Total. And remember that it can be used for tourism purposes only.
What are the requirements?
One of the first things you have to do when you decide to apply online for a Mexico Tourist Card is to check if you have everything iVisa.com asks of you. With that in mind, here is what you need for the application process:
Valid Passport – to get a Mexico tourist card, you must be a passport holder. If you already have it, your passport has to remain valid for at least 6 months from your arrival in Mexico.
Airline ticket – iVisa.com is interested in the flight number. Remember that you must fulfill this requirement only if you travel by air.
E-mail address – when you complete the online application process, the FMM card is sent via e-mail in PDF format. You have to print out at least one physical copy before departure. At the same time, we recommend you to write down the number of your tourist card just in case it gets lost or stolen.
Trip information - The state and address where you'll be staying in Mexico.
Payment options – iVisa.com accepts multiple methods of payment. You can either use a credit or a debit card.
What are the processing times and prices for the FMM?
In iVisa.com you'll find out three excellent choices when it's about prices and processing times, and the one you prefer will give you the total price of your Mexico tourist card. These are the options you can select:
Standard processing – your visa application form is ready in 24 hours, and the price you have to pay is USD $21.99 (all service fees included).

Rush processing – you will obtain your visa within 4 hours, and the total price for it is USD $38.49 (service fees included).

Super rush processing – this is the fastest option you can get. You will get your FMM in only 30 minutes, and you will need to pay USD $61.99 (all service fees included).
Consider that these prices are based on the Tourist Card by air, but in case you apply for a Mexico FMM by land you'll need to pay a little bit more. You can check those prices here.
Click here to start your application.
How can I apply for the FMM?
At this point, all that remains for you to do is to access the application page to fill in the form. The task you are given is pretty simple, but if you have questions or concerns, please do not hesitate to contact iVisa.com's customer support. The service can be reached via online chat or phone 24/7, and you will not be charged for using it.
As you will see, the form designed by iVisa.com consists of three steps:
1. The first one focuses on three primary things: personal information, processing time, and means of travel. You only have to fill in your information and choose the processing time.
2. Reaching step two, you must take care of the payment and review your form to make sure you did not make any mistakes.
3. The third and last step requires you to upload a couple of supporting documents. When you are done, click on the submit button, and iVisa.com will take care of the rest.
Needless to say, the online process of getting a Mexico Tourist Card is more convenient than the other alternatives.
Do I need to get a Tourist Card for my children?
Yes, you have to apply for them too. All foreign citizens wishing to travel to Mexico require a visa, even children.
I am traveling by land, what should I do?
If you travel by land, you must apply for the Tourist Card too, but this time by land. You can receive this document by clicking here.
What can I do if I make a mistake in my application?
If you made a mistake while completing your data online, then please contact our customer service representatives as soon as possible via online chat to help you. Don't forget that modifications are no longer available if we already submitted your application and you will have to apply again.
Is it safe to use iVisa.com's services to get my Tourist Card?
Yes, it is. Many people frequently believe that online information can leak and put them at risk. However, that is not the case with our services. We offer maximum safety for your personal information, and at the same time, we invest a lot in the security of our database. Your personal information could not be safer. You can check what many happy customers say about us here.
I have more unresolved questions, where can I find more info?
You can click here and start chatting with one of our customer service representatives if you want a faster resolution. As a second option, you can find more info and FAQs here.