Travelers all over the world are hesitant about visiting a country because of the problem with Covid. Although countries are opening their borders, health authorities are implementing the best precautions to keep residents and visitors safe from Coronavirus. Feel confident to visit Moldova and enjoy this beautiful country. iVisa.com can help you learn more about how can citizens of Austria can visit Moldova during Coronavirus.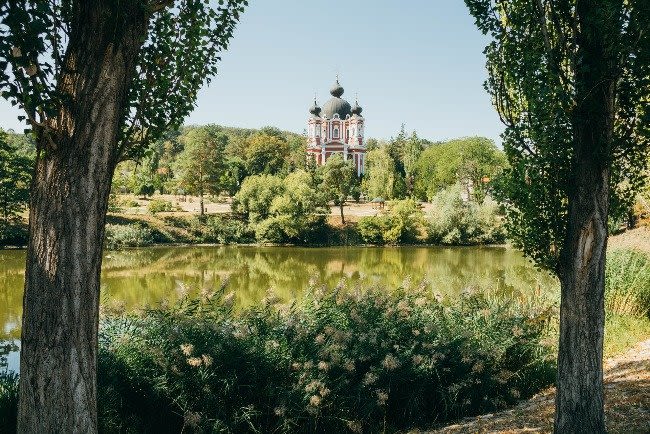 Anyone entering Moldavia should complete a Moldova epidemiological form, a compulsory document for anyone traveling during Covid. Take advantage of our simplicity, speed, and security. You can count on iVisa.com for support. Explore all the details about Austrians visiting Moldova during Coronavirus in the following lines.
How do I apply "Moldova epidemiological form" through iVisa.com?
Go to the application page.
Provide some basic information about yourself and your trip.
Decide on a processing time.
Our experts will review your application and notify you if there are any issues.
You can receive any document via email. Print or show your travel documentation.
Apply in Advance
Apply now and forget about having to check when you are eligible to apply. We will start processing your application when the time is right and can ensure the validity of your travel document for the entire trip.
Frequently Asked Questions
What is the quarantine period in Moldova for Austrian tourists?
All travelers from Austria need to stay for 14 days in quarantine in Moldova. But, they are exempted, if submitted a negative Corona test report or proof of vaccination. They also need to fill the Moldova epidemiological form before arrival. Get help from iVisa.com and learn more details on how can citizens of Austria visit Moldova during Coronavirus.
Do I need a COVID-19 vaccine to enter Moldova?
No, you don't. As of today, COVID vaccination passports or certificates are not mandatory to enter Moldova. You are considered vaccinated if all doses of a vaccine against SARS-Cov-2 have been administered for at least two weeks before traveling. Since information may change quickly, we advise you to follow up on the latest Moldova travel updates and/or contact your local embassy.
Do I need to self-isolate in Moldova?
Quarantine requirements- travelers arriving from South Africa, Lesotho, Botswana, Zimbabwe, Mozambique, Namibia, Eswatini and Malawi: 14 days regardless of vaccination status.
Quarantine requirements- all other travelers: 14 days for travelers without a negative COVID-19 test result or proof of vaccination or proof of recovery/antibodies.
Is it mandatory to present a negative result from a COVID-19 test to enter the country?
COVID test prior to arrival: PCR within 72 hours for all travelers arriving from a red list country. PCR within 72 hours or antigen within 48 hours for unvaccinated travelers from non-red list countries.

COVID test exemptions: Children under 5 and fully vaccinated travelers from non-red list countries are exempt
Which countries are on the red list in Moldova?
Red list countries: Andorra, Anguilla, Argentina, Aruba, Australia, Austria, Bahamas, Barbados, Belgium, Belize, Bermuda, Bolivia, Bonaire, Botswana, Canada, Cape Verde, Czech Republic, Cyprus, Croatia, Curacao, Denmark, Dominica, Switzerland, Estonia, Finland, France, Georgia, Gibraltar, Greece, Grenada, Greenland, Isle of Man, Cayman Island, Faroe Island, Turks and Caicos, UK Virgin Island, Ireland, Iceland, Israel, Italy, Lithuania, Lebanon, Liechtenstein, Luxembourg, Latvia, Malta, Monaco, Montserrat, Montenegro, Norway, Netherlands, Portugal, St Kitts and Nevis, San Marino, Seychelles, Slovakia, Slovenia, Spain, United States, Sweden, Suriname, Turkey and Uruguay.
Do Austrian travelers traveling to Moldova need to fill any health declaration form?
Definitely, all travelers must complete a Moldova epidemiological form before leaving, which is a self-health declaration to prove that their health is good and to reduce the spread of Corona. As part of your trip preparation, you must also submit a negative PCR test within 72 hours. iVisa.com can assist you in getting your form in time and get more information on how can citizens of Austria visit Moldova during Coronavirus.
What information is required to complete the form?
Complete the Moldova epidemiological form with personal information, current health conditions, and details about the trip to Moldova. To continue combating Coronavirus in Moldova, your information is essential.
Make sure to have the following:
A valid passport.
An email address to receive the Moldova epidemiological form safely.
Payment options, iVisa.com charges a small fee that you can pay with a credit/debit card or a Paypal account.
See how can citizens of Austria visit Moldova during Coronavirus, so you can have an unforgettable trip with the help of iVisa.com.
How long will it take ivisa.com to process the form and how much will it cost?
iVisa.com offers three processing times:
Standard processing (

USD 20.00

-

24 hours

): Tthe cheapest choice. Slow when it comes to availability.
Rush Processing (

USD 35.00

-

8 hours

); the application will be available considerably sooner than the previous choice, but it will be slightly more expensive.
Super Rush Processing (

USD 60.00

-

4 hours

): Processing in a hurry where your application will be processed quickly.
How do I go through the application process of "Moldova epidemiology form" through iVisa.com?
iVisa.com has an unbelievably easy-to-use application form, enabling you to apply from anywhere in the world. You should follow the following step-by-step instructions:
First, fill in the online form with the information you need to start and select the application form.
Second, double-check and confirm your entry details and pay the application fee online.
Third, attach the required documents to complete the process. You will receive the Moldova epidemiological form via email.
Where can I get more details on how can citizens of Austria visit Moldova during Coronavirus?
We have incredible support agents who are ready to answer any questions you may have. The support team is available 24/7 and ready to assist you. If you have any questions, you may also contact help@ivisa.com. Please visit the application page if you want to learn more about how can citizens of Austria visit Moldova during Coronavirus.
How secure is iVisa.com to process my information?
We offer travel services that are easy to apply for and provide the most valuable results. There is also an option to request, depending on your preference. As well as ensuring that your information is handled safely and securely, we provide 24/7 services to ensure that your privacy. Please read the reviews to gain more clarity.
iVisa.com Recommends
There are many fascinating places to visit in Moldova. Visiting these locations will also allow you to appreciate the natural beauty. It doesn't matter where you go as long as you are fun and adventurous. Moldova's Old Orhei has many historical monuments and picturesque natural landscapes. The rocky formation of irregular shapes is a result of the country's vibration and includes fascinating sites such as underground galleries, small fortifications, and cave areas overlooking the river, making the area a must-see in Moldova. Cultural layers from numerous epochs, including the Paleolithic, the Eneolithic, and the Iron Age, were discovered here in the course of extensive archaeological excavations. On the Nistru River, where the city of Soroca is located, there are many picturesque bends. On Nistru's right side is another high plateau made mostly of rocks, which makes it something of a pleasant place to hike or travel by boat. On the right bank of the Nistru, about 110 km north of Chisinau, the "Holy Trinity" Monastery of Saharna contains the relics of St. Cuvios Macarie and the footprint of St. Maria, according to legend. Then, visit these places and have a great time while you're visiting them.