It is mandatory to have the necessary travel documents to visit Moldova. Fill out the Moldova epidemiological form before entering the country. With iVisa.com, you'll have your form ready on time. Due to the pandemic, you need to submit some additional travel documents such as health insurance, negative PCR test results, health declaration, and more. Don't worry, iVisa.com is here to help you. Continue reading this article for more details about how can citizens of Germany visit Moldova during coronavirus.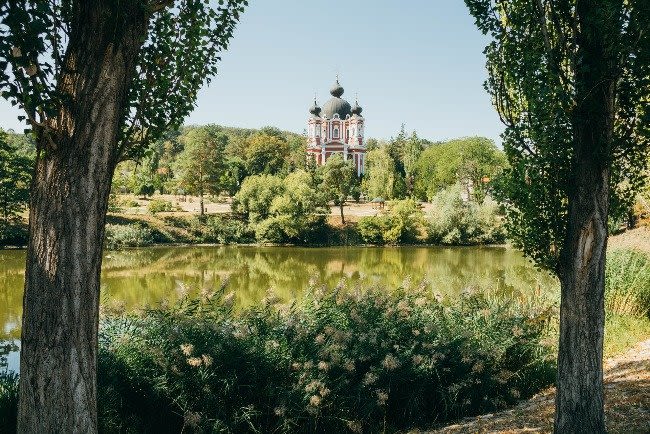 How can I use iVsa.com to apply for the "Moldovan Epidemiological Form"?
Go to the application page.
You'll be asked for some basic information about yourself and your trip.
Choose a processing time.
Our experts will review your application and notify you if any issues arise.
You can receive any document via email.
Print or show your travel documentation.
Apply in advance
It is better to apply in advance as it helps to prevent unnecessary issues. iVisa.com can assist you with the Moldova Epidemiological Form, so you get a smooth entry into Moldova.
Frequently Asked Questions
I'm planning a trip to Moldova; do I need any vaccinations?
Vaccinations are recommended in Moldova. For Moldova, the following immunizations are recommended: Covid-19, typhoid, yellow fever, rabies, meningitis, polio, measles, mumps, rubella (MMR), Tdap (tetanus, diphtheria, and pertussis), chickenpox, shingles, pneumonia, and influenza. Fill the Moldova Epidemiological Form, to learn more about how can citizens of Germany visit Moldova during coronavirus.
Do I need a COVID-19 vaccine to enter Moldova?
No, you don't. As of today, COVID vaccination passports or certificates are not mandatory to enter Moldova. You are considered vaccinated if all doses of a vaccine against SARS-Cov-2 have been administered for at least two weeks before traveling. Since information may change quickly, we advise you to follow up on the latest Moldova travel updates and/or contact your local embassy.
Do I need to self-isolate in Moldova?
Quarantine requirements- travelers arriving from South Africa, Lesotho, Botswana, Zimbabwe, Mozambique, Namibia, Eswatini and Malawi: 14 days regardless of vaccination status.
Quarantine requirements- all other travelers: 14 days for travelers without a negative COVID-19 test result or proof of vaccination or proof of recovery/antibodies.
Is it mandatory to present a negative result from a COVID-19 test to enter the country?
COVID test prior to arrival: PCR within 72 hours for all travelers arriving from a red list country. PCR within 72 hours or antigen within 48 hours for unvaccinated travelers from non-red list countries.

COVID test exemptions: Children under 5 and fully vaccinated travelers from non-red list countries are exempt
Which countries are on the red list in Moldova?
Red list countries: Andorra, Anguilla, Argentina, Aruba, Australia, Austria, Bahamas, Barbados, Belgium, Belize, Bermuda, Bolivia, Bonaire, Botswana, Canada, Cape Verde, Czech Republic, Cyprus, Croatia, Curacao, Denmark, Dominica, Switzerland, Estonia, Finland, France, Georgia, Gibraltar, Greece, Grenada, Greenland, Isle of Man, Cayman Island, Faroe Island, Turks and Caicos, UK Virgin Island, Ireland, Iceland, Israel, Italy, Lithuania, Lebanon, Liechtenstein, Luxembourg, Latvia, Malta, Monaco, Montserrat, Montenegro, Norway, Netherlands, Portugal, St Kitts and Nevis, San Marino, Seychelles, Slovakia, Slovenia, Spain, United States, Sweden, Suriname, Turkey and Uruguay.
Do immunizations qualify you for traveling to Moldova?
Sadly, no. Vaccinations alone will not grant you entry into Moldova. You will mandatorily require an E-visa to travel to Moldova. You also need to fill the Moldova Epidemiological Form to enter the country.
What is "Epidemiological Moldavian Form," exactly?
For German travelers, the epidemiological form must be filled out prior to travel. Arriving in this country requires that you disclose your details, travel, and physical condition. Three days before arriving, you need a negative COVID-19 PCR test or immunization certificate. Get support from iVisa.com to learn more about how can citizens of Germany visit Moldova during coronavirus.
What information is required to get the "Moldova Epidemiological Form"?
Just need to update this information.
Copy of passports, to get your contact details.
A valid email address, receive the form via email.
Payment information, pay for the application form online.
How much does it cost and how long does it take?
Three processing options are available through iVisa.com.
Standard processing option (

USD 20.00

-

24 hours

): The processing speed is slower, but the rate is affordable.
Rush processing option (

USD 35.00

-

8 hours

): Compared to the previous option, it is faster and more expensive.
Super Rush processing option (

USD 60.00

-

4 hours

): It is the fastest option available as well as the most expensive.
Fill the Moldova epidemiological form and learn more about how can citizens of Germany visit Moldova during coronavirus.
How should I submit an application on iVisa.com for "Moldova Epidemiological Form"?
Just need to follow these steps.
First: Fill in the online form with the information and choose the processing fee.
Second: verify your entry details and pay the application fee online.
Third: upload a scan of your passport as well as any other paperwork you need. Follow iVisa.com for more updates on how can citizens of Germany visit Moldova during coronavirus.
How to find more information on how can citizens of Germany visit Moldova during coronavirus?
If you need more details on how can citizens of Germany visit Moldova during coronavirus, visit iVisa.com. If you need any help, contact customer support agents. They are available 24/7.
How secure is iVisa.com to handle my information?
If you are looking for a fast and secure way to process your information, then iVisa.com is the right place for you. We encrypt your information using advanced software as we value your privacy. See the reviews for more clarity.
iVisa.com Recommends
Moldova has a lot of interesting places to visit. You can also enjoy and behold the magnificence of these lovely sites. Each location has something exciting and fun in store for you. Here are some of the top spots to visit that you should take note of.
With many historical sites and attractive natural environments, Old Orhei is one of Moldova's most popular tourist sites. The rocky creation of irregular shapes follows the land's vibrations and encloses intriguing sights such as underground galleries, miniature fortresses, and caverns with river views, making it one of Moldova's must-see destinations. Old Orhei is a historical and archaeological site in the Republic of Moldova, located in Trebujeni, some 60 kilometres north-east of Chisinau on the Raut River. It merges the natural scenery with relics of past civilizations in an organic way. Massive archaeological digs have uncovered cultural layers from several epochs, including the Paleolithic, Eneolithic, and Iron Age. Soroca is situated on the Nistru River, which has numerous scenic bends. Nistru's right side is also high and mostly built of rocks, making it a nice spot to hike or travel by boat. The "Holy Trinity" Monastery of Saharna, on the right bank of the Nistru about 110 kilometres north of Chisinau, is one of Moldova's most prominent religious pilgrimage destinations, housing the unique remains of St. Cuvios Macarie and, according to legend, a footprint of St. Maria. So, go to these sites and have the time of your life!