Do you have any plans to travel to Moldova? If so, please read through this article carefully to learn more about the requirements for travel such as for Moldova epidemiological form, which is important before you make your trip. You can get your documents from iVisa.com before your trip so that you can reach your destination smoothly. Go to the application page to learn how can citizens of Romania visit Moldova during coronavirus.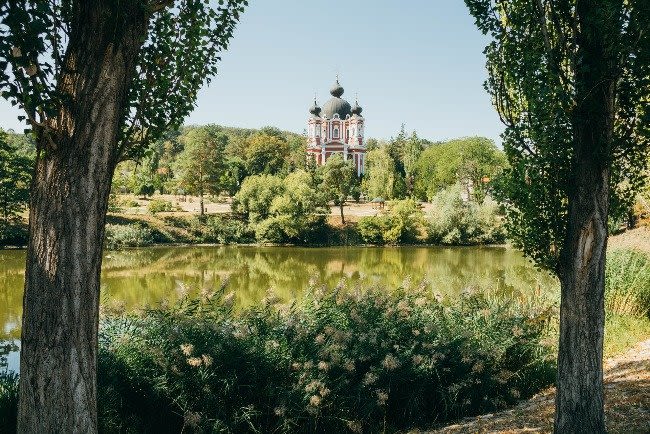 How can I use iVsa.com to apply for the "Moldovan Epidemiological Form"?
Access the application page.
Provide some information about yourself and your vacation.
Select a processing time.
In the event that any issues arise, our experts will notify you.
Get the Moldovan Epidemiological Form via email.
Print or show your travel documentation at the airport.
Apply in advance
Having your application ready in advance helps in preventing unnecessary problems. iVisa.com is able to assist you with the Moldova Epidemiological Form, which you need for a seamless entry into Moldova.
Frequently Asked Questions
What exactly is the Romania Moldovan epidemiological form?
It is a requirement for all Romanian travelers to complete the Moldova Epidemiological form before their trip. Your information, journey, and health conditions should be declared before you arrive in the country. In addition, you must have a negative PCR test for COVID-19 three days before your arrival. Get support from iVisa.com to learn more about how can citizens of Romania visit Moldova during coronavirus.
Do I need a COVID-19 vaccine to enter Moldova?
No, you don't. As of today, COVID vaccination passports or certificates are not mandatory to enter Moldova. You are considered vaccinated if all doses of a vaccine against SARS-Cov-2 have been administered for at least two weeks before traveling. Since information may change quickly, we advise you to follow up on the latest Moldova travel updates and/or contact your local embassy.
Do I need to self-isolate in Moldova?
Quarantine requirements- travelers arriving from South Africa, Lesotho, Botswana, Zimbabwe, Mozambique, Namibia, Eswatini and Malawi: 14 days regardless of vaccination status.
Quarantine requirements- all other travelers: 14 days for travelers without a negative COVID-19 test result or proof of vaccination or proof of recovery/antibodies.
Is it mandatory to present a negative result from a COVID-19 test to enter the country?
COVID test prior to arrival: PCR within 72 hours for all travelers arriving from a red list country. PCR within 72 hours or antigen within 48 hours for unvaccinated travelers from non-red list countries.

COVID test exemptions: Children under 5 and fully vaccinated travelers from non-red list countries are exempt
Which countries are on the red list in Moldova?
Red list countries: Andorra, Anguilla, Argentina, Aruba, Australia, Austria, Bahamas, Barbados, Belgium, Belize, Bermuda, Bolivia, Bonaire, Botswana, Canada, Cape Verde, Czech Republic, Cyprus, Croatia, Curacao, Denmark, Dominica, Switzerland, Estonia, Finland, France, Georgia, Gibraltar, Greece, Grenada, Greenland, Isle of Man, Cayman Island, Faroe Island, Turks and Caicos, UK Virgin Island, Ireland, Iceland, Israel, Italy, Lithuania, Lebanon, Liechtenstein, Luxembourg, Latvia, Malta, Monaco, Montserrat, Montenegro, Norway, Netherlands, Portugal, St Kitts and Nevis, San Marino, Seychelles, Slovakia, Slovenia, Spain, United States, Sweden, Suriname, Turkey and Uruguay.
Is it mandatory to show your Moldova Epidemiological Form at the airport?
To pass the health check conducted by the Health Authorities, you must display the documentation that we will send you to the airport. It is highly advised that you keep your document with you, either as a soft copy (smartphone, tablet, etc.) or as a hard copy. Use iVisa.com to get the Moldova epidemiological form and see how can citizens of Romania visit Moldova during coronavirus.
What information is required to get the Moldova Epidemiological form?
It's easy to get travel documents through iVisa.com. Please provide the following details.
Copy of passport, with a minimum validity of six months.
A valid email address, in order to receive the Moldova epidemiological form on time.
Payment information, pay the application fee online.
Follow iVisa.com for more details on how can citizens of Romania visit Moldova during coronavirus.
How much does iVisa.com charge?
Depending on your comfort level, you can choose from three processing options.
Standard processing option (

USD 20.00

-

24 hours

): The waiting time is high, but the price is low.
Rush processing option (

USD 35.00

-

8 hours

): If you select this option, your waiting time will be low, but the price will be a bit higher.
Super rush processing option (

USD 60.00

-

4 hours

): This is the fastest, but also the most expensive option. Pick one processing option and start the application process with iVisa.com.
How to complete the application process?
Here's what you need to do
First, complete the online application form with all the required information and select processing options.
Second, make sure that the information you have provided is accurate and pay the application fee online.
Third, submit the necessary documents online.
You will get the Moldova Epidemiological form via email and see how can citizens of Romania visit Moldova during coronavirus.
How can I get more information on Moldova's epidemiological form?
If you need any help with travel requirements, contact our customer support team. They are available 24/7. If you need more information about the Moldova epidemiological form, then visit the application page. If you have any further questions, please email us at help@ivisa.com.
Can I trust iVisa.com?
Yes. The information you provide is protected by advanced software and managed by experts. Your privacy is our concern. Go through the comment section for more proof.
iVisa.com Recommends
There are many fascinating sites to see in Moldova. You can also take pleasure in and admire the beauty of these lovely locations. Exciting and fun activities greet you at each place. Here are some of the top locations to visit in the area that you should not miss. Bendery is Moldova's fourth-largest city and is home to an excellent Ottoman fortress dating from the 16th century with red-tiled turrets and lofty stone walls. Bender, once known as Tighina, has long been a contested territory, and a visit to the memorial park will show how severe the damage is even now. One of Moldova's most attractive landmarks is the Thanksgiving Candle. The monument is built on the rocks of the Nistru River, which are likewise considered a piece of art in its own right. The Thanksgiving Candle monument is a tribute to all of Moldova's cultural landmarks that have been destroyed, as well as to the unsung heroes who have strived to preserve the culture. Once you arrive, you will be greeted with stunning and spectacular vistas. Your visit to Moldova will be incomplete if you do not see this national landmark. There are several magnificent locations that will make your journey more exciting. So make the most of your vacation time in Moldova.