Tourism is being affected by the present pandemic, which is preventing many people from reaching their destinations. You can obtain the necessary travel documents for your trip with iVisa.com. Nevertheless, we are confident that as countries' open borders, health authorities are implementing the most effective rules to prevent Coronaviruses from spreading within the country and abroad. Visiting Moldova is a rewarding experience, and you are sure to enjoy it. Visit iVisa.com for information on Moldova covid entry requirements.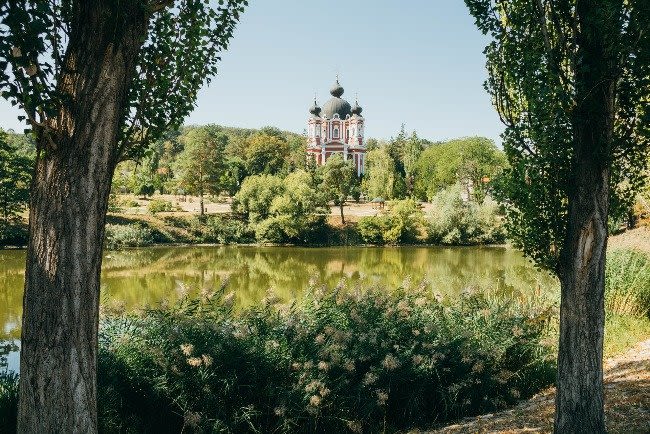 For anyone entering Moldova during the pandemic, a Moldova epidemiological form is a mandatory travel document. You can count on iVisa.com for support. So, keep reading to find out everything you need to know about Moldova covid entry requirements.
How can I get Moldova Epidemiological Form with iVisa.com?
Visit the application page.
You will fill in some basic information about yourself and your trip.
Select a processing speed.
Our experts review your application and let you know if there are any problems.
Receive the travel document via email.
Print or display your travel document at the airport.
Start your application soon!
Frequently Asked Questions
Is it mandatory to have "Moldova epidemiological form"?
The answer is yes. To board a flight to the Republic of Moldova, passengers are required to complete the Moldova epidemiology form in advance. This is part of the Moldova covid entry requirements. Upon arrival at the airport, the completed form must be presented.
Do I need a COVID-19 vaccine to enter Moldova?
No, you don't. As of today, COVID vaccination passports or certificates are not mandatory to enter Moldova. You are considered vaccinated if all doses of a vaccine against SARS-Cov-2 have been administered for at least two weeks before traveling. Since information may change quickly, we advise you to follow up on the latest Moldova travel updates and/or contact your local embassy.
What is actually meant by "Moldova epidemiological form"?
The Moldova Epidemiological Form is an obligatory travel document created as part of the new COVID-19 mitigation measures in the country or Moldova covid entry requirements. Before entering the nation, all arriving travelers must fill out the Moldova Epidemiological Form to indicate their medical condition.
Will the negative PCR test replace the visa requirement of Moldova?
No. possessing either a negative COVID-19 PCR test or a vaccination certificate issued 72 hours prior to their departure cannot replace visas. Travelers who need a visa or other travel documents to enter Moldova must apply for them before departure. Get the help of iVisa.com to learn more about the Moldova covid entry requirements.
Is it mandatory to present a negative result from a COVID-19 test to enter the country?
COVID test prior to arrival: PCR within 72 hours for all travelers arriving from a red list country. PCR within 72 hours or antigen within 48 hours for unvaccinated travelers from non-red list countries.

COVID test exemptions: Children under 5 and fully vaccinated travelers from non-red list countries are exempt
Which countries are on the red list in Moldova?
Red list countries: Andorra, Anguilla, Argentina, Aruba, Australia, Austria, Bahamas, Barbados, Belgium, Belize, Bermuda, Bolivia, Bonaire, Botswana, Canada, Cape Verde, Czech Republic, Cyprus, Croatia, Curacao, Denmark, Dominica, Switzerland, Estonia, Finland, France, Georgia, Gibraltar, Greece, Grenada, Greenland, Isle of Man, Cayman Island, Faroe Island, Turks and Caicos, UK Virgin Island, Ireland, Iceland, Israel, Italy, Lithuania, Lebanon, Liechtenstein, Luxembourg, Latvia, Malta, Monaco, Montserrat, Montenegro, Norway, Netherlands, Portugal, St Kitts and Nevis, San Marino, Seychelles, Slovakia, Slovenia, Spain, United States, Sweden, Suriname, Turkey and Uruguay.
Do I need to self-isolate in Moldova?
Quarantine requirements- travelers arriving from South Africa, Lesotho, Botswana, Zimbabwe, Mozambique, Namibia, Eswatini and Malawi: 14 days regardless of vaccination status.
Quarantine requirements- all other travelers: 14 days for travelers without a negative COVID-19 test result or proof of vaccination or proof of recovery/antibodies.
What are the processing times and fees?
The application process at iVisa.com is simple, and the travel documents are issued in a timely and efficient manner. Generally, we have three options to address your needs.
Standard processing service If you have enough time to get your need before your trip, then go for this option.

USD 20.00

-

24 hours

.
Rush processing service is a faster way to get what you need than the prior option.

USD 35.00

-

8 hours

.
Super Rush processing service, you must pay the highest amount for this service for this option, but you will obtain the Moldova Epidemiological Form as quickly as possible.

USD 60.00

-

4 hours

.
What are the prerequisites for applying for "Moldova epidemiological form"?
A simple online application asks for your personal information, health condition as well as details about your trip. Complete the Moldova Epidemiological Form to help the government fight against the pandemic.
As per Moldova covid requirements, make sure to have the following documents with you.
A valid passport
Email address to get the Moldova Epidemiological Form right away.
Payment options, you can pay the application fee with a credit/debit card or Paypal account.
How do I apply for "Moldova epidemiological form" through iVisa.com?
The great thing about iVisa.com application form is that it is extremely straightforward, allowing you to apply from any location. The following steps will guide you:
Fill out the form with the required details and select processing time.
VerifyIt is important to double-check the information being entered and get it confirmed.
Attach any supporting documents. You will get the Moldova Epidemiological Form via email.
Where can I get more details on Moldova covid entry requirements?
Interestingly enough, our customer service team is available seven days a week, 24 hours a day. If you have any questions, please contact us at any time, and we will respond as soon as possible. Follow Moldova covid entry requirements so you can have a wonderful trip with the help of iVisa.com. For a quick response, you can reach out to us at: help@ivisa.com. Visit the application page for more details about the Moldova covid entry requirements.
Is doing business with iVisa.com safe?
iVisa.com has a lot of grateful clients who speak highly of our valuable services, so please visit our feedback section or read our customer reviews to get a better understanding of what we offer. You can learn more about our privacy practices by visiting iVisa.com.
iVisa.com Recommends
If you like traveling and would like to try a variety of different foods, Moldova is the best place to visit. You can enjoy different types of food at this location. A traditional Moldovan dish, sarmale can also be found in other countries, though in a somewhat modified form. Sarmale and other similar dishes are popular in the countries that were once part of the Ottoman Empire, from the Middle East to the Balkans and Central Europe. The Moldovan maize loaf, Mamaliga, is significantly more weathered than regular bread. It is also a pretty fun word to say, Maliga was a traditional Moldovan food for peasants. Zeama is a soup that is usually served at lunchtime in Moldova. It is filled with potato stuffing which is traditionally brinza, varza chips, or cartouche fried bread. Boston placintas are available in the fall, an apple placinta or a meat placinta with a visine (sur cherries) in the summer, and throughout the year. In the summer, brinza and sour cream are blended to make a pulp, brinza and cod are mixed, and brinza and dill are mixed occasionally. These are just a few of the many things that are available when you are in Moldova. Make your plans now and have a great trip.