Travelers all over the world are hesitant about visiting a country because of the problems with Covid. Although countries are opening their borders, health authorities are implementing the best precautions to keep residents and visitors safe from Coronavirus. Please feel confident about visiting Moldova and experiencing this beautiful country. If you would like to know about the Moldova covid test, iVisa.com can assist you.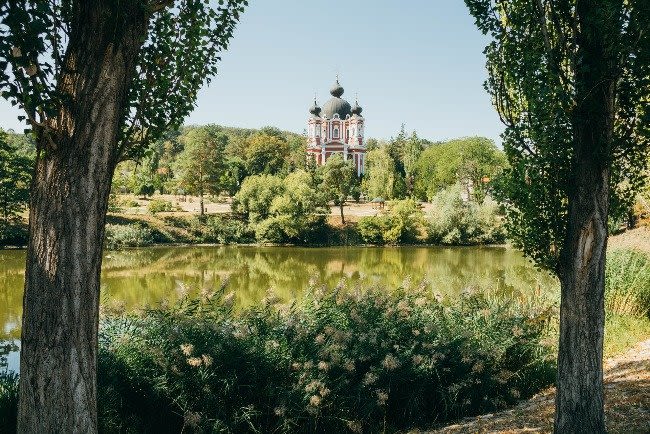 Every traveler entering Moldova during Covid must obtain a Moldova epidemiological form. Simple, fast, and secure are some of our best features. Your support is at your fingertips with iVisa.com. You can find out all the details regarding Moldova covid test in the following lines.
How can I get Moldova Epidemiological Form with iVisa.com?
Visit the application page.
Fill out the application form with basic information about yourself and your trip.
Pick a processing speed.
Our experts review your application and let you know if there are any problems.
Receive the form via email.
Print or display your travel document at the airport.
Frequently Asked Questions
What is the best way to prepare for your trip to Moldova?
A good way to prepare for a trip to Moldova is to follow the covid rules and take the Moldova covid test. Passengers without negative COVID-19 tests or valid vaccination certificates will be self-isolated for 14 days. Before departing, the examination must be completed 72 hours in advance. At the time of arrival, a completed Moldova epidemiological form is required.
Do I need a COVID-19 vaccine to enter Moldova?
No, you don't. As of today, COVID vaccination passports or certificates are not mandatory to enter Moldova. You are considered vaccinated if all doses of a vaccine against SARS-Cov-2 have been administered for at least two weeks before traveling. Since information may change quickly, we advise you to follow up on the latest Moldova travel updates and/or contact your local embassy.
Do I need to self-isolate in Moldova?
Quarantine requirements- travelers arriving from South Africa, Lesotho, Botswana, Zimbabwe, Mozambique, Namibia, Eswatini and Malawi: 14 days regardless of vaccination status.
Quarantine requirements- all other travelers: 14 days for travelers without a negative COVID-19 test result or proof of vaccination or proof of recovery/antibodies.
Is it mandatory to present a negative result from a COVID-19 test to enter the country?
COVID test prior to arrival: PCR within 72 hours for all travelers arriving from a red list country. PCR within 72 hours or antigen within 48 hours for unvaccinated travelers from non-red list countries.

COVID test exemptions: Children under 5 and fully vaccinated travelers from non-red list countries are exempt
Which countries are on the red list in Moldova?
Red list countries: Andorra, Anguilla, Argentina, Aruba, Australia, Austria, Bahamas, Barbados, Belgium, Belize, Bermuda, Bolivia, Bonaire, Botswana, Canada, Cape Verde, Czech Republic, Cyprus, Croatia, Curacao, Denmark, Dominica, Switzerland, Estonia, Finland, France, Georgia, Gibraltar, Greece, Grenada, Greenland, Isle of Man, Cayman Island, Faroe Island, Turks and Caicos, UK Virgin Island, Ireland, Iceland, Israel, Italy, Lithuania, Lebanon, Liechtenstein, Luxembourg, Latvia, Malta, Monaco, Montserrat, Montenegro, Norway, Netherlands, Portugal, St Kitts and Nevis, San Marino, Seychelles, Slovakia, Slovenia, Spain, United States, Sweden, Suriname, Turkey and Uruguay.
Is "Moldova Epidemiological form", a compulsory procedure to be followed?
In short, yes. It is required that all travelers, regardless of nationality, complete the Moldova Epidemiological Form, which is a health declaration stating that they are in good health and free of infectious diseases. Take the Moldova covid test and enjoy your trip with the help of iVisa.com.
How long does it take and how much does it cost to receive travel documents through iVisa.com?
Our simple application process and timely issuance of travel documents make iVisa.com an ideal place to obtain any travel documents. Basically, there are three options that we can provide for you.
Standard processing service (

USD 20.00

-

24 hours

), the most affordable option to get your travel document.
Rush processing service (

USD 35.00

-

8 hours

), in case you need the Moldova epidemiological form sooner.
Super Rush processing service (

USD 60.00

-

4 hours

), pay the highest fee to get the fastest option.
What is the information required to fill the "Moldova epidemiological form"?
Fill the online application that requires your personal information, mainly health status. If you don't have a negative covid-19 test result, you need to get a Moldova covid test. This is vital for the government to combat the pandemic. These details must also be included.
Scan of passport, to get your information
A valid email address as the Moldova epidemiological form will be sent via email.
Payment details, you need to pay the application fee using a credit/debit card or PayPal account.
How do I use iVisa.com to apply for a "Moldova epidemiology form"?
You can apply from anywhere in the world using an incredibly user-friendly form on iVisa.com. Here are the steps you need to follow:
First complete the online form with the necessary information and select the processing time.
Second, double-check and confirm the information you've provided. Then pay the application fee online.
Third, attach a copy of passport and other documents if required.
How can I get additional information on the Moldova covid test?
If you have specific questions, then please contact our amazing support agents. The support team is available 24/7 and ready to assist you. For prompt help, you can send an email to help@ivisa.com.
Visit the application page if you need more details about the Moldova covid test. When you're in Moldova, follow all the health protocols to avoid any problems with the authorities.
In terms of privacy, how secure is iVisa.com?
It is more important for us that the data you've provided is secure. Thus, we ensure that our team members are highly experienced and will protect your personal information. See the reviews for more clarity.
iVisa.com Recommends
It is possible to visit many interesting places in Moldavia. As well as viewing the beauty of these places, you can also enjoy them. A variety of exciting and enjoyable activities await you at each location. Some must-see places are listed here with information about how to get there. The fourth-largest city in Moldova is Bendery, where the stronghold of the Ottoman Empire dates back to the 16th century, complete with red-tiled turrets and tall stone walls.
Among Moldova's most beloved landmarks is the Thanksgiving Candle. The monument was built on the Nistru River's rocks, which are also considered a unique work of art for another reason. In addition to paying homage to the unnamed heroes who have worked to preserve Moldova's culture, the monument honors all of Moldova's destroyed monuments. As soon as you arrive at the site, you will see beautiful and amazing sights. It would be incomplete for you to visit Moldova if you didn't see this national landmark. During your trip, you will find mighty places that make you livelier. So have more amazing days in Moldova on your vacations.