If you plan a trip to Moldova, you should check if you need a Moldova eVisa to enter. 100 nationalities need to apply for this electronic visa to travel around the country.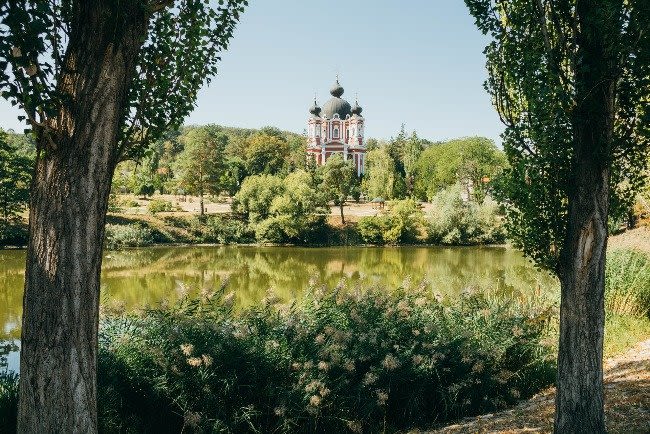 Luckily, at iVisa.com, we can help you with this application process. You only need to follow some simple steps, and we will do the rest.
Moldova eVisa for citizens of Myanmar! Learn more about it down below on our FAQs.
Frequently Asked Questions
Do I need a vaccine to travel to Moldova as a citizen of Myanmar?
The Moldovian government highly suggests that travelers enter Moldova vaccinated against Hepatitis A, Hepatitis B, and Rabies. Additionally, travelers should be vaccinated against COVID-19.
Moldova eVisa for citizens of Myanmar! If you can get vaccinated, we suggest you do.
Do I need a PCR Test to travel to Moldova as a citizen of Myanmar?
Unvaccinated travelers need to carry a negative PCR Covid-19 test result taken within 72 hours before departure and present it at the airport counter and immigration border. Moldova eVisa for citizens of Myanmar! Remember to carry your PCR Test all time during your trip.
Do I need to quarantine upon arrival in Moldova as a citizen of Myanmar?
There is no quarantine restriction for fully vaccinated travelers or those who present a negative PCR test result at the immigration border. Moldova eVisa for citizens of Myanmar! Remember to follow all the health guidelines of the country to have a safe trip.
What is the Moldova eVisa, and how can I apply for it?
The Moldova eVisa is an electronic visa that allows visitors to enter the country for tourism purposes. You can visit the country for a maximum of 90 days Per Entry, and it is only valid for a Single Entry.
You can apply for the Moldova eVisa by following these 3 steps:
Step 1: Complete our online forms with your personal information, then select the processing time according to your travel budget.
Step 2: Check if your information is correct before choosing the payment method. If not, your process could get rejected.
Step 3: Finally, scan and upload all the required documents.
Moldova eVisa for citizens of Myanmar! Follow this simple process to get your Moldova eVisa.
What is the cost to obtain the Moldova eVisa?
iVisa.com provides you with 3 options for you to choose from. Prices include the service and the government fee.
Standard Processing:

16 days

-

USD 90.00

.
Rush Processing:

13 days

-

USD 110.00

.
Super Rush Processing:

11 days

-

USD 140.00

.
Moldova eVisa for citizens of Myanmar! You can apply for your travel document fast with iVisa.com.
What documents do I need to upload to apply for my Moldova eVisa?
Passport information page.
Currently taken passport-size photographs with white background.
Accommodation and Travel schedule.
Travel insurance information.
Financial proof for traveling.
An e-mail address.
A payment method that can be a credit or debit card.
Moldova eVisa for citizens of Myanmar! Scan and upload all the documents so you can apply for the Moldova eVisa.
Can iVisa.com be reliable?
Indeed! iVisa.com is super safe to use. Hundreds of customers have been using our services for years. We have a review section where you can read all about it.
I need to talk to someone about iVisa.com services. Who can I talk to?
If you have any doubt about iVisa.com or our services, you can contact our customer service agents. They can help you 24/7 with anything you need.
iVisa.com Recommends
During your stay in Chisinau, you can visit the Parcul Catedralei, a wonderful and magical place for fans of the architecture and the history of the country's religion.
The Metropolitan Cathedral of the Nativity of Christ is the main attraction of the Parcul Catedralei. It is a Moldavian Orthodox church dating back to the 1830s, where it was the center of religious activities. This architectural attraction contains frescoed interiors with captivating structures and traditional art of the period. The bell tower was built in 1836. Unfortunately, it was destroyed after World War II and was only rebuilt in 1997 to encourage tourism further.
Legend has it that the original bell ended up in Bolhrad, now in Ukraine, due to a mix-up with a drunken bureaucrat in St. Petersburg.
On the other hand, the Parcul Catedralei in Chisinau is quite a popular park for families and groups of teenagers to stroll and play around. However, along with B-dul Ştefan cel Mare, you can observe the Holy Gates dating back to 1841, also known as the Triumphal Arch of Chisinau.