If you're thinking about Moldova as one of your destinations for your next holiday, be aware that a visa might be necessary to enter the country. Luckily, Moldova launched its eVisa system back in 2014, and, with iVisa.com's help, you'll be able to apply for a Moldova eVisa for Citizens of Turkmenistan just by filling in some requirements on the website.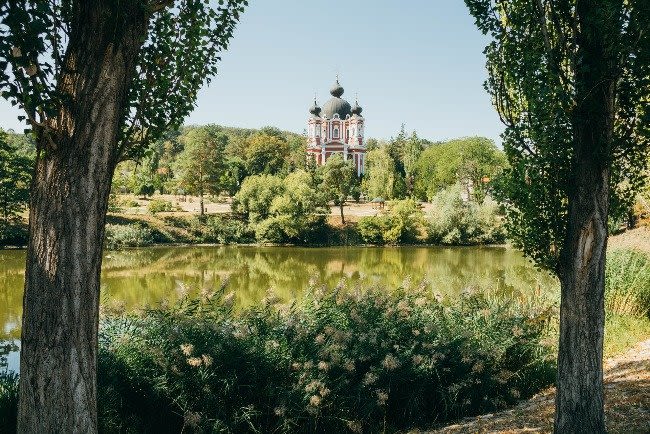 If you're looking for more information, you might want to take a look at the frequently asked questions below before you hit the apply now button.
Frequently Asked Questions
Is COVID-19 vaccine required to enter the country?
No, the COVID-19 vaccine is still not mandatory to enter the Republic of Moldova. However, for those who received both doses of the vaccine already, there must be a 14 days period after the second dose was applied and a COVID-19 vaccination card or electronic proof for the vaccine must be presented during arrival to the country.
PCR Test required to enter the country?
If the traveler hasn't received both doses of the vaccine yet, they'll have to present a PCR or Antigen test with a negative result, and the time for the test being no longer than 72 hours before the date of arrival.
Quarantine required upon arrival in the country?
Travelers will have to fill out a form and agree to stay in quarantine for at least 14 days upon arrival in the country in case they don't count with one of the documents previously mentioned (PCR, COVID-19 vaccination card). However, travelers who present at least one of these certificates will be exempt from self-isolation.
As a Turkmenistan citizen is it possible for me to apply for Moldova e-Visa?
Yes, you can apply for an online e-Visa being a Turkmenistan citizen, and one of the effortless ways to do it is using the iVisa.com services.
How to apply for a Moldova eVisa?
If you want to process a Moldova eVisa for Citizens of Turkmenistan the easiest and fastest way to do it will be through iVisa.com, you'll just have to meet all the requirements and fill out the application form on the website, and as soon as you complete all of the steps will do the rest for you to receive your eVisa.
Which basic requirements do I have to meet to apply for a Moldova eVisa?
A passport with at least 1 blank page and 3 months validity from the departure date.
A recent passport-size photo.
Valid Email address in which you'll receive your Moldova eVisa for citizens of China as a PDF file.
Your return ticket.
Cover letter.
Some proof of Travel Medical Insurance.
Bank statement.
An Invitation letter, hotel reservation, or any type of proof of accommodation.
A valid method of payment such as credit/debit card.
A selfie holding the physical credit card used for the payment (if applicable).
How many entries does the Moldova eVisa permit and for how long is it valid?
The Moldova eVisa for Citizens of Turkmenistan is a single entry visa and will last only for the following 90 days after arrival.
What's the time frame for the eVisa to be processed and how much does it cost?
iVisa.com offers three processing time options for you to choose according to your needs:
Standard Processing Time: Takes

16 days

and costs

USD 90.00

for your Moldova eVisa for Citizens of Turkmenistan to be ready.
Rush Processing Time: It takes

13 days

and cots

USD 110.00

.
Super Rush Processing Time: The fastest option for those in a hurry takes

11 days

and costs

USD 140.00

.
Which benefits do iVisa.com offer?
iVisa.com is a user-friendly platform that will help you process all your eVisa applications in the fastest and easiest way possible. iVisa.com charges a reasonable price so you can avoid the complicated forms, government websites, and hard work that is to deal with all the paperwork.
Check out our reviews here.
Where can I find more information?
For more doubts about how to apply for a Moldova eVisa for Citizens of Turkmenistan please reach out to our dedicated customer support team, available 24/7 and free of charge.
iVisa.com Recommends
Moldova, A paradise for Wine Lovers
Moldova is the perfect destination for those wine enthusiasts that will enjoy spending their holidays surrounded by the most sophisticated and exotic wine flavors in Europe. Besides the Wine Festival celebrated the first week of October of each year, this country is well known for its beautiful vineyards and extended wine culture, and it's also the house of some of the most famous wine-making facilities in Europe.
One of the most renowned wineries in Moldova is the Mileștii Mici, also known as the underground city. Founded in 1969, this enormous winery is located 18 kilometers outside the country's capital, this massive labyrinth counts with 200 kilometers of underground tunnels, and on the inside, you'll find around 2 million bottles of wine this being the main reason why this cellar holds the title for the biggest cellar and wine collection in the world on the book of record Guinness since 2005.