Citizens of Uganda need to have with them the Moldova eVisa to be able to enter Moldova for Tourism purposes. At iVisa.com you can apply for this document online from the comfort of your house. It is an easy and simple process. Would you like to know more about the Moldova eVisa for citizens of Uganda? Continue reading our FAQs.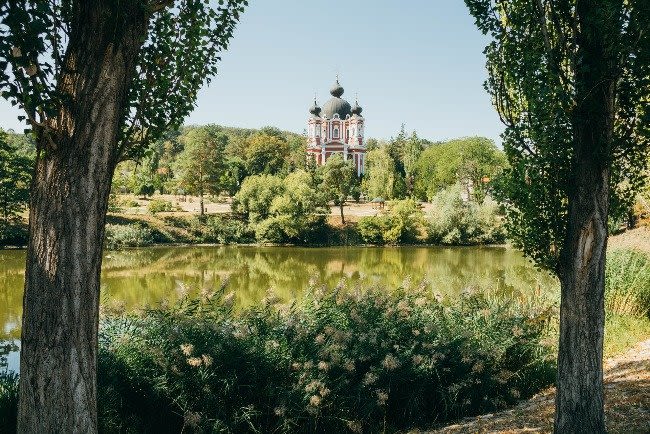 Frequently Asked Questions
Do I need a vaccine to travel to Moldova as a citizen of Uganda?
Visitors are recommended to be vaccinated against Hepatitis A, Hepatitis B, and Rabies before entering Moldova. Likewise, the Covid-19 is also recommended due to the current pandemic.
Do I need a PCR Test to travel to Moldova as a citizen of Uganda?
Fully vaccinated travelers don't have to present a PCR Covid-19 test result to enter the country. Also exempt are children younger than five years old, holders of diplomatic passports, and students.
Do I need to quarantine upon arrival in Moldova as a citizen of Uganda?
Only unvaccinated travelers must quarantine after entering the country, and can only leave isolation with a negative PCR test result.
What is the Moldova eVisa for citizens of Uganda and how can I apply for it?
The Moldova eVisa is an electronic travel document that allows citizens from Uganda to enter the country. You can only enter the country once, and stay for at least 90 days.
You have to follow these three steps to apply for the Moldova eVisa for citizens of Uganda:
Step 1: Complete the iVisa.com electronic form and then select the processing time that suits your needs.
Step 2: Examine that all your information is valid before selecting your method of payment.
Step 3: Finally, submit the required documents.
What is the cost to obtain the Moldova eVisa for citizens of Uganda?
There are three options for you to pick from. These prices include the Government Fee.
Standard Processing:

16 days

-

USD 111.99

.
Rush Processing:

13 days

-

USD 151.99

.
Super Rush Processing:

11 days

-

USD 208.99

.
What documents do I need to apply for my Moldova eVisa for citizens of Uganda?
To apply for the Moldova eVisa, you need to scan and submit the following documents:
A copy of the information in your Passport. With at least 6 months of validation
A Passport-size photograph with white background and recently taken.
Accommodation and air ticket data.
Travel and medical insurance information.
Financial statement, so you can prove that you can pay for your trip.
An e-mail address, so you can receive your Moldova eVisa.
A payment method that can be a credit or debit card.
Is iVisa.com reliable?
Absolutely! We are a company with hundreds of happy customers. All this is due to our excellent data analysis system and a work team that constantly ensures the confidentiality of personal documents. Verify our claims in the reviews section.
Where can I talk to someone about the Moldova eVisa for citizens of Uganda, if I have any questions?
You can contact our customer service experts, they are available 24/7 to help you with any question you might have about our services or the Moldova eVisa.
iVisa.com Recommends
If you are planning a trip to Moldova, one of the most interesting places to visit is the Tipova Cave Monastery. This fantastic place is built on one of the highest cliffs in the western part of the Dniestr River, near the village of Tipova, approximately 100 km from the capital. This monastery consists of three religious sections and monastic cells, all unique by very precarious stairs built on one side of the rock. The oldest section, called the cave church of the Elevation of the Holy Cross, dates back to the 11th century. On the other hand, the more modern section is the cave complex of the Dormition of Our Lady dating from the 15th century, within this section there is a church still active and used for village ceremonies and some special events, and also has a museum. These sections have not only had a religious function but have also played an important role in the defense of the Medieval State against Mongol attacks and other enemies. If you wish to enter these religious sections one must dress appropriately. Book a tour to Tipova Cave Monastery before traveling to ensure that you will get to see it with no problem.