Please note: The Morocco visa for Nigerian citizens is not currently available on our platform. We hope you will soon be able to apply again. Meanwhile, you can read below the visa requirements and everything you need for this application, so you will be ready once the visa is available.
Africa is a continent full of astonishing landscapes, amazing people, and rich culture. Nigeria has fantastic attractions, but have you ever considered visiting a North African country? Morocco can be an excellent destination for Nigerian citizens, with colorful streets, great food, and shops that will make you come home with full baggage.
But you need a Moroccan visa to live this experience. Moroccan visas are mandatory for Nigerians to enter the territory. Fortunately, the application process is straightforward once they are eligible for the Morocco e-Visa. So there is no need to visit a Moroccan embassy or Moroccan consulate to apply because you'll fill out the visa application form online in a few clicks.
The Ministry of Foreign Affairs developed this visa for Morocco to facilitate the procedures for tourists. But everything can be even easier if you count on iVisa services to submit your visa application and those of your family. Then, we can quickly process the visa application. We will do the hard work while you relax and plan your itinerary!
Just be aware that if you apply for a Morocco visa for tourism purposes, you can't use the same visa for study or work, for example. In this case, you should consult the nearest embassy for a transit, student, or business visa.
Read more about all the Morocco visa requirements, all the required documents, visa fees, travel tips, and everything Nigerian nationals need to know before departure!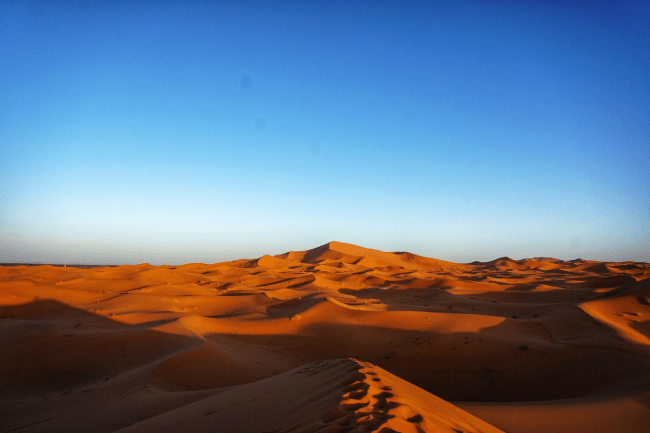 Morocco tourist visa for Nigerian citizens
Since the e-Visa is available, you can quickly apply for the Morocco tourist visa from Nigeria! The online procedure facilitates the application, so travelers don't need to go to a Moroccan embassy or consulate to get the document.
iVisa can support you through this visa process. You can fill out the application form on our website, attach the documents, and in a few minutes, your work is done. Our team will process your visa and send it to your email address once it is approved. If you have any problems with the Morocco visa requirements, we'll notify you and help you get everything you need for a successful application.
The eVisa is a single-entry visa, and it's necessary to enter Morocco 180 days after its issuance. It allows the visitor a 30-day stay in Morocco, but it's possible to apply for a visa extension.
Those traveling with minors must be aware that according to the Morocco visa requirements, they must present a valid passport and a visa too. Parents or legal guardians can apply for the travel document if the child is not old enough to apply on his own.
How to fill out the Morocco Visa Application Form from Nigeria
iVisa works to make your visa application easy! So we prepared a form that is simple and quick to fill out. All you have to do is follow the steps:
First: To get the visa to travel to Morocco, you must complete the online form with personal details and travel information. Then, choose the processing time according to your needs.

Second: You will pay the visa fee through a debit or credit card. It's essential to check that all the information entered is correct before applying.

Third: Upload any additional documents. Once you have completed the visa application form, you can submit it. The iVisa team will process your visa and update you if any issues arise.
After your application is approved, you will receive the visa to travel to Morocco by email.
Morocco Tourist Visa Requirements and documents for Citizens of Nigeria
The procedure is simple, but be sure that you have the following documents on hand:
Original passport: The passport must be valid for at least six months.

Invitation letter: You can get it from the Moroccan Migration Service. You have to provide the invitation number in your e-Visa application. A cover letter explaining the reason for the trip must also be submitted.

Bank statement: A bank statement demonstrating sufficient funds for the trip's financial expenses.

Travel insurance: Insurance covering medical treatment is required.

Email address: An email address to receive the visa or if any issues arise during processing.

Payment method: You can pay the fee for the Morocco visa application with a debit or credit card.
Sometimes the Moroccan Ministry of Foreign Affairs officer can request additional documents, like a flight reservation, proof of hotel reservation, marriage certificate, or residence permit. The iVisa team will support you through the entire process and let you know if you need to send any other requirements.
Morocco Visa fees for Citizens of Nigeria
There are three processing alternatives, and you can choose according to the processing time and price that suits you best. These are the following options for Morocco visa fees:
Standard Processing Time: This option is perfect for anyone who is planning their trip in advance and has extra time to wait for the visa to be approved.

Rush Processing Time: A slightly faster option for anyone looking to travel soon.

Super Rush Processing Time: This is the fastest option we offer and it's perfect for any last minute travelers in a rush to get their visa.
Morocco Visa from Nigeria: Processing Time
You will choose among three options of processing time for the Moroccan visa, which varies from four to one day: Standard (4 Business days), Rush (3 Business days), and Super Rush (1 Business day). Check the prices for each of them above.
Morocco Public Health Passenger Form
Besides a visa, you need a Morocco Health Passenger Form. This is one of the health measures established in the country to prevent the spread of Coronavirus. It is a mandatory travel document for all international arriving passengers.
But no worries, you can obtain the document online by filling in the iVisa application page, and the procedure will be fast and practical. You will submit all the required information in a few clicks and receive the Morocco Health Passenger Form in your email. At the airport, you must show a printed and signed hard copy of the document to pass the health check established by local authorities.
Click [here] for more details about the Morocco Health Passenger Form.
COVID-19 travel restrictions
COVID-19 directly affected tourism, and the countries had to adapt the entry requirements to make travel safe again. Although many restrictions are no longer applied, Morocco still requests visitors to submit the Health Passenger Form.
Regarding the COVID-19 vaccination, passengers don't need a vaccine certificate to travel to Morocco. Otherwise, unvaccinated travelers must present a negative PCR test result taken less than 72 hours before departure. Those fully vaccinated (at least three COVID-19 vaccine doses) are exempt from COVID-19 testing.
Minors under 12 years are exempt from testing and vaccination requirements, as are passengers transiting at the airport.
Morocco: What to visit
Morocco is a country in North Africa with welcoming nationals, beautiful landscapes, and rich culture. It's on the same continent as Nigeria, but you'll be amazed by the differences you'll find.
Check some travel tips for places you should visit in Morocco:
Meknes
This old city keeps an old part of Morocco's history. It was one of the country's previous capitals, and among the attractions are a 9th-century medina and a royal palace. Many tourists visit the Mausoleum of Moulay Ismail, the Bab Mansour, and the Dar Jamai Museum.
Essaouira
This is a fantastic beach in Morocco, a good destination for travelers who want to enjoy calm days at the seaside. Game of Thrones fans will recognize some spots because Essaouira was one of the series' locations.
Dades Valley
The valley runs between the Jebel Sahro and High Atlas mountain ranges. It's an excellent destination for travelers who love hiking, and the effort to reach it is rewarded with spectacular views of the surrounding area.
I still have questions about applying for a Morocco Visa. Where can I find more information?
If you have more questions about how to apply for this visa or any other travel document, don't hesitate to contact our support team. They will help you whenever you need them. You can also send them a message to [email protected] if you prefer.