According to Myanmar's government non-residents entering the country for professional purposes must self-quarantine for seven days in their country of origin before enduring seven days of isolation at government-designated facilities upon arrival in Myanmar, and then seven days of self-quarantine at home.
They will also need to present a Myanmar Health Declaration at the moment of their arrival. You will need a visa as well if you're not from a visa-free travel country such as Thailand, Singapore, Vietnam, Philippines, Indonesia, Brunei, Cambodia, and Laos.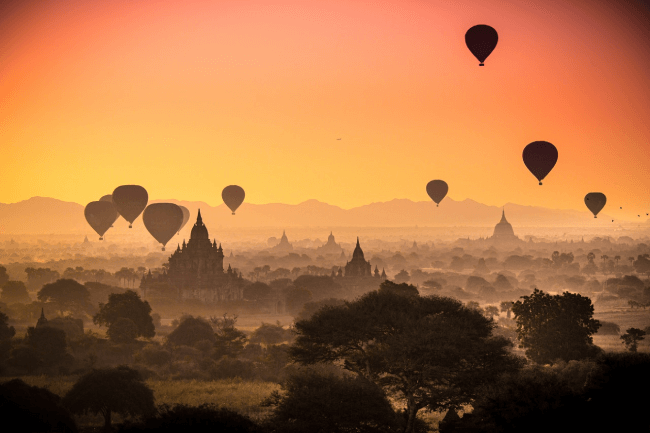 The Myanmar Health Declaration is a document that can be downloaded from The Republic of The Union of Myanmar Ministry of Health and Sports website (best known as MoHS) before entering Myanmar. Nonetheless, if you don't have much time to spare, you can request a digital Health Declaration with the help of iVisa.com directly from your desktop or mobile phone prior to your trip.
So, if you're soon to visit Myanmar for work, continue reading to get the latest info on how to apply to request your digital Health Declaration from the comfort of your home, simply and reliably through iVisa.com.
FREQUENTLY ASKED QUESTIONS (FAQs)
WHY DO I NEED TO GET A HEALTH DECLARATION TO ENTER MYANMAR?
Myanmar requires all visitants to obtain a document in which they state that they are free from COVID-19 before they travel to stem the spread of this infectious disease in their community. If you do not show a Health Declaration at the moment of arrival, you will not be allowed to enter Myanmar.
HOW CAN I GET A MYANMAR HEALTH DECLARATION?
You can get a Myanmar Health Declaration directly at the MoHS website or you can request a digital one through iVisa.com. The process is easy and very secure.
Get all the details to apply for yours here.
Is there a COVID-19 testing requirement to enter Myanmar?
COVID test prior to arrival: PCR within 72 hours
Is there a quarantine requirement for travelers arriving to Myanmar?
Quarantine requirements: 10 days in a government facility or designated hotel
Quarantine testing: PCR on days 3 and 7
HOW DO I PROCESS MY MYANMAR HEALTH DECLARATION ONLINE WITH IVISA.com?
Processing your online Health Declaration with iVisa.com is secure, comfortable, and very fast. You will be able to request one through our highly intuitive platform and finish the process in around 10 minutes. Here are the steps you must follow:
The First thing you'll do will be applying here and fill out the application form by just answering a short set of questions. Nothing to worry about! We only require basic personal and contact information. When you're done with this, you will select the processing time that adequately suits your current travel needs.

Then you will be kindly requested to double-check the information you have provided. Please remember that after you have sent the application form, no alterations can be done. In case you need further support while completing the process, just contact us at any moment! Our customer service team is always willing to solve your needs whenever is required. Once you fill out the application form, you will be redirected to make the payment via Paypal or with any of your credit or debit cards.

Finally we will ask you to please upload your passport scan and any other document that may be required. Immediately after this, you'll submit your request and we'll be more than happy to take care of the rest! Our tireless expert team will thoroughly review your application and send your Health Declaration as a QR code straight to your email. This way, you will only have to show it at one of the modules at the airport once you arrive.
WHAT ARE THE PROCESSING TIMES AND FEES TO GET MY MYANMAR HEALTH DECLARATION?
We have three different processing times and fees that vary the final price. These are the three options for you to select the one that is best suited for you and your overall travel requirements:
Standard Processing Time: USD 1.00 - 1 business day.

Rush Processing Time: USD 1.00 - 2 hours.

Super Rush Processing Time: USD 1.00 - 15 minutes.
HOW MANY TIMES CAN I ENTER MYANMAR WITH THE HEALTH DECLARATION?
The Myanmar Health Declaration allows you one Single Entry. This means that you can only access Myanmar once with this document. Please keep in mind that your Health Declaration will expire 14 days after your arrival or until your passport expires.
Process your Health Declaration online with iVisa.com now.
DO MINORS REQUIRE A MYANMAR HEALTH DECLARATION AS WELL?
Yes, they do. Minors also need to present their Health Declaration as they can also transmit the novel coronavirus within the Myanmar community. Luckily, you can process several Health Declarations at once through iVisa.com's platform here.
HOW SAFE IS IVISA.com TO PROCESS MY MYANMAR HEALTH DECLARATION?
Processing your Health Declaration with iVisa.com couldn't be safer. Even though we are not affiliated with Myanmar's government, we are an approved travel agency with a seasoned review team that will discreetly take care of your application in the most responsible way. You can also check what our customers have to say about us and our services.
CAN I CONTACT YOU IF I HAVE MORE QUESTIONS?
Of course! You can get in touch with us at any time. Our customer service team is ready for you Monday through Friday, from 8 AM to 8 PM Eastern Time. You can also reach out to them via chat, phone call, or by simply emailing help@ivisa.com.