If you are looking for a destination in Southeast Asia, Myanmar is an excellent place to explore. The country has thousand-year-old cities, fantastic temples, amazing trekking routes, and gorgeous beaches. But first things first: you need a Myanmar tourist visa to visit the country.
The good news is that Chile citizens are eligible to apply for a Myanmar online visa. So you don't need to worry about waiting in the nearest embassy to get the document. With iVisa you can fill out the Myanmar visa application form online and also receive the visa online via email. Easy and quick!
In this article, you can learn about the Myanmar visa fee, visa requirements for Chilean citizens, and steps to apply for the visa online.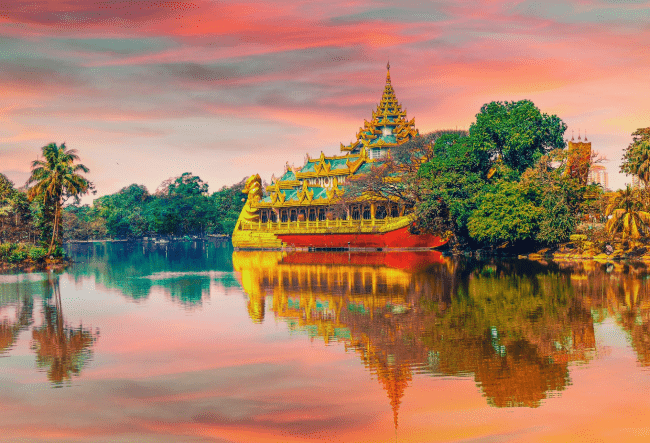 Myanmar tourist visa online (eVisa)
The Myanmar Online Visa is part of the global immigration service improvements, making travel easier worldwide. The Government of the Republic of the Union of Myanmar developed this visa to allow foreign citizens to enter the country without an appointment at the Myanmar embassy. Unlike traditional visas, eVisas eliminate the time spent waiting in lines and costly procedures.
Visa applicants must fill out the Myanmar visa online form and upload the necessary documents. Once the visa is approved, Chilean citizens will receive it electronically via email. you can count on iVisa services to provide expert team support throughout the application process.
This electronic visa system works as a Myanmar tourist visa and a Myanmar business visa. However, it is a Single Entry, so you can enter the territory only once. If you enjoy your trip and want to make the most of Myanmar citizens' hospitality once again, you may be eligible for another visa, you just have to meet the visa requirements and apply for another eVisa.
Otherwise, you must visit the Myanmar embassy for further information about long-term visas.
Myanmar documents and visa requirements for Chilean
For Chile citizens, the Myanmar business visa and Myanmar tourist visa requirements are the same. You will need to gather the following documents to complete your visa application:
Passport with at least 6 months of validity.

A scanned color copy of the passport's details page.

A recent color digital photo (passport-sized). This photo cannot be older than 3 months - If you don't have a recent one, we also offer a passport photo service to obtain one in no time.

Credit or debit card for the fee payment.
How to apply for a Myanmar eVisa for Chilean citizens
Once you have the required documents to apply for a Myanmar visa, the process is quick and easy. You can submit the application form for your Myanmar visa in just three steps:
First, applicants have to fill out the iVisa application page with their personal data and details of the trip, such as passport number and travel dates. After that, it's time to select the processing time for the Myanmar visa.

Second, double-check that all your information is correct, so you won't have problems with the application. Then, pay the Myanmar visa fees.

Third, upload the required documents and apply for a Myanmar visa. All the scans of your documents need to be legible.
You'll receive your Myanmar visa in your email as soon as your visa is approved.
Myanmar visa fee and processing time for Chile
There are 3 service fee options for Chilean travelers applying for a Myanmar visa. You can choose based on the amount of time you have before traveling and your budget.
Standard Processing time: With this option, you will get your Myanmar Visa in 7 Business Days. It will cost USD $106.99.

Rush Processing time: This option is perfect if you're in a bit of a rush to get your electronic tourist visa, as it just takes 5 Business Days for USD $165.99.

Super Rush Processing time: This is our fastest option, ideal if you booked a last-minute trip. You'll receive your Myanmar e-Visa in 3 Business Days for USD $217.99.
How long can a Chilean citizen stay in Myanmar?
This e-Visa allows a maximum stay of 28 days in Total within the 90 days after issued window. Remember that the Myanmar visa is for short-term visits and is only valid for tourism or business purposes.
How long is the Myanmar eVisa valid?
The Myanmar tourist visa is valid for 90 days after issued. It is a Single Entry, so you can use it to enter Myanmar a single time.
Myanmar visa for Chile: Sample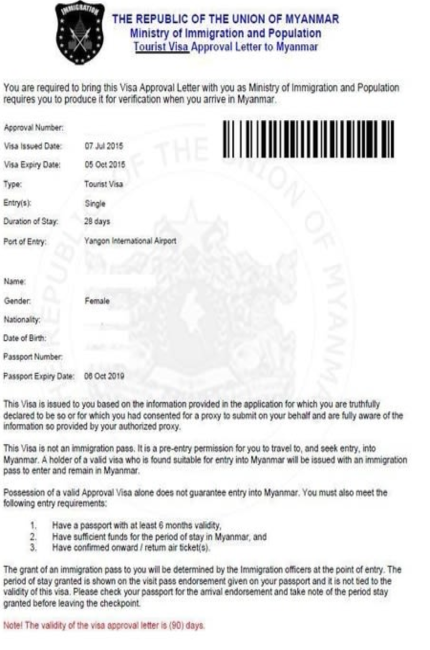 How can iVisa help me get the visa?
If you still have questions about the Myanmar e-visa application, please don't hesitate to contact our expert customer service team online at [email protected]. They are available 24/7 to assist you. Count on our visa services to get your travel document and learn about the fantastic culture and traditions of Myanmar citizens!