Myanmar is one country that makes you save a lot of money since food and accommodation have accessible prices for all tourists. Some nationalities can travel to this country without a visa or additional documents, but others can't. In case you don't know if your nationality requires a visa, please visit our Visa Checker. This page will inform you if you need any documents to visit Myanmar, including the Myanmar eVisa.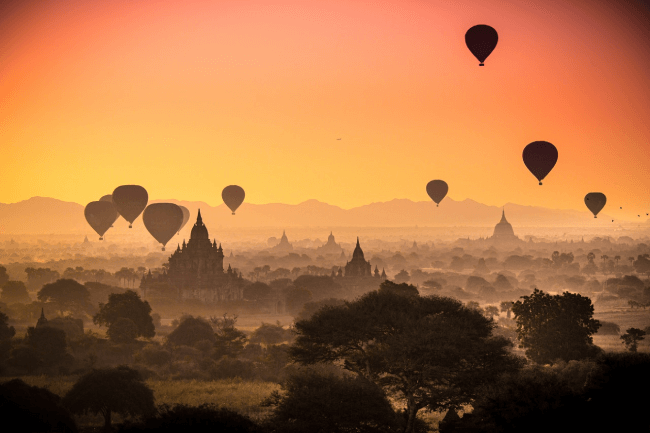 To get more information about the visas that Myanmar offers, we have made an awesome article that answers most of the common questions. These questions can be useful if you're planning to visit Myanmar soon, especially if you're one of the eligible countries to apply for a Myanmar eVisa.
Frequently Asked Questions
How can I know if I'm eligible for the Myanmar eVisa?
If you want to know what travel document you need to visit Myanmar, enter here. In that link, you'll be able to confirm if you need an eVisa or not.
All you have to do is to pick your country of origin 'in the central menu and then choose 'Myanmar'. You'll get the info in a few seconds.
What is the meaning of 'eVisa'?
The Myanmar electronic visa or eVisa is an official and authorized document introduced by the Government of Myanmar. This document is required for some nationalities to enter the country during a period.
To get this document you have to complete an electronic online form. This is a lot easier than going to an embassy or consulate, which is why many travelers prefer to get an eVisa when traveling abroad.
What is the maximum-stay allowed in Myanmar with an eVisa?
In case you decide to obtain the Myanmar eVisa, then the limit of time you have to enter is 90 days after issued. However, you can only stay inside the country for 28 days in Total.
Can I enter as many times as I'd like to?
No, you can't. Take into account that the Myanmar eVisa gives you the chance to enjoy this country only once. In other words, you will hold a Single Entry type of visa.
What documents and items are required for the application process?
You'll have to offer a few documents to get the process started, but you'll also need some basic items like an email address to get your eVisa safely. The entire list is the following:
You need your valid passport. By valid, we mean that it shouldn't expire while staying there.
The passport holder must have two accurate photographs that fit the requirements needed for the visa. These photos must be recent.
A debit/credit card or Paypal account for the payment.
Lastly, don't forget the email address to get your eVisa.
Our team always revise all the documentation you send with your application form, to be assured that you meet all the requirements before applying with the Government in Myanmar. There are cases where we need more documents or specifications, but don't worry about it, because we'll let you know ASAP by email all the details.
Is the Myanmar eVisa expensive?
Pricing is always an important topic when you're planning a trip, especially if you have to pay for a travel requirement. The good thing is that the Myanmar eVisa has an affordable price, and by using iVisa.com, you'll be able to pay a great package according to how fast you want your document. We provide you 3 options that can easily fit your needs:
Standard processing (

3 Business Days

): it has a total price of

USD 75.00

.
Rush processing (

2 Business Days

): with a total price of

USD 75.00

.
Super Rush processing (

12 hours

): you'd have to pay only

USD 75.00

.
If you feel ready to begin the process of your application, you can start here and get it in one of the timeframes we explained to you above.
How is the application procedure?
One good thing about iVisa.com's online form is that it has only 3 steps and it's quite easy to complete it. You don't have to be tech-savvy to fill in this online form. You have to follow the steps as shown below:
First, fill in your form with your general details and select the processing time from the options aforementioned.
Second, revise all the information provided and pay for the service. Remember that this happens once you click 'Review and check out', which is why you have to be careful with the revision to avoid mistakes.
The last step is to join the items required in the form so you can finish everything.
Click here and apply for the eVisa now. In case you have any inquiries about the online form, please contact our customer service that's always ready to assist you.
Can I see a sample of an approved Myanmar eVisa?
Yes, of course! This is an example of the Myanmar eVisa once it's approved:
What if I make a mistake while filling in the online form?
It depends on the mistake and when you made it. If you see you made a mistake while applying, then contact our customer support service to get faster attention and a reliable guide to solve the mistake.
However, if you realize the mistake hours after you sent the form, you'll probably have to re-apply, but we won't charge you anything extra. In that case, we still advise you to contact us for better assistance.
Is iVisa.com a safe company?
Yes, it is. We care about the safety of our customers. We manage to safeguard the information provided to us by begging databases that prevent the exposure of your personal data on the Internet. Thanks to this, we have managed to get many customers to trust us. If you still do not feel safe and want to confirm our information, you can enter here and see what our customers say about the services we provide.
Where can I get more information about the Myanmar eVisa?
You can contact us by clicking here and start a live chat conversation with one of our customer service team.
If you'd rather read other articles or questions about this eVisa, then reach out to our blog page in this link.