You can obtain a Myanmar eVisa if you wish to travel to Myanmar. Since it is an official visa in electronic format, Bangladeshi can now apply for eVisa online using iVisa's services. It does not require a trip to the embassy so there will be no effort on your part.

Frequently Asked Questions (FAQs)
Bangladeshi people need a visa to visit Myanmar?
Bangladeshi visitors require an eVisa to visit Myanmar. Find all the requirements here.
What is the Tourist eVisa?
It is an electronic document that authorizes the nationals of certain countries to come to Myanmar in a legal manner. This eVisa only allows you to enter the country for tourism purposes. If you have other reasons to enter Myanmar, you will have to contact the Embassy directly.
How long can Bangladeshi join Myanmar with the eVisa?
Bangladeshi passport holders are able to stay inside the country for 28 days in Total with a Single Entry. Take into consideration that after 90 days of the issuance of the eVisa, this document will expire automatically.
What do I need to apply for a Myanmar tourist eVisa?
To submit your application with iVisa, you only will need:
Applicant Photo

Invitation Letter (if applicable)

Business Registration of Inviting Company (if applicable)

Passport Personal Details Scan (if applicable)

Selfie holding the physical credit card used for the transaction is needed to verify payment. Only the last 4 digits of the credit card must be visible in the picture. Only one image is needed per order. (if applicable)
How much does the eVisa cost and how much time does it take to process it?
iVisa offers three alternatives for affordable prices and the processing time of your Myanmar eVisa
Standard processing (USD 75.00) - 3 Business Days.

Rush processing (USD 75.00) -2 Business Days.

Super Rush processing (USD 75.00) - 12 hours.
Click here to start your application.
How does the process of the eVisa work?
Since 2014, tourists from certain countries can make use of the online process to obtain the eVisa. One of them is Bangladesh. In iVisa, all the processing for the eVisa is less complicated because as all is online, you just need to send the required documents and pay the corresponding fee.
How Difficult is the Myanmar Visa Application Form for Bangladeshi?
It is not difficult at all! You only need to complete our easy online application that consists of three easy steps:
The first step will ask you to fill in your general information. You also need to choose the processing time from the options mentioned above.

The second step will ask you to revise step one and make the payment.

The final step is all about a questionnaire and a photo upload. It is at this point when you need to upload your passport scan. Other documents may be required as well, but it depends on personal circumstances.
Click here to start. You need extra support? Call us now and solve all your inquiries!
What happens after I have applied?
Do not stress about this part. As soon as you end up with your application process, you will obtain the eVisa through email according to the processing time you chose before. In iVisa, we take care of the whole process!
Kids under 7 years old need to get an eVisa too?
They have to apply in conjunction with their parents. There won't be extra fees for this case and they will be added in your application form along with your information.
Can you show me an example of the Myanmar eVisa?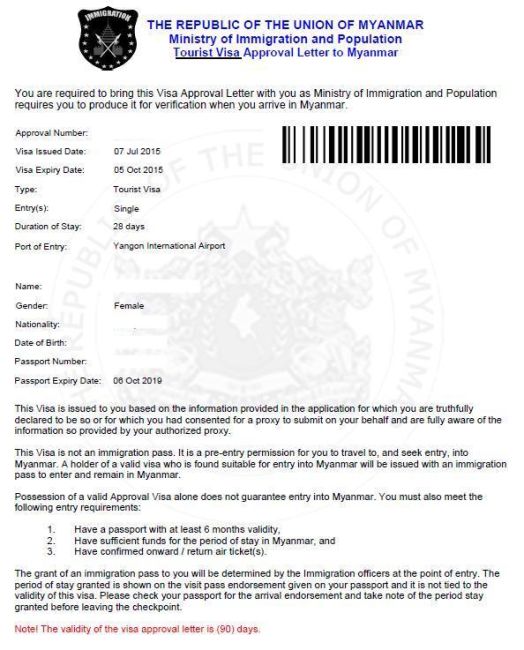 What can I do if I made a mistake in my application?
Mistakes happen! and if this is your case, we recommend you to contact our customer service team as soon as possible to assist you.
PLEASE REMEMBER: If we already submitted your application, then you can NOT make any changes and you will have to apply again. We will NOT charge you another service fee.
Is it safe to use iVisa to get my Myanmar eVisa?
Yes! We are dedicated workers providing official Myanmar eVisas since 2013. Many people trust that online information can easily leak and that their personal info is at a higher risk of getting into the wrong hands. But that does not happen with our services. We provide maximum safety for your personal information.
I have more unresolved questions, where can I find more info?
Get in touch with our agents here and solve all your inquires with them directly. If you want to read other FAQs that are associated with the Myanmar eVisas, then you can click here.