Any tourist that has visited Myanmar will probably tell you that this country is a not-so-popular gem in Asia. In Myanmar, you can find hundreds of beautiful parks, local markets, and golden buildings. It's also a country with delicious cuisine and intriguing cultural customs.
That's why traveling to Myanmar is not boring at all, and for many Chinese travelers is a top-destination. If you're one of those Chinese citizens planning a trip to this country, then you better consider the information in this article.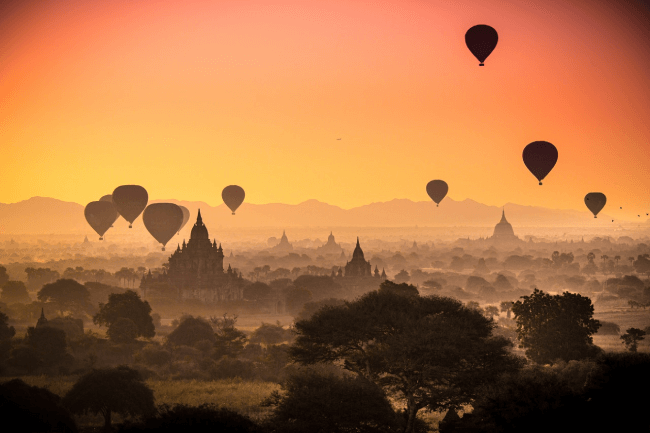 You might have your luggage ready, but don't forget about travel documents. In the case of Myanmar, you'll have to get a Myanmar eVisa before trespassing the border.
Applying for a Myanmar eVisa is easy when you use iVisa.com, as we offer a straightforward online form that won't make you waste time. Read the questions below to learn more about this process and the Myanmar visa for Chinese.
Frequently Asked Questions
Do I need a Myanmar visa for Chinese if I have a Chinese passport?
Yes, visitors with a Chinese passport must apply for a Myanmar eVisa. It can be a Tourist eVisa or a Business eVisa. You can choose any of these eVisas depending on the purposes you have in the country.
What is a Myanmar Electronic Visa?
The Myanmar eVisa is a mandatory travel requirement for nationals from qualifying countries who want to travel to Myanmar.
You have two options to apply for a Myanmar eVisa: one is the Myanmar Tourist eVisa if you want to visit the country for tourism, and the other is the Myanmar Business eVisa if you have to visit the country for business purposes.
Another thing you should know about this eVisa is the maximum stay. The Tourist eVisa allows you to stay 28 days in Total, and it grants a Single Entry, while the Business eVisa has a maximum stay of 70 days in Total (with a Single Entry as well).
Keep in mind that both options can be used for 90 days after issued.
What items are necessary to get the eVisa?
Regardless of your type of eVisa, you'll have to offer the following items mandatorily:
Your unexpired passport (it has to remain valid while staying in Myanmar)
Copy of a professional passport-sized picture (it can be easier for you if you use iVisa.com's passport photo).
An email address.
A valid means of payment. You'll be able to pay for your eVisa with a Paypal or a debit/credit card.
The only thing that might differ with the process is the Business Registration of Inviting Company (if applicable), as it'll be necessary only if you apply for the Business eVisa.
You can read more information about the Myanmar visa for Chinese here.
What is the price of the Myanmar visa for Chinese?
For your convenience, you can apply for a Myanmar eVisa if you have a Chinese passport and avoid a trip to the embassy. You don't need a Paper Visa, only an eVisa, but that doesn't mean that this document is for free. Myanmar eVisa still has a price.
The price of this eVisa is quite affordable in comparison to other documents. Plus, by choosing iVisa.com as your preferred application method, you'll have to pay just an extra fee to get your eVisa as fast and as easily as possible.
You can read below the processing options for the Tourist eVisa, including its prices. To check the prices for the Myanmar Business eVisa click here.
Standard Procedure: this is the most affordable option for you because it costs

USD 75.00

, and it allows you to get the eVisa ready in

3 Business Days

.
Rush Procedure: in only

2 Business Days

you can receive your document, but with a higher price, for

USD 105.00

.
Super Rush Procedure: this visa processing is the most expensive, but that's because you have the eVisa in only

12 hours

. The price is

USD 135.00

.
To get your Online Myanmar visa for Chinese as soon as possible, click here.
How can I get the Myanmar eVisa?
By following these easy steps on iVisa.com:
The first step is to write down your general information to process it in our database. This way, the Myanmar Government will get the required information to approve the eVisa. Don't worry, this info is just basic things like full name and passport ID. Once you're ready with that, you can choose your processing option.

The second step is to proceed with 'review and checkout'. Therefore, take a look at your information to make sure that's all correct before paying for the document.

The last step is to 'attach documents and send'. We'll let you know what documents you have to upload, so don't stress about this part. Once you're ready with that, just click the 'submit' button.
Once the application is ready, you'll have to wait for your eVisa via email inbox.
Should Children under 7 years old apply for a Myanmar eVisa?
Kids under that age should apply with an adult. The good thing is that because of its age, only its information will be added to your Myanmar tourist eVisa at no extra cost. This means that the total cost of the visa will remain the same (USD 50.00), excluding the service fee.
Is it safe to use iVisa.com?
Processing information online can be stressful when you do it in an unauthorized service. That doesn't happen with iVisa.com, as we're an authorized and authenticated company to process electronic travel documents in a secure and reliable way. Everything we process we do carefully, so there's no risk of information leakage or anything similar.
If you want to check that we work in a guaranteed way, we invite you to see our reviews
Where can I get more information about the Myanmar visa for Chinese?
It's completely normal to still have some doubts about the Myanmar visa for Chinese, so don't worry about it. You can enter this link to read more information about this document.
Or you can also contact us here to have faster and more personalized attention.
Remember that to apply for the Myanmar eVisa you won't have to leave home! The whole process is online and quite simple, so take advantage of it to get to know this magnificent country.