If you're interested in touring Myanmar and you also have a French passport, you can now get an electronic visa in an effortless way. iVisa.com is now assisting travelers to simplify the whole process of obtaining a Myanmar eVisa. This is an equivalent of a consular visa that you can apply for through an online application.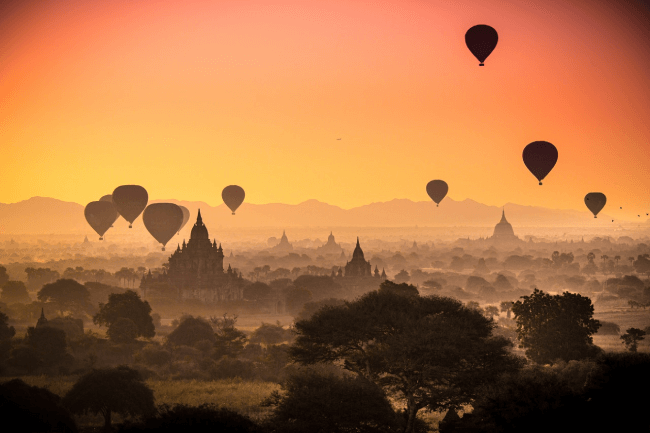 That's an excellent option for you as you no longer have to go to the embassy to get this document.
To know more about the Myanmar Visa for French and its benefits, we wrote this article for you.
Frequently Asked Questions
What should I know about the Myanmar Visa for French?
The first thing you should know about this visa is that it can be obtained through an online form. The Myanmar Visa for French is basically a Myanmar eVisa, so you can save the trip to the embassy or the wasted time at the airport.
You do need a Stamped Visa to enter Myanmar, only an electronic visa.
The Myanmar eVisa is a document launched by the Myanmar Authorities. It's required for foreign nationals from certain countries that want to visit this exotic country.
One thing you should also consider about this eVisa is that you can obtain it as a Business eVisa or a Tourist eVisa, that would depend on your trip purposes.
What documents or items are necessary to get it?
Bureaucracy can be a painfully slow process but iVisa.com can sort it out for you. Just collect the things needed and upload them to initiate the application form. Most of these documents are just basic items, so you may already have most of them:
Valid passport: avoid wasting time and money by making sure that your passport is not expired as this will lead to a denied application.
Digital photo of yourself: it must be as recent as possible.
E-mail address: you'll receive all the useful information about this process (including the document) this way.
Methods of payment: you'll be asked to make the payment for both the visa and service fee for iVisa.com. Make the payment using a credit/debit card or PayPal if you have an account.
What is the cost of this document?
In iVisa.com we understand that time can be valuable for many travelers, that's why we created three viable choices for them. Just remember that a faster processing time constitutes a higher fee. Here is what you can opt for:
Standard processing: selecting this option means that your application will be ready within 3 Business Days. It is the least expensive option you have. It costs only USD 75.00.

Rush processing: this time, your Myanmar eVisa will be ready within 2 Business Days, and you will be charged USD 105.00 for it.

Super Rush processing: this is a great option if you're in an urgent situation, you can select it and have your application processed within just 12 hours. You will be charged USD 135.00 for this alternative.
How can I apply for this document?
Acquiring a Myanmar visa with iVisa.com is very effortless. You only have to follow these steps:
Firstly, give basic details in the form. The general information that you will input is your email address, name, and your passport info. Once you finish filling in your specifications, select your preferred processing time. This will determine how much you will need to pay.

Carefully review your details and make necessary revisions in step two. This is highly recommended since you can't correct mistakes once the application is processed. Make sure that all the details are 100% accurate. Once done with review and revision, you can pay by following the on-screen guide.

You might upload photos in the last step. Uploading additional documents is optional as there will be different requirements for every person.
Click the submit button if you're ready and now sit back and wait for the arrival of your Myanmar eVisa.
Can I enter anywhere with this document?
Keep in mind that this document allows the French to enter the country at specified points. These are Yangon International Airport, Naypyidaw Airport, and Mandalay International Airport if you traveled by air. If you go by land, you are permitted to enter through Tachileik, Myawaddy, and Kaethaung land border checkpoints.
Get your Myanmar Visa for French here.
How long is this eVisa valid for?
French travelers with Myanmar eVisa can legally stay for a maximum of 28 days in Total, but the eVisa is valid for 90 days after issued.
Remember that you can have a Single Entry eVisa with your French passport.
What happens if I travel with kids?
It will vary according to their age. If they're under 7 years old, then they must apply with you and you don't have to pay any extra fee for it. However, you still have to pay the cost of the visa, which is USD 50.00.
Apply for your Myanmar Visa for French on this link.
Can I still apply if I don't have hotel bookings?
If you haven't booked yet, then don't worry, you still can proceed with your online application form with us.
Can I trust iVisa.com to get my Myanmar eVisa?
You can trust our services for sure. There are a lot of foreign citizens thinking that giving personal information online is dangerous. It might be true in some cases, but not with us. We offer the highest safety for your personal data, and we always take care of our database. That's why many customers have trusted us and you can see that here.
How does this Myanmar eVisa look like?
Where can I find more details about the Myanmar Visa for French?
If you still have doubts or more questions about the Myanmar eVisa, then you can click on this link and start talking to one of our customer service representatives. But, you're always invited to read other articles about this service here if that's what you prefer.
Start planning your journey with no stress! Click here to apply for the Myanmar eVisa and enjoy all the magic that this land has to offer.