If you're reading this, that means your Myanmar trip is just around the corner and all you need to figure out is how to get all your travel documentation ready and iVisa is ready to make things easy for you. In September 2014, the Myanmar government launched the Tourist eVisa system, allowing travelers from different destinations, such as India, to process their travel documentation without having to visit the consulate or embassy beforehand. However, you should consider that this country has strict travel requirements, which means that you must treat this whole process with special attention. If you're an India passport holder, you can start preparing your trip and apply for your Myanmar eVisa with iVisa! Keep reading for more information about it.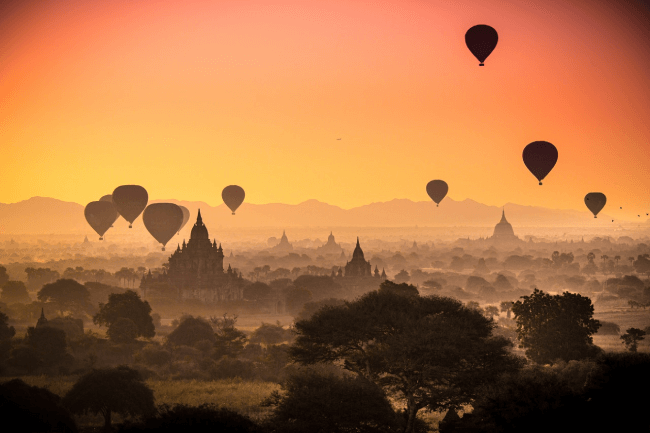 About iVisa
iVisa is a multinational corporation that provides simple online solutions to process your travel visas. We enable travelers to process visas from a computer, smartphone or tablet. We offer a quick, simple and secure way to process your visa. With us there is minimum chance of getting rejected.
Frequently Asked Questions (FAQs)
Do Indian passport holders need a visa to enter Myanmar?
Indian passport holders need to apply for a visa to enter Myanmar. However, even with an eVisa, you will only be able to enter at the Yangon, Mandalay and Nap Pyi Taw International airports or one of the 5 International Land Border Checkpoints: Tachileik, Myawaddy, Kawthaung, Tamu-Moreh, Rih Khaw Dar-Zokhawthar.
You can check requirements here.
What is a Myanmar Tourist eVisa?
The Myanmar electronic visa, or eVisa Approval Letter, is a mandatory travel requirement for foreign nationals from qualifying countries who wish to visit the Republic of Myanmar for tourism purposes.
Which visa types are there for Indian passport holders?
There are two kinds of visas for Indian passport holders visiting Myanmar:
Tourist eVisa.

Business eVisa.
IMPORTANT: This blog contains information about the Tourist eVisa.
You can check them all here.
How long can Indian citizens stay in Myanmar with a Tourist eVisa?
Indian passport holders can enter Myanmar for a maximum stay of 28 days in Total. Visits are limited to tourism and business visits only, and you must not engage in paid work or employment. The eVisa is valid for 90 days after issued and permits you a Single Entry into the country.
What do I need to apply for a Myanmar tourist eVisa?
We require the following to submit your information:
Applicant Photo

Invitation Letter (if applicable)

Business Registration of Inviting Company (if applicable)

Passport Personal Details Scan (if applicable)
What are the processing times and prices?
One of the common concerns about electronic visas is the cost. With iVisa, applicants have three available options when it comes to processing times with different pricing.
Standard processing – your visa application is processed within 3 Business Days, and the price is USD 75.00 (service fees included).

Rush processing – you will receive your visa within 2 Business Days, and the total price of it is USD 105.00 (service fees included).

Super rush processing – this is the fastest option. You will get your Myanmar Tourist eVisa in only 12 hours, and you will be charged USD 135.00 (service fees included).
Click here to start your application.
How does the Myanmar Tourist eVisa work?
The Myanmar Tourist eVisa is issued electronically by the Ministry of Foreign Affairs of the Myanmar Government.
Travelers, travel agents, airlines and specialist service providers like us around the world can use the Myanmar's eVIsa system to process an eVisa. We enter the applicant's information into the eVisa system and after they review it, we are notified of the outcome of the Myanmar eVisa application.
How Long Does It Take to Get a Myanmar Visa?
The application process for a Myanmar eVisa is completely online. As long as you have a valid passport and credit card, you can apply for and receive your eVisa in as little as 12 hours.
How Difficult to fill out is the Myanmar Visa Application Form?
It is a really simple process if you use the iVisa website. You only need to complete our easy online application and pay with a credit/debit card or a PayPal account, then you will receive you VISA VIA EMAIL and finally, you will be able to ENTER MYANMAR.
How do I obtain a Myanmar eVisa?
To obtain a Tourist visa to Myanmar you can apply online through iVisa. This makes the process much simpler, and with the guidance of our representatives, you have additional assistance that can help simplify matters greatly. The process consists of three easy steps:
The first step will ask you to fill in your general information. You also need to choose the processing time from the options mentioned above.

The second step will ask you to revise step one and make the payment.

The last step consists of a questionnaire and a photo upload. At this point you will need to upload your passport scan. Other documents may be required as well, but it depends on individual circumstances.
Click here to start. After you are done, you submit your form and wait for your visa to arrive. In case you need assistance to fill your application, iVisa has a fantastic support service that you can call 24/7.
What happens after I have applied?
Once the application is done, you will receive your Myanmar Tourist eVisa by email. No need to deal with the embassy. We do it for you so you don't lose valuable time. Next, present a printed version of your eVisa along with your passport once you enter Myanmar.
My child is under 7 years old, does he/she need a separate eVisa and what are the costs associated?
Children under 7 must apply with an adult. There are no additional costs – they will be added to your Myanmar Tourist eVisa at no extra cost, thus the total amount will still be the same.
Do I need a Tourist eVisa if I am in transit through Myanmar?
If you DON'T leave the transit lounge at the airport while in Myanmar, then you are not required to have a Myanmar Tourist eVisa. Otherwise, if you wish to leave the airport, then you HAVE TO apply for a Myanmar Tourist eVisa.
How does the Myanmar Tourist eVisa look like?
This is how it looks like: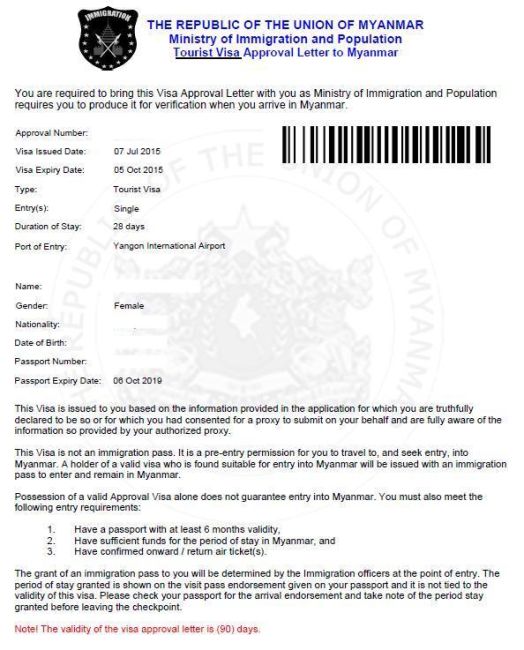 What can I do if I make a mistake in my application?
If you made a mistake when entering your data online then please contact our customer service representatives as soon as possible via online chat to assist you.
Your Myanmar eVisa is linked to your passport number, if we already submitted your application, then you can NOT make any changes and you will have to apply again but we will NOT charge you another service fee.
Is it safe to use iVisa to get my Myanmar eVisa?
Many people think that online information leaks and that their personal info is at risk of getting into the wrong hands. However, that is not the case with our services. We provide maximum safety for your personal data, confidentiality, and we invest a lot in the security of our database. Your personal information could not be safer. You can check what hundreds of happy customers say about us here.
iVisa has a rating of 9.3 from over 15,000 reviews on Trustpilot. Join its thousands of satisfied customers and make your Myanmar adventure come to life.
I have more unresolved questions, where can I find more info?
For a faster resolution click here and start chatting with one of our customer service representatives. Alternatively, you can find more info and FAQs here.