If you're reading this with a sense of urgency, perhaps that means your Myanmar trip is just around the corner and all you need to figure out is how to get all your travel documentation ready. That's why iVisa.com is ready to make things easy for you.
iVisa.com is a multinational corporation that offers simple online solutions to process your travel visas. We enable travelers to get their visas from a computer, smartphone, or tablet. We offer a quick, simple, and secure way to process your visa. With us, there's a minimum chance of getting rejected.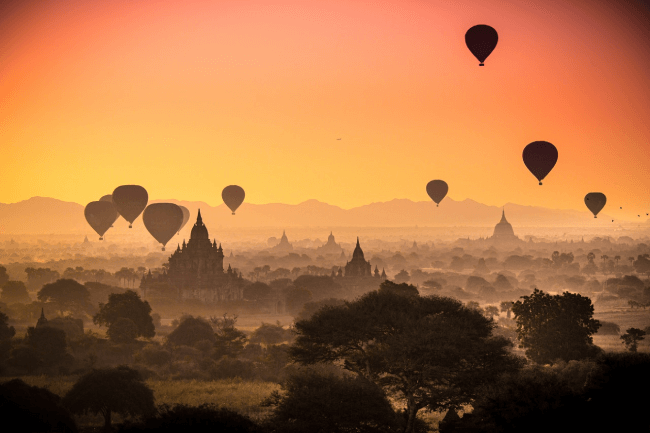 In September 2014, the Myanmar government launched the Tourist eVisa system, allowing travelers from different destinations, such as India, to process their travel documentation without having to visit the consulate or embassy beforehand. However, you should consider that this country has strict travel requirements, which means that you must treat this whole process with special attention.
If you're an Indian passport holder, you can start by preparing your trip and apply for your Myanmar eVisa with iVisa.com! Keep reading for more information about this travel document.
Frequently Asked Questions
Do Indians need a Myanmar eVisa?
If you're from India, then you do need a Myanmar Visa for Indians, but it doesn't have to be a hard copy paper visa. You can easily apply for an eVisa to enter Myanmar.
But, even with an eVisa, you will only be able to enter at the Yangon, Mandalay, and Nap Pyi Taw International airports or one of the 5 International Land Border Checkpoints: Tachileik, Myawaddy, Kawthaung, Tamu-Moreh, Rih Khaw Dar-Zokhawthar.
What is a Myanmar eVisa?
The Myanmar electronic visa, or eVisa, is a mandatory travel document for foreign nationals from qualifying countries who wish to visit the Republic of Myanmar.
With iVisa.com, you can apply for a Tourist eVisa or a Business eVisa depending on your travel purposes.
How long can I stay in Myanmar with an eVisa?
As long as you have this document on hand, you can enter Myanmar for a maximum stay of 28 days in Total. Visits are limited to tourism and business reasons depending on the type of eVisa you have. As for the validity of this eVisa, you can use it for 90 days after issued, but remember that it permits you a Single Entry into the country.
What items do I need to apply for it?
We can process your eVisa as fast as possible, but only if you can get us the following list of items:
A valid passport (with 6 months validity).
A scanned color copy of your passport's bio page.
A current color passport-sized digital photo.
Business Registration of Inviting Company (if necessary).
A credit/debit card or a PayPal account for payment.
A valid email address to receive the document.
What are the processing times and also prices for this document?
One of the common concerns about electronic visas or any travel document is the cost. With iVisa.com, you don't have to stress about it because we have at our disposal three processing times with different prices depending. If you want to get your eVisa as fast as possible, you'll have to pay more, but take into account that our prices include the government's fee. These are your options:
Standard processing time: you'll be ready with your eVisa in only

3 Business Days

, as long as you accept to pay

USD 75.00

.
Rush processing time: with this option, you'll receive your eVisa in

2 Business Days

, and the total price of it will be

USD 105.00

.
Super rush processing time: with this processing time, you'll get your document in

12 hours

, and you'll be charged

USD 135.00

.
How much time will I need to apply for and receive the document?
The electronic process we designed for the Myanmar eVisa is completely online. As long as you have a valid passport and a credit/debit card or Paypal, you can apply for it and receive it in as little as 12 hours.
How difficult is the process?
It's not difficult at all. On the contrary, this process is really simple if you use iVisa.com. You only need to complete our effortless online application and pay with a credit/debit card or a PayPal account, then you will receive your eVisa in an email, and finally, you'll be able to enter Myanmar.
What steps do I have to follow?
To obtain a Myanmar Visa for Indians the easiest way possible you can apply online through iVisa.com. This makes the process much faster, and with the guidance of our representatives, you'll receive additional assistance that can help simplify any issue greatly. The process consists of three steps:
The first step will be to fill in the form with your general information. You'll be required to select a processing time as well.
The second step will be to review the answers supplied in step one and proceed with payment.
The last step is to upload the documents required carefully so you can finish the process without any issues.
Are you ready to start the online process to get your Myanmar eVisa? Then click here. After you are done, send us the form and wait for your eVisa to arrive. Don't forget to contact our support service if you have doubts.
What should I do if I don't intend to leave the transit area? Do I still need an eVisa?
In case you have to visit Myanmar just to complete a connection flight, then you won't need the eVisa as long as you stay in the transit lounge. Otherwise, you'd still have to apply for the Myanmar eVisa.
What exactly does the Myanmar eVIsa look like?
This is how it looks like: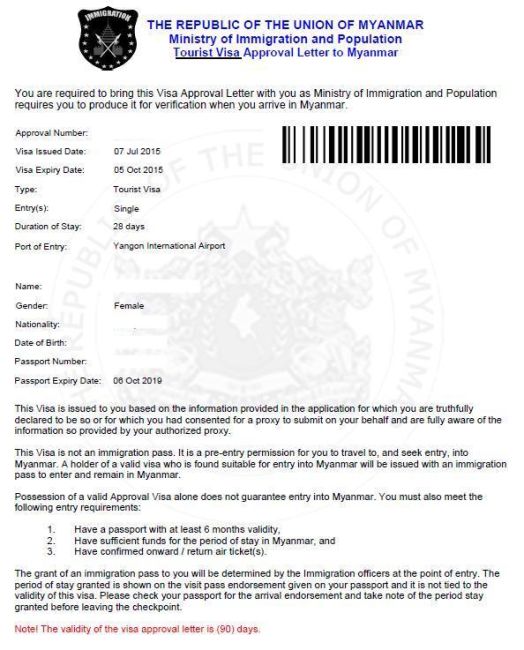 How safe is applying through iVisa.com?
If there's one word that characterizes iVisa.com, it has to be security. We work hard to ensure the safety of our clients, so you can feel confident using our services.
Thanks to our automated and updated system, many satisfied travelers have been able to obtain their travel documents quickly and safely, leaving us several positive reviews here.
Where can I get more information?
It's normal to have doubts about this process, even after reading this guide. If that is your case, you can contact us with pleasure using this link, and an advisor will assist you whenever possible.
If you prefer to read some more articles about the Myanmar visa for Indians, click here.