If you wish to visit Myanmar, you may be able to apply for a Myanmar eVisa. It is the electronic format of a traditional tourist visa. Nepalese can now apply through the internet using iVisa's services. No need for a trip to the embassy and zero effort on your part to obtain it.

Frequently Asked Questions (FAQs)
Do Nepalese passport holders require a visa?
Nepalese citizens demand an eVisa to enter Myanmar.
IMPORTANT: If you decide to obtain the eVisa, you need to have in consideration that you will only be able to enter Myanmar through some checkpoints as the Yangon, Mandalay and Nap Pyi Taw International airports or one of the 5 International Land Border Checkpoints: Tachileik, Myawaddy, Kawthaung, Tamu-Moreh, Rih Khaw Dar-Zokhawthar.
All the requirements for the Myanmar eVisa are here.
What is a Tourist eVisa?
It is an official document that grants the right to enter Myanmar. You do not need to make an appointment or present original documents to the Embassy or Consular Office.
How many types of eVisa exists?
Nepalese passport holders can apply for two types of eVisa:
Tourist eVisa

Business eVisa
DO NOT FORGET that the information you are finding in this article, only explains the tourist eVisa type. If you want to check both eVisas types, please enter here.
What is the maximum time I can spend in Myanmar?
Nepalese holding an eVisa can enjoy Myanmar for only 28 days in Total. The tourist eVisa also grants you one 90 days after issued and you can use it for Single Entry. After the 90 calendar days, your eVisa will expire automatically.
How many documents do I need to gather for the application?
Nepalese don't have to deal with all the bureaucracy as iVisa will deal with it. You just need to provide a few pieces of information to help them get started. The requirements are easy to get. Chances are you already have everything you need. There are as follows:
A valid passport – getting a passport should not be difficult for you, and if you already have one, make sure that it is still valid. Check first the expiration date of your passport, and then apply for your eVisa.

Digital photo of yourself – the photo should be as recent as possible. Be sure that it meets all the standards for the correct photo.
*A credit card and a debit card are necessary to make the payment online. An email address is also required for the communication we will have along the whole processing of your eVisa.
How much does the eVisa cost?
We provide three excellent options for Nepalese who considers time as gold. As expected, the higher you must pay for a quicker visa processing. We show you what Nepalese can choose in the next list:
Standard processing (3 Business Days) - USD 75.00.

Rush processing (2 Business Days) - USD 75.00.

Super Rush processing (12 hours) - USD 75.00.
Start here and get your eVisa now!
How does the eVisa function?
Myanmar launched the Tourist eVisa system on 1 September 2014. eVisas are issued online for tourism and business purposes only.
By using iVisa, travelers of certain nationalities do not have to visit the consulate to apply for a Tourist eVisa. You can submit all the required documents and information and pay the visa fees online. This streamlined system cuts out the time wasted waiting in lines and costly processes that were previously in place.
Does it take a long time to obtain the eVisa?
All the process for a Myanmar eVisa is completely online. As long as you have a valid passport and credit card, you can apply for and receive your eVisa in as little as 12 hours.
How is the application form divided?
You can rest easy that it is a simple process when getting a Myanmar visa for Nepalese. The online form is broken down into three steps which you just need to fill in.
The initial step will require you to put your overall data. Doing so should not take you more than 5 minutes. Also, Nepalese must choose the processing time. Read carefully as processing time will determine the cost of the visa.

Then make the respective revision of the details provided and make the payment. It is important that Nepalese insert every piece of information accurately when reviewing your information. While mistakes are common, please keep in mind that revisions are no longer allowed after your application has been processed.

The last step consists of a personal questionnaire and photo upload. Never expect the same requirements for everyone as some Nepalese may need to upload additional documents. After completing the steps, click on submit form and that is it! Your visa will be received in your email inbox. The length of time will depend on the selected timeframe you chose in the first step.
Click here to start. After you are done, you submit your form and wait for your visa to arrive. In case you need assistance to fill your application, iVisa has a fantastic support service that you can call 24/7.
Once I finish my application form, what comes next?
When the application is done, you will receive your Myanmar Tourist eVisa by email. After downloading your eVisa, please print a copy of the document and put it next to your passport and flight ticket to Myanmar. In this way, you won't forget to take your eVisa with your other documentation.
I have children who are going to travel with me to Myanmar, do they need an eVisa too?
Minors under 7 years old have to get their eVisa along with their parents' application. Otherwise they will not be apt to travel to Myanmar. If your kid has more than 7 years old, they need to apply as an adult. This means they must have their own eVisa.
Can you show me a sample of the eVisa?
Please, find here a sample of the Myanmar eVisa: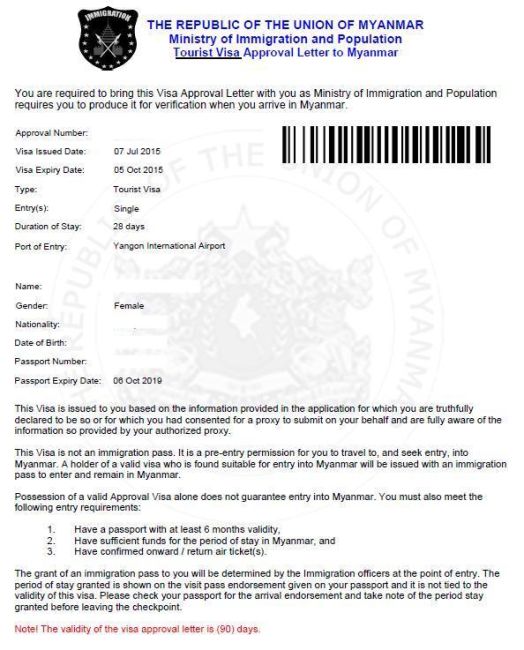 If I made an error while applying online, what should I do?
Mistakes happen! and if this is your case, we recommend you to contact our customer service team as soon as possible to assist you.
Is iVisa a secure website to get my Myanmar eVisa?
We provide you maximum safety for your personal data, confidentiality, and we invest a lot in the security of our database. Do not be afraid of the security of your data, because we have the right tools to protect all your information and prevent it from being exposed on the Internet. Also, you can check the testimonials of hundreds of happy customers here.
Where can I find more info?
You can get in touch with one of our representative service support here. There you will also find more FAQs about the Myanmar eVisa requirements. here.