Visas are now obtainable online for New Zealand citizens who want to go for a Myanmar trip. Thanks to iVisa's service, you can apply for a Myanmar eVisa which is a consular visa in digital form. iVisa simplified the process so you can easily get your visa as soon as 3 Business Days.

Frequently Asked Questions (FAQs)
What do I require to present?
The whole process of obtaining a visa is a hassle. Worry no more, because iVisa will assist New Zealand citizens to get through it all. Of course, you have to provide a few pieces of documents to get the processes going:
Valid passport
Digital photo of yourself
Email address
Payment mode
How much does the visa cost and how long does the process take?
For New Zealand citizen who values time so much, we have segmented the processes into three categories:
Standard – with USD $108.99, iVisa will have your application processed within 7 Business Days.

Rush – this time, your visa will be ready within 5 Business Days for USD $149.99.

Super Rush – if you find yourself in a hurry, you can choose this option and have your application processed within just 3 Business Days. You will be charged USD $196.99 for this option.
These fees are for the Tourist eVisa. For the Business eVisa the processing times are the same, but the cost is USD $129.99, USD $178.99 and USD $234.99, respectively.
How's the application process?
It is a stress-free processing. The online form is separated into three sections to accomplish.
The first step will only take 5 minutes to input the individual data. You will also need to choose the eVisa type and processing time.

In this step you should do revisions. Be advised that corrections are not permitted when your visa order has been sent already. It is noteworthy for New Zealand citizens to input their information as accurately as possible. Then, make then payment.

In the last part you just need to answer a set of quick questions. Then, you will have to upload the required documents for this visa and that's it! Complete your application and wait for us to send you an email with the progress of your visa.
What is the length of time I can use the visa?
The visa can be used within 90 days of its validity. After these days, you will no longer be able to enter the country.
How many entries am I allowed with this eVisa?
The type of entry offered with this eVisa is only one entry with a maximum stay of 28 days.
Can I use any point of entry to Myanmar?
No, you can't. The only permissible points of entry are the following:
Yangon
Mandalay
Nay Pyi Taw
Tachileik
Myawaddy
Kawthaung
Tamu-Moreh
Rih Khaw Dar-Zokhawthar
If I enter by boat or cruise, am I entitled to use this visa?
Regrettably, the Myanmar eVisa does not allow tourists to enter the country by sea. If you are planning to take a cruise, we recommend that you contact your travel agent directly.
Model of the Myanmar eVisa: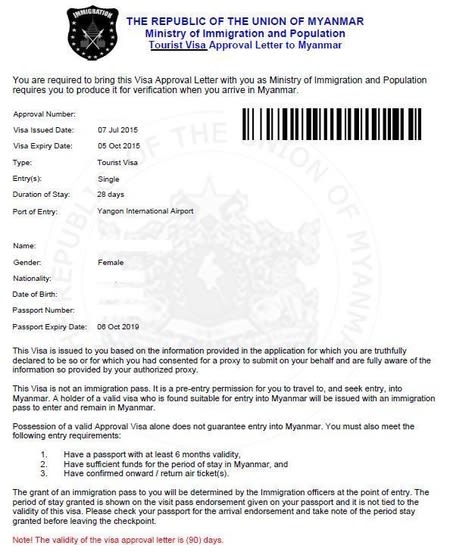 I have more questions...
You can always contact us we have superb support service. For more FAQs, come here
In conclusion New Zealand citizens possessing this document will be able to enter the country on specific locations: Yangon International Airport, Naypyidaw Airport, and Mandalay International Airport if you travel by air. If you go by land, you can only enter through Tachileik, Myawaddy, and Kaethaung land border checkpoints. iVisa will help you along the way to an amazing adventure.