Visas are now obtainable online for New Zealand citizens who want to go for a Myanmar trip. Thanks to iVisa's service, you can apply for a Myanmar eVisa which is a consular visa in digital form. iVisa simplified the process so you can easily get your visa as soon as 12 hours.
Frequently Asked Questions (FAQs)
What is required of you?
We know that the whole process of obtaining a visa is a hassle. Worry no more, because iVisa will assist New Zealand citizens get through it all. Of course you have to provide a few pieces of documents to get the processes going. These requirements can be acquired easily and chances are you already have some of what you need. Below is what you need to provide:
Valid passport – getting a passport should not be difficult for you, and if you already have one, make sure that it is still valid. An expired passport will lead to a rejected application so avoid wasting time and money because of this.

Digital photo of yourself – it should be the most recent photo. Make sure that it meets the criteria (white background, no face gestures, etc.)

E-mail address – while the visa will be electronically linked to your passport, you need a copy to show at the immigration office in Myanmar. iVisa will send you one via e-mail in PDF format. It never hurts to have a spare so print a few copies so that you can put one in each bag.

Payment method – you will be asked to make the payment for both the visa and service fee for iVisa during the application process. You can pay using a credit or debit card. You can also pay through PayPal if you have an account.
What are your service's fees and processing times?
For New Zealand citizen who values time so much, iVisa is providing three amazing choices. Just take note that faster processing time requires higher service fee. Here is what New Zealand citizens can select:
Standard processing – By paying only USD 75.00, it is the cheapest option you have. iVisa will have your application processed within 3 Business Days.

Rush processing – this time, your visa will be ready within 2 Business Days for a cost of USD 105.00.

Super Rush processing – if you find yourself in a hurry or if you have an emergency, you can choose this option and have your application processed within just 12 hours. You will be charged USD 135.00 for this option.
These fees are for the Tourist eVisa. For the Business eVisa the processing times are the same, but the cost is USD 105.00, USD 135.00 and USD 165.00, respectively.
How's the application process?
It is a stress-free application process since it is very easy obtaining a Myanmar visa for New Zealand citizen. The online form is separated into three steps to accomplish.
First step will only take 5 minutes to input your general information starting with your e-mail address, name, and your passport info. You will also need to choose the eVisa type and processing time.

In this step you should do revisions. Be advised that revisions are not allowed after your application has been processed. It is important for New Zealand citizen to input their information as accurately as possible. After reviewing and revising, follow the instructions so you can do your payment.

The last step is made of personal questionnaire and photo upload. Varying requirements might be asked for different New Zealand citizen travelers.
Once you are done, just click on the submit button. Then wait for your visa to arrive within your chosen timeframe.
How long is the Myanmar eVisa valid for?
The validity of the Myanmar eVisa is of 90 days after issued.
How many entries are you granted? How long can I stay in Myanmar?
Both Myanmar eVisa types are a Single Entry, meaning you can only enter one time. You can stay for a maximum of 28 days Total.
What are the Myanmar point of entries that permit the eVisa?
There're restrictions as to where you can enter with this eVisa. The only available points of entry where you are allowed into Myanmar with this eVisa are:
Yangon
Mandalay
Nay Pyi Taw
Tachileik
Myawaddy
Kawthaung
Tamu-Moreh
Rih Khaw Dar-Zokhawthar
Can I use this eVisa if I enter Myanmar by cruise/boat?
If you want to enter by sea to the country, you must contact your travel agent, because, unfortunately, the Myanmar eVisa has no validity if you enter through sea.
How does the Myanmar Evisa look like?
Here's an sample: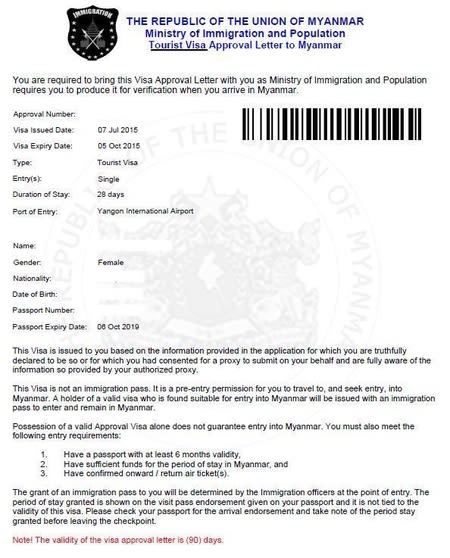 I have more questions...
You can always contact us we have an superb customer service support. For more FAQs you can click here
In conclusion New Zealand citizen possessing this document will be able to enter the country on specific locations: Yangon International Airport, Naypyidaw Airport, and Mandalay International Airport if you travel by air. If you go by land, you can only enter through Tachileik, Myawaddy, and Kaethaung land border checkpoints. iVisa will help you along the way to an amazing adventure.