Good news for all Romanian citizens! You can now apply for the Myanmar eVisa, a new method to get your travel permit without going to the embassy and spend months on the procedure. It is an electronic visa that works in the same way as the traditional one does. iVisa.com reduced the paperwork and time amount so that you can obtain your Myanmar eVisa effortlessly. Our team will provide you excellent service while you wait comfortably at home. Furthermore, you can start with the process right away from any mobile device of your preference.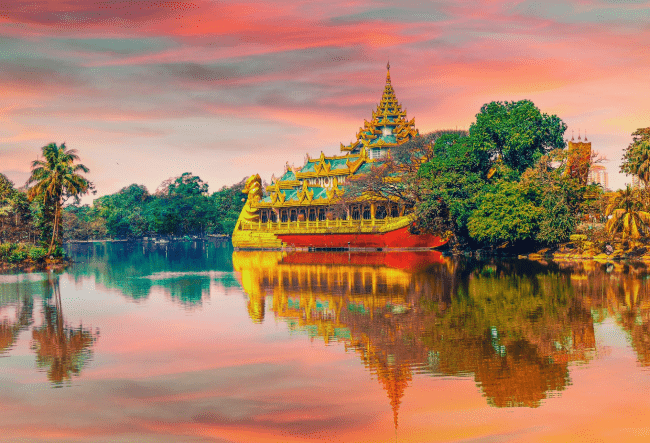 Check out our FAQS below to solve any possible inquiries you may have about the Myanmar visa for Romanian.
Frequently Asked Questions
Do I need a visa to enter Myanmar if I'm Romanian?
Yes, all Romanian visitors must get their Myanmar visa before entering the country. Luckily, you can obtain the Myanmar eVisa from the comfort of your home with iVisa.com's help.
How long can I stay in Myanmar with the eVisa?
It is valid for a single entry, and it grants you access for 28 days from the day of your arrival. It expires 90 days when issued.
What are the requirements to get the Myanmar eVisa?
We know how exhausting it can be to get a long list of documents to obtain your Myanmar visa for Romanian. It is for this reason that iVisa.com has prepared a short list for you to consider when applying. These requirements are easy to get and will allow you to apply quickly. These are:
Your current passport. It must be valid when applying, or you will have delays or inconveniences during the procedure.
A digital photo of yourself on a white background. Make sure that you don't make any gestures.
Your current email address, so you can receive your Myanmar eVisa when done.
A valid payment method such as your debit/credit card.
Are you ready to begin? Then, click here and start with the process now.
What are the processing times and fees?
We understand your concern about the possible costs of getting your Myanmar visa for Romanian with us. That's why iVisa.com prepared the following option.
Standard Processing Time: It is the preferred option for most travelers. It costs

USD $99.49

, and you receive your document in an average time waiting

7 Business Days

.
How can I apply for the Myanmar visa for Romanian?
If you're interested in getting your Myanmar eVisa with iVisa.com, you have to know we prepared the following steps so that you can apply without any problem. We reduced the traditional paperwork that would take hours (even days) to a ten minutes process.
First, you will need to complete the application form with essential information about yourself and your trip. Don't forget to choose the processing time that better fits you.
Second, verify your information and pay for the service. iVisa.com accepts any means of payment, such as your debit/credit card or PayPal account.
Third, upload any required documents we mentioned already and submit your form once you feel ready.
That's it! Our team will process your request, and you will receive the Myanmar eVisa to your email address.
Can I trust iVisa.com?
Sure! iVisa.com is a reliable travel agency for any traveler wishing to get its Myanmar visa for Romanian effortlessly. However, we understand your privacy concerns, and you don't want to provide your information to third parties. That's why we have designed high-security platforms that prevent any leaks to them. We will protect your data at all costs without hesitation. You can verify all we're saying in the reviews from our customers, so you have peace of mind when deciding.
I have more questions; how can I get in touch with you?
In case you have more inquiries about the Myanmar visa for Romanian or learn more about the procedure contact our support agents. Our team is available at any time of the day. You can also send a message to [email protected] if you prefer so.