The magical land of Myanmar is an unforgettable destination, thanks to its stunning scenery and diverse range of culinary regions. Learn everything you need to know about sourcing a Myanmar visa for South Korean citizens.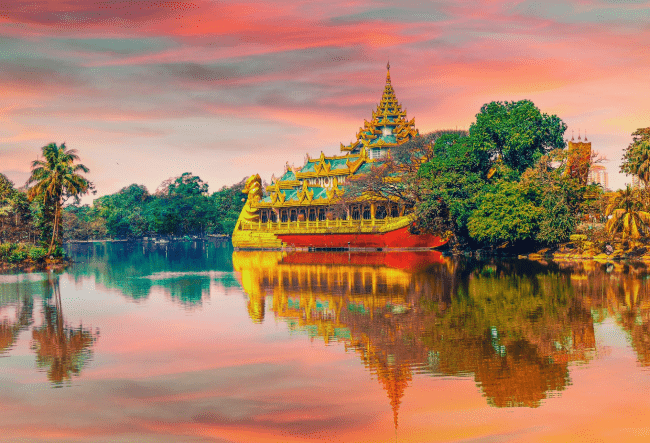 How can I get a Myanmar visa for South Korean visitors?
If you need to know whether you need a Myanmar visa for South Korean citizens, we can confirm that this is a vital part of the Myanmar entry requirements. To apply with iVisa.com, simply follow these steps:
Fill in the application at iVisa.com.
Upload a scanned copy of your passport and a passport-sized photo.
Pay the processing fee and we will start working on your Myanmar visa for South Korean citizens.
Wait for the eVisa to be delivered to you electronically and print it out to show at the airport.
What does applying in advance entail?
Applying online doesn't just mean filling in the form the night before your flight. Our memory-fit style service means that you can apply weeks in advance and we will program your documentation to arrive with precision timing.
Frequently Asked Questions
What do I need to apply for a Myanmar visa for South Korean citizens?
Get your Myanmar visa for South Korean citizens with iVisa.com's professional guidance, whereby all you'll need is:
Your passport- making sure it has at least a further 6 months of validity
A credit/debit card or Paypal to pay for the visa and processing fee.
A passport-sized photo so your visa identifies you (use iVisa.com Passport Photo if you need to get one made)
An email address for us to send you the eVisa
What are the processing times offered at iVisa.com?
Get your eVisa through iVisa.com and choose from three different processing options, designed with your convenience in mind:
Standard The standard option has the lowest price.
Rush For an extra fee, our experts will ensure your document is with you sooner.
Super Rush The most popular choice for people with no time to wait.
Do I need anything else to enter Myanmar?
Due to the complicated nature of the world health situation, you may find that you need extra documentation to enter Myanmar, such as a negative COVID test result. You may also have to submit to temperature checks on arrival in the airport. Get your Myanmar visa for South Korean citizens and prepare to enjoy yourself thanks to iVisa.com.
Can I trust iVisa.com with my Myanmar visa for South Korean citizens?
It's always nerve-wracking to think of sharing all your personal data and passport information with invisible online entities, so we want to reassure you that our databases are protected by super-strength firewalls and password combinations. We will never sell your private details on or allow unauthorised access. Trust iVisa.com with your Myanmar visa for South Korean citizens application.
Where can I find more articles about the Myanmar visa for South Korean citizens?
If your query about the Myanmar visa for South Korean citizens hasn't been answered yet, we suggest you speak to a member of the team by email or by using the chat function on the webpage. Or make your way over to iVisa.com for more detailed blog posts.
iVisa.com Recommends
Myanmar was formerly known as Burma, a name which dates back to the country's period of British colonial rule. Asian culture has always seeped through into the fabric of society in this semi-isolated nation. Backpackers have included it on their South East Asian trails for tens of years, but it's worth remembering that cash machines can be hard to come by, so you should either bring dollars to spend or make sure to lift out cash any time that you have an opportunity to do so. Shwedagon Paya is a gold Buddhist monument that was erected to mark both quiet reflection and the Yangon amusement park nearby. It can be exceptionally busy so aim to get there in the morning to make the most of the serenity. The second biggest city in the country, Mandalay, is well worth a visit even just to take in the royal palace, which was faithfully reconstructed, and is also well situated as the gateway entrance to the ancient city of Bagan.