Sri Lankan passport holders may have many questions about what countries they can visit with their passports, and when a visa may be required. While there are many countries that they can visit without a visa, there are others that will require one. For more information about whether you will need an eVisa to enter Myanmar, you can continue reading this post where we will answer some of the more frequently asked questions and whether you will need a visa.

Frequently Asked Questions (FAQs)
Do Sri Lankan passport holders need a visa to enter Myanmar?
Yes. Sri Lankan passport holders will need a visa to enter Myanmar. It is also important to understand you may also have certain restrictions on your visa. For example, you will only be able to enter and exit via the Yangon, Mandalay, and Nay Pyi Taw International airports. To check the requirements for this visa, click here.
What is a Myanmar Tourist eVisa?
The eVisa is an electronic paper that allows tourists from different countries to enter Myanmar with any problem. As the whole process is online, the applicant does not need to go to an Embassy nor Consulate to process any documentation, so do not be worried about this because you will obtain your eVisa online with an easier process.
Do I have a limit of days to enjoy Myanmar?
For Sri Lankans, the maximum stay is 28 days in Total. This eVisa also allows 90 days after issued for a Single Entry type of visa.
What documents do I need to present to apply online?
There are just a few requirements in place for Sri Lankans who are seeking to get a Myanmar visa with iVisa:
Applicant Photo

Invitation Letter (if applicable)

Business Registration of Inviting Company (if applicable)

Passport Personal Details Scan (if applicable)

Selfie holding the physical credit card used for the transaction is needed to verify payment. Only the last 4 digits of the credit card must be visible in the picture. Only one image is needed per order. (if applicable)
How much does the eVisa cost?
There are three different services available when applying with iVisa:
Standard processing – your visa application is processed within 3 Business Days, and the price is USD 75.00 (service fees included).

Rush processing – you will receive your visa within 2 Business Days, and the total price of it is USD 75.00 (service fees included).

Super rush processing – this is the fastest option. You will get your Myanmar Tourist eVisa in only 12 hours, with a total charge of USD 75.00 (service fees included).
You can start here and in a short period of time you can be able to obtain your own eVisa for your trip to Myanmar!
How is the functionality of the Myanmar eVisa?
Since 2014, the Myanmar Government implement a new electronic system that helps thousands of citizens from selected countries to obtain a visa in less time. There are two visa types that you can obtain online: tourist and business eVisas.
All the process works very simple, just submitting all the documents and providing the whole information of the applicant is enough to complete the eVisa request. Of course the eVisa has a cost that it will change depending in the timeframe you want to receive your document. Finally, this streamlined system cuts the time it will normally take to issue a visa.
How long does it take to apply for a Myanmar visa?
The application process for a Myanmar eVisa is completely online and will take you less than 10 minutes to complete the application form.
How to Obtain a Myanmar eVisa?
To obtain a Tourist visa to Myanmar you can apply online through iVisa by following these steps:
In the first step, you need to fill the blank spaces with your individual info. In this part you also need to select the processing time from the options mentioned above.

Next, make a revision of the info you provided in the first part and do the corresponding payment.

Answer a questionnaire and upload a photo. You will also need to upload your passport scan and your digital photo. Other documents may be required as well, but it is going to depend on personal circumstances.
Don't waste more time and apply now. In case you find any trouble while filling in the form, you can contact us 24/7.
What comes after I finish the online form?
Submit your eVisa request and then just wait for our email confirming we receive your online application. During a short period of time you will receive your eVisa in PF format by email. Then, just download it and print it. Once you are in the airport of Myanmar, present it to one of the Immigration Officers.
I have children under 7 years old who are going to travel with me, how can I do in this case?
Children under 7 years old can travel to Myanmar without the need for an individual eVisa if they meet the following requirements:
The child must be accompanied by the parent/guardian.

The child must be included in the parent/guardian's passport.

The details of the child must be included in the parent/guardian's eVisa.
Do I need a Tourist eVisa if I am in transit through Myanmar?
If you wish to leave the airport while in Myanmar, then you HAVE TO apply for a Myanmar Tourist eVisa. Otherwise, it is not necessary.
Sample of an approved Myanmar eVisa: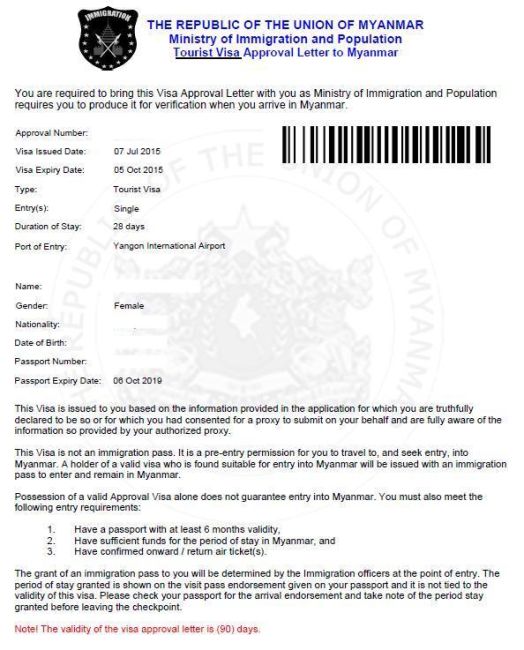 I made a mistake while filling my form, what can I do now?
It is important to revise the information given before submitting the application because if there are mistakes you will have to apply again.
In case you make any mistake, please contact us immediately to assist you.
Is iVisa a safe place to process my eVisa?
We provide maximum safety for the personal data of our clients, confidentiality and we prevent exposing your data on the internet. Your personal information could not be safer. Please see the comments that our customers say about us here.
I have more unresolved questions, where can I find more info?
You can get more information and assistance from our customer team here.