You can obtain an eVisa if you wish to travel to Myanmar. This is the same as a consular visa in digital format that Swiss citizens can now apply online using iVisa's services. It does not require a trip to the embassy so there will be a minimal effort on your part.

Frequently Asked Questions (FAQs)
Do Swiss citizens require a visa for Myanmar?
Swiss passport holders must obtain a visa for Myanmar. Nevertheless, is good to mention that even if you apply for the eVisa, you will only be able to access Myanmar using the Yangon, Mandalay and Nap Pyi Taw International airports or one of the 5 International Land Border Checkpoints: Tachileik, Myawaddy, Kawthaung, Tamu-Moreh, Rih Khaw Dar-Zokhawthar.
See the full requisites here.
What is the Myanmar eVisa?
The eVisa or electronic visa is an official document that allows thousands of citizens to travel and enter Myanmar without problems. As the whole processing of the eVisa is online, you don't require to approach any Embassy nor Consulate to supply documents.
How many types of Myanmar eVisas are for Swiss passport holders?
Your options to visit Myanmar can be two:
Tourist eVisa

Business eVisa
IMPORTANT: The information you are finding here is only about the tourist eVisa. If you want to see the requirements of the business eVisa too, please click here.
How many days can Swiss citizens stay in Myanmar?
Swiss nationals can enter Myanmar in 90 days after issued and stay inside the country for 28 days in Total. The tourist eVisa gives you only a Single Entry to enter Myanmar.
What are the required documents to apply online?
iVisa will deal with the bureaucracy so Swiss citizen doesn't have to lose valuable time. Your application will start as soon as you have provided all the necessary documents. It is possible that you already have most of the documents since you can gather all of them without any problem. Find in the following list the details of each item you need to supply:
Valid passport
Digital photo of yourself
Email address
Means of payment
The email address must be one you utilize frequently. In that account we will send you all the updates of your Myanmar eVisa, so please spell the email address correctly in your application form. Payments are done online and our available options to process your payment are credit cards, debit cards, and Paypal.
Is the price of the eVisa too high?
We have three amazing options for Swiss citizen who places utmost importance to time. Logically, your visa cost is higher for faster processing time. The alternatives for Swiss citizen are:
Standard processing (3 Business Days) - USD 75.00.

Rush processing (2 Business Days) - USD 105.00.

Super Rush processing (12 hours) - USD 135.00.
Find here all the details of the eVisa and apply now!
How is the functionality of the Myanmar eVisa?
The Myanmar Tourist eVisa is issued electronically by the Ministry of Foreign Affairs of the Myanmar Government.
iVisa uses the Myanmar eVisa system to process your eVisa by entering the applicant's information into the eVisa system and after they check it out, we are advised of the outcome of the Myanmar eVisa application.
Does it take a long time to apply online for the eVisa?
It will take you no longer than 10 minutes.
How can I process my eVisa application?
The Myanmar eVisa application form is divided into three easy steps for Swiss citizens.
It only takes 5 minutes to provide your overall data. Your visa cost is determined by the processing time that you choose.

Make a quick but complete revision of the details provided in the first part and proceed with the payment. It is crucial for Swiss citizens to carefully input all information. Once your application has been processed, revisions are no longer permitted after so always check your details.

The last step is made of a personal questionnaire and a photo upload. There will be different requirements for each Swiss citizen so additional documents might be needed.
Once the steps are completed, submit your form and just wait for your eVisa.
What would happen after I have applied?
We will send you your Myanmar Tourist eVisa by email in the timeframe chosen. After receiving your eVisa in PDF, you will need to download it and print a copy of the document to show it in the airport of Myanmar.
I have a child under 7 years old, does he/she needs a visa too?
Every child under 7 years old are obligated to apply along with their parents. Additional documents might be requested from the Government, but it will depend on individual cases. Parents are apt to add the information of their children in the same application form with no additional fee. Children under 7 years old, only need to pay for the visa fee that is USD 50.00.
Do I need a Tourist eVisa if I am in transit through Myanmar?
If you will NOT leave the transit lounge at the airport while in Myanmar, then you are not required to have a Myanmar Tourist eVisa. Otherwise, if you wish to leave the airport, then you HAVE TO apply for a Myanmar Tourist eVisa.
Can you show me a sample of the Myanmar eVisa?
Find the sample below: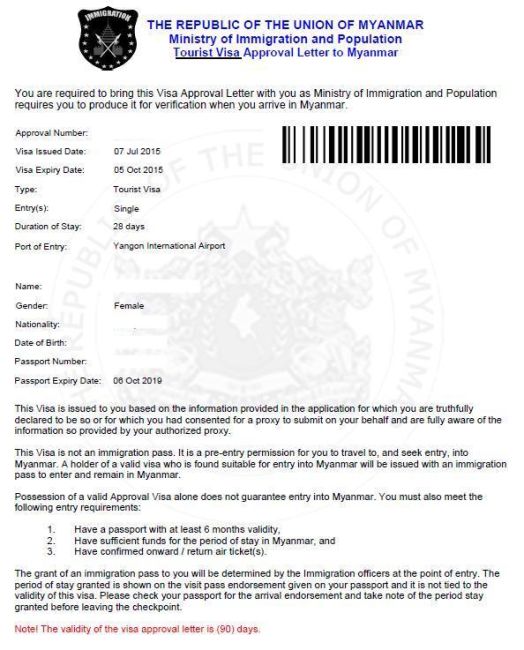 What can I do if I make a mistake in my application form?
It is important to revise the information given while completing the application form and before submitting it. If you made a mistake when entering your data online then please contact our customer service team as soon as possible to assist you.
Is it safe to use iVisa to get my Myanmar eVisa?
Our services are 100% guaranteed and we have tests to confirm it: the comments we receive daily from our customers. The information you provide is stored in our database so that it is not exposed to the Internet. Additionally, we have the necessary tools to process your visas and our team of experts is always ready to assist you in every step of your application.
Where can I find more info about the Myanmar eVisa?
For a faster resolution click here and start chatting with one of our customer service representatives. Alternatively, you can find more info and FAQs here.