As a US citizen, you have access to a lot of countries, both with and without a visa. However, sometimes it may be necessary to get one if you plan to visit certain countries and it can be a little bit tricky.
US citizens who wish to visit Myanmar must apply for an eVisa to enter Myanmar. Fortunately, in iVisa we facilitate the Myanmar eVisa process, so travelers can obtain the document in less time and more easily.
We invite you to continue reading this article just if you want more answers to some of the more frequently asked questions about the Myanmar eVisa for US travelers, especially the visa application form and costs.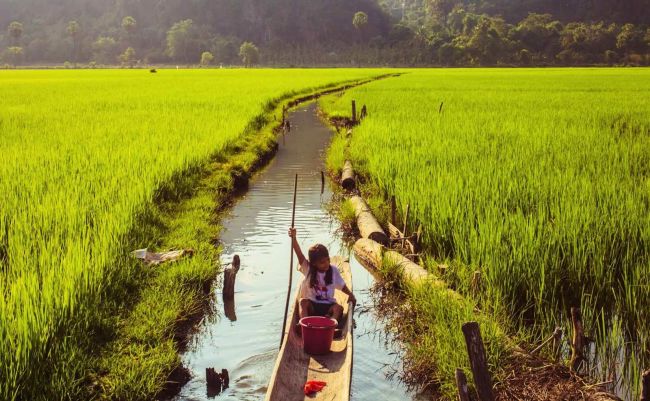 Frequently Asked Questions (FAQs)
US citizens require a visa to visit Myanmar?
Yes. US passport holders will need a visa to enter Myanmar. Additionally, US passport holders will need to abide by certain regulations to be able to enter the country, even if they have a visa.
For example, they will only be able to enter and exit the country via the Yangon, Mandalay, and Nay Pyi Taw International airports. This means that land border and seaport entry is not allowed. US citizens must also agree not to enter into any restricted areas while they are traveling through the country of Myanmar.
Is there a visa for Myanmar on arrival?
Yes, Myanmar has a visa on arrival available which has roughly the same requirements as the Myanmar Tourist eVisa. The Myanmar visa allows you to visit as a tourist for 28 days in Total.
What is the Myanmar Tourist eVisa?
The Myanmar electronic visa, is a mandatory travel requirement for nationals from qualifying countries who want to travel to the Republic of Myanmar for tourism or business reasons.
What is the maximum validity of the eVisa?
You have 90 days after issued to use the eVisa and enter Myanmar. Also, remember that you can only stay inside the country for 28 days in Total per entry.
Can I enter Myanmar multiple times?
No, you can't. The Myanmar eVisa gives you a Single Entry, so before planning your trip to this country don't forget that you can enter just one time.
How do you get a Visa for Myanmar?
For a Myanmar visa you will require a passport, digital photograph, and a payment method. Here are the full details on the documents you need to provide in order to process your visa:
Passport with at least six months of validity from the date of entry.
Digital photograph from the applicant that has to be a recent one.
A debit/credit card or Paypal account for payment.
Once you apply with us, our team will help to ensure that you meet all requirements to receive your eVisa with speed and efficiency.
How much does the Myanmar eVisa cost?
We understand that this is probably one of the many concerns about electronic visas. This is the reason why we offer you 3 options that can easily fit your needs:
Standard processing (7 Business Days) - USD $101.99.

Rush processing (5 Business Days) - USD $145.99.

Super Rush processing (3 Business Days) - USD $197.99.
You can start your application here and submit it now!
How long does it take to apply for A Myanmar tourist eVisa?
You'll only spend a few minutes filling in the application with iVisa. After that, we'll take care of the rest and we'll let you know the status of the application via email.
How can apply for an eVisa online?
To receive a Myanmar visa as a US passport holder, you must book an official appointment online with the Myanmar Embassy website.
But to make things easier, you can also apply through iVisa, which takes only one day to process. Doing this also requires less struggling with the complicated bureaucratic environment that can be involved with the application process and the difficulties presented with the online appointment booking process.
The online form has only two steps:
The first step is just to fill in your general information. In this part you also have to select the processing time from the options mentioned above.
The second step will ask you to check step one and as a last point, you just have to process the payment.
Click here and start your application form now. In case you need assistance, please contact our support service at any time.
I do not have my hotel bookings, can I apply online?
Actually no. You don't need a booking to apply online. However, don't forget that foreign nationals must stay in registered hotels, motels, inns, guest houses or resorts.
I'm taking my child with me, do they need a separate eVisa and what are the costs associated?
Children under 7 years old must apply with an adult. There are no additional costs for this, since they will be added to your Myanmar Tourist e-Visa, thus the total amount will still be USD 50 per person (excluding the service fee).
Can I enter Myanmar with my eVisa at any point of entry?
No, you can't. There are only some points where you can enter. These are:
One of the 3 International Airports: Yangon, Mandalay, Nay Pyi Taw
One of the 5 International Land Border Checkpoints: Tachileik, Myawaddy, Kawthaung, Tamu-Moreh, Rih Khaw Dar-Zokhawthar
Can you show me a sample of the Myanmar eVisa?
Of course! Find a sample of an approved eVisa here:
What would happen if I make a mistake in my application?
If you make a mistake when applying online then please contact our customer service representatives ASAP to assist you.
Is it safe to apply online with iVisa?
Yes! We are dedicated workers providing official Myanmar eVisas since 2013. Many people trust that online information can easily leak and that their personal info is at a higher risk of getting into the wrong hands. But that does not happen with our services. We provide maximum safety for your personal information.
I still have more unresolved questions, where can I find more information about it?
You can contact us by clicking here and start a live chat conversation with one of our customer service team. You can also find more information here as well.
With iVisa you'll quickly learn why over 17,000 people have granted iVisa an over 9.5 "Excellent" rating on TrustPilot, with customers such as Gladys stating, "It was the easiest application ever. The visa was approved in less than 24 hours." The speed and efficiency with which you will receive your visa are just one of the many reasons why people choose iVisa. Another thing is the great customer service. Find out for yourself by contacting the iVisa customer service team with any questions that you may have with their dedicated online chat support today.