If you are an Australian Citizen and visiting Nepal is in your immediate plans. You should know that from January 2021, the borders of this country are open again. However, there are a few additions to the previous requirements every person should meet. The way How Citizens of Australia Can Enter Nepal During Coronavirus is the International Traveller Arrival Form. This document is accessible through the online form developed by iVisa.com.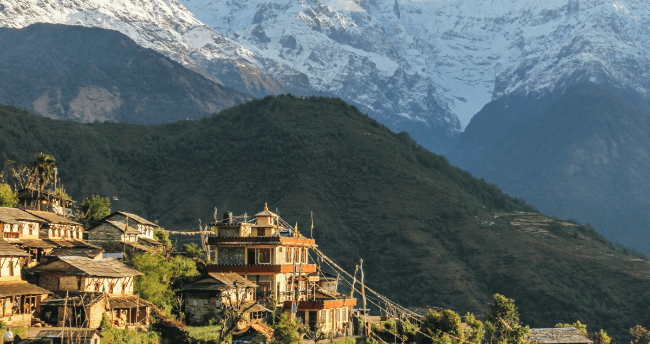 We are aware that due to the coronavirus, the preparation for a trip became more difficult. But do not let this discourage you from traveling. We assure you that iVisa.com has the experience, knowledge, and the best tools to get your document approved. In this article, we share the latest updates and the requirements to show you How Citizens of Australia Can Enter Nepal During Coronavirus.
What are the steps to apply with iVisa.com?
Fill the online form with some basic info about yourself and your trip.
Attach the required documents.
Pick a processing option for your application.
According to the feedback from iVisa.com, edit and resend your application.
Receive the approved document in your email.
Print and/or save the barcode.
Would you like to chat with a Customer service agents about How Citizens of Australia Can Enter Nepal During Coronavirus?. Access the live chat feature in the lower right corner of your screen.
What do I need to apply in advance?
The only thing you need to apply in advance is time. To fully enjoy the benefits of this option, you should send your application with at least a couple of weeks of anticipation of your trip. Get more time to gather the required documents, ask for assistance as many times as you need, and take your time to choose the best option to process your application.
Frequently Asked Questions
What is the purpose of the International Traveler Arrival Form?
The International Traveler Arrival Form is to reinforce the contingency measures against the coronavirus. Based on the information provided by this new travel document, the authorities of Nepal determine the health condition of every person who wishes to visit the country.
Start filling out your application.
Do I need a COVID vaccine or vaccination certificate to enter Australia?
Yes, Australia has been taking steps to restore travel within its borders. In order to enter Australia, you'll need to display your COVID vaccine passport or vaccination certificate.
Accepted vaccines are Pfizer, AstraZeneca, Moderna, Sinovac, Sinopharm, Bharat Biotech or Johnson & Johnson. At least 7 days must have passed since you completed your full course of vaccination.
Do I need a negative COVID-19 test result to enter Australia?
COVID-19 test prior to arrival: pre-departure tests are no longer required. However, travelers must still be fully vaccinated.

COVID test exemptions: Children aged 4 years and younger.
Do I have to quarantine on arrival to Australia?
Quarantine requirements: Differ by state.
Quarantine exemptions: Travelers arriving from New Zealand. There are no quarantine requirements in NSW, Victoria and the ACT.
Does the same document work for every member of my family?
No, if you plan to make a group journey, every person, regardless of their age, must apply individually for the International Traveler Arrival Form.
What documents should I get to apply with iVisa.com?
Your valid passport. (It must have a validity of at least six months beyond the arrival in Nepal).
Your email address.
A valid online payment method: credit/debit card or Paypal.
You can be sure that iVisa.com knows How Citizens of Australia Can Enter Nepal During Coronavirus. Let us assist you with your application.
What conditions should I meet to enter Nepal during the Covid-19?
Get an approved International Traveler Arrival Form.
Get tested for COVID-19 and show a valid certificate with a negative PCR test result within 72 hours before leaving for Nepal.
Have an isolated place to quarantine for seven days upon the arrival. (the options are: a hotel room or a pre-approved location by the health department of Nepal).
Hire health insurance for at least USD 5,000 against COVID-19.
Have a valid visa or a Nepal Immigration authorization. (If you need to apply for a visa, contact the Nepal consulate or Embassy in your country).
Have you found all the information you need about How Citizens of Australia Can Enter Nepal During Coronavirus? Then, we invite you to Fill out the application form.
What is the price of the International Traveler Arrival Form?
iVisa.com will process your application depending on how fast you need to get a response. The options you can select from are:
Standard Processing Speed:

24 hours

-

USD $28.99

.
Rush Processing Speed:

4 hours

-

USD $51.99

.
Super Rush Processing Speed:

2 hours

-

USD $84.99

.
is it safe to process my information through iVisa.com?
Our online service is one of the best options available to get your travel documents. Years of experience and a modern security system allows us to guarantee a safe process.
Step by the Users opinions section and witness how iVisa.com has helped thousands of users to get their documents.
Can I contact iVisa.com if I need more information?
Absolutely. Please contact our Customer service team anytime to clear your doubts about How Citizens of Australia Can Enter Nepal During Coronavirus. Our agents are available 24/7.
iVisa.com recommends!
One of the hardest but also most satisfying bike excursions are available at the Shivapuri National Park. If you are looking for extreme experiences, you will find even more than you expected by taking the Annapurna circuit biking tour. This 7-day adventure will demand the best of every traveler.
There are options for every taste. If you prefer a more relaxed experience, you can choose to ride along the scenic route of the Bungamati or Godavari road or even cycling through the streets of Khatmandú to discover ancient temples and monasteries.