International travels are possible again, many countries in the world have decided to re-open their borders to welcome visitors. Nepal was one of the first countries that took this step. However, as it happens in other countries, there are new rules that everyone (including nationals) must follow to enter Nepal. One of the most recent additions to the security measures is the International Traveler Arrival Form. This new travel document screens the health condition of every person who wishes to visit Nepal before leaving their country of origin.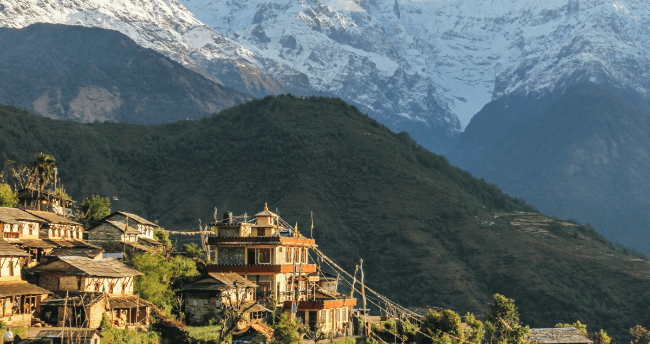 This information may lead you to think, How Citizens of Thailand Can Enter Nepal During Coronavirus. We know it may seem hard to prepare for your trip all by yourself at this time. The good news is, iVisa.com can help you to complete the requirements for your application. The online form developed by iVisa.com allows you to complete your application in no more than 15 minutes, and best of all, from the comfort of your home. In the following sections, you will find all you will need to enter Nepal in 2021. Join us.
Start with the online application form
What is the process to get the International traveler arrival form with iVisa.com?
The following steps are the way How Citizens of Thailand Can Enter Nepal During Coronavirus
Access the online form and fill it out with information about you and your recent travel history.
Attach the required documents to your request. (See what you need below.)
Choose your preferred option to process your application (Find more about this article)
Send your application.
Receive recommendations from our experts.
Edit the information in your application.
Get the approved document in your inbox. (Print and save the barcode to display it. Authorities will require it).
Fill out the application form.
Could I apply in advance for the International Traveler Arrival Form?
When you are looking How Citizens of Thailand Can Enter Nepal During Coronavirus, you will find that this is one of the best options. Everybody has the chance to apply in advance. To access this service, travelers need to send their application at least two weeks before departing for Nepal.
When you take this option, you give the expert team of iVisa.com the opportunity of looking for the best date to process your application and get optimal results. Plus, you get more and better information to make a perfect application.
Frequently Asked Questions
Can I enter Nepal during Coronavirus?
Yes, you can. From January 2021, most international travelers are allowed to enter Nepal. Anyway, you should know that currently, only the citizens of India have regular access granted. As mentioned above, you should meet some criteria to be approved to enter.
It is necessary to mention that Nepal's land borders are still closed for foreigners with no exemptions. Right now, the only way to reach Nepal is by air.
If you have more questions about How Citizens of Thailand Can Enter Nepal During Coronavirus please take advantage of our live chat feature. Click on the button located in the lower right corner of your screen and start chatting with one of our customer service agents.
What do I need to apply for the International Traveler Arrival Form?
You only need three things to start your application:
A valid passport. (6 months of validity after the date of arrival in Nepal).
A valid email that will work as the communication channel with iVisa.com
A payment method. You can choose between a credit/debit card or a Paypal account.
What conditions should I meet to enter Nepal during the Covid-19 pandemic?
To enter Nepal, travelers must meet the following conditions:
Have an approved International Traveler Arrival Form.
Get a PCR Test with a negative result for COVID-19 issued within the last 72 hours before arriving in Nepal.
Make a hotel room reservation to quarantine in Nepal for seven days. To receive authorization to leave the hotel on day seven, you will be tested for coronavirus for a second time on day 5.
Hire health insurance for up to USD 5,000 against COVID-19.
Have a Nepal pre-approved visa or a government recommendation to cross the border. (If you do not have this document yet, you should contact the nearest Nepalese embassy or consulate).
iVisa.com understands that learning How Citizens of Thailand Can Enter Nepal During Coronavirus may be confusing. We invite you to contact our Customer support service to get professional assistance.
Do I need a COVID vaccine or vaccination certificate to enter Nepal?
Yes, Nepal has been taking steps to restore travel within its borders. In order to enter Nepal, you'll need to display your COVID vaccine passport or vaccination certificate.
Since information may change quickly, we advise you to follow up on the latest Nepalese travel updates and/or contact your local embassy.
Do I need to take a PCR COVID-19 Test before traveling to Nepal?
COVID test prior to arrival: PCR within 72 hours

COVID test on arrival: All travelers must undergo antigen testing on arrival

COVID test after arrival: Partially/unvaccinated travelers must take a test on day 5 with a negative result to end quarantine. Fully vaccinated travelers must undergo antigen testing every 72 hours.

COVID test exemptions: Children under 5
Do I have to quarantine once I arrive in Nepal?
Quarantine requirements: 5 days for partially/unvaccinated travelers

Quarantine testing: Day 5 test for unvaccinated travelers to end quarantine. Fully vaccinated travelers must undergo antigen testing every 72 hours.

Quarantine exemptions: Fully vaccinated travelers are exempt from quarantine
What are the fees for the International Traveler Arrival Form?
iVisa.com gives you three choices to process your request:
Standard Processing Speed:

24 hours

-

USD 24.00

.
Rush Processing Speed:

4 hours

-

USD 42.00

.
Super Rush Processing Speed:

2 hours

-

USD 72.00

.
How safe is iVisa.com to process my request?
We are one of the most reliable online services you will find when processing travel documents it's all about. Our system provides users several security filters to protect their information while filling their application for the Nepal International traveler Arrival Form.
Make a quick visit to our Customer reviews page to find out what our customers think about the online services provided by iVisa.com.
Where could I find more information?
iVisa.com shares with its users the latest updates about traveling. To get more info about How Citizens of Thailand Can Enter Nepal During Coronavirus you can contact one of our Customer service agents We will be glad to answer all of your questions.
iVisa.com recommends!
For those who travel to another country looking to get in touch with nature, Nepal is the ideal place in Asia to do it. The second most popular activity in this country after an excursion to the Himalayas is a guided tour through the Chitawa natural park. Trekkers consider this place as paradise due to the magnificent views and mountain paths.
Adventurers usually choose to stay for a week due to the spectacular landscapes found in this area. The guided tours include engaging activities like camping outdoors, kayaking in crystal water rivers, and visiting the Tibetan refugee monk's temples.