The Netherlands is one of the most visited nations in Europe, and therefore, it remains a recurring destination for many tourists nowadays, despite the COVID-19 pandemic. If you are excited to visit this country, you should take notes on the documentation that its government is demanding. One of the most important documents is the Health declaration.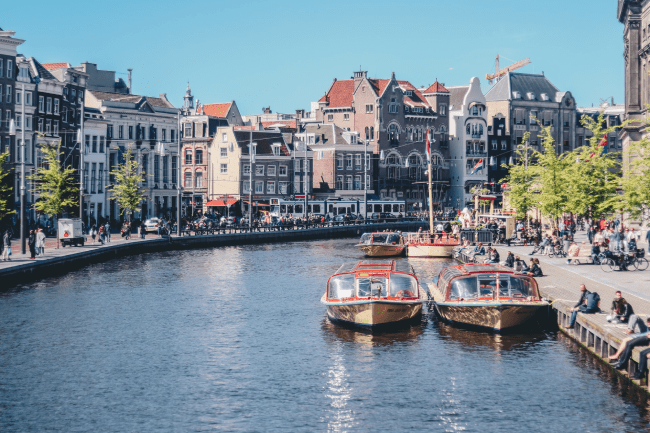 This Health Declaration is essential when arriving at the airport because it guarantees that you are taking proper responsibility to avoid spreading the virus. To obtain the Netherlands 14 day quarantine requirement or Health Declaration, it's important to follow certain steps that you can read in this article.
We recommend you to take a few minutes to read the following information calmly.
FAQs about the Netherlands Health Declaration
Do I need a COVID vaccine or vaccination certificate to enter Netherlands?
Yes, Netherlands has been taking steps to restore travel within its borders. If you are coming from a high-risk country or a very high-risk country, in order to enter the Netherlands, you'll need to display your COVID vaccine passport or vaccination certificate. You won't need to present a negative PCR test nor to follow a quarantine.
Approved vaccines are Pfizer, AstraZeneca, Johnson & Johnson, Moderna, Serum Institute of India, Sinopharm BIBP, Sinovac. You are considered vaccinated if all doses of a vaccine against SARS-Cov-2 have been administered for at least two weeks before traveling. If you were vaccinated with the Janssen vaccine, your proof of vaccination will only be valid after 28 days.
Which risk category is my country?
EU safe countries: Czech Republic, Poland, Malta
EU high-risk countries: Austria, Belgium, Bulgaria, Denmark, Cyprus, Croatia, Estonia, Finland, France, Germany, Greece, Hungary, Iceland, Ireland, Italy, Latvia, Liechtenstein, Lithuania, Luxembourg, Norway, Portugal, Romania, Slovakia, Slovenia, Spain, Sweden, Switzerland
Safe countries from outside the EU area:Australia, Canada, Chile, China, Faroe Islands, Greenland, Hong Kong, Jordan, Kuwait, Macau, Monaco, New Zealand, Qatar, Rwanda, San Marino, Saudi Arabia, Singapore, South Korea, Svalbard, Taiwan, Ukraine, Uruguay, Vatican, Saba, St Eustatius
Very high-risk areas: Afghanistan, Anguilla, Antigua and Barbuda, Bangladesh, Barbados, Belize, Bermuda, Botswana, Brazil, Brunei, Costa Rica, Cuba, Dominica, Eswatini, French Guyana, French Polynesia, Georgia, Grenada, Guyana, Haiti, India, Israel, Lesotho, Malaysia, Martinique, Mongolia, Montenegro, Myanmar, Nepal, New Caledonia, Pakistan, Palestinian Territories, Philippines, Saint Kitts and Nevis, Saint Lucia, Saint Vincent and the Grenadines, Serbia, Seychelles, Somalia, Sri Lanka, Suriname, Thailand, United Kingdom, United States, Venezuela
High-risk areas: All the other countries
Why is it important to get the Health Declaration?
Every traveler that's planning to take a trip to the Netherlands needs to submit this document to accept the compromise with the government to avoid the spreading of the COVID-19. Without this declaration, you won't be able to enter the country, even if you have your valid passport and visa.
The Netherlands Health Declaration can be obtained through an online service known as "AOT", but this can be very stressful and bureaucratic. For your convenience, there's another way of getting this document and that's by taking advantage of iVisa.com's online form.
Do I need to go to an embassy to get this document?
No, you don't need to go to the Dutch embassy to apply for the Health Declaration, you only have to fill in an online form. Keep in mind that you might require other documents like your passport and a travel authorization or visa. You can use iVisa.com's Visa Checker to verify this information.
Which documents do I need to apply for the Netherlands 14 day quarantine requirement?
You must provide the following documents if you want to apply for your Health Declaration:
Scan of your passport personal details: this part is easy, you only have to scan your passport information page.
Valid e-mail: make sure that you provide a valid email to avoid any inconvenience.
Payment Methods: since iVisa.com is an authorized third-party company, you'll have to pay a small fee that we'll explain later. For this, you can use Paypal or a credit/debit card.
What are the processing times and prices for my Netherlands Health Declaration?
In iVisa.com we understand that the budget is always an important topic for travelers, especially with travel requirements. To help you with this, we can offer you three options with different prices according to your needs:
Standard Procedure Time: which takes 1 Business Day and it costs USD 20.00.

Rush Procedure Time: it takes 8 hours to get your application. The total cost of this alternative is USD 35.00.

Super Rush Procedure Time: this is the most expensive alternative of all so you have to wait for just 4 hours and the price is USD 60.00.
How can I apply with iVisa.com?
The online process that iVisa.com has created for you works as a helpful tool that will allow you to get your document as quickly as possible. This 3-step system shouldn't last more than 20 minutes:
First, write your basic data and choose the procedure time as well.
Secondly, read with caution the spelling of your information to confirm that it is correct and pay for the service.
Thirdly, upload the documents that we mentioned before and send the form.
Your Health Declaration will be delivered with a QR code via email. You'll only need to wait for them and nothing else!
In case of any issues, while filling in the form, you can reach out to iVisa.com's customer support.
How will I get the Health Declaration?
Keep in mind that once you get the confirmation of the Health Declaration, you'll also receive a QR Code that should be downloaded. You can save this code on your cell phone to avoid any inconvenience before entering the airport. Remember that the Immigration officer will confirm that all of your documentation is ok, and that includes the QR code.
Do Children need this requirement too?
Yes, every foreign citizen, especially tourists, need a Health Declaration to enter the Netherlands, and that includes children. If you're planning to travel with children, you'll need to apply for their Health Declarations too.
Is it safe to use iVisa.com's service?
iVisa.com has a security system that won't risk the information you offer, so you can be sure that it won't get leaked at all. Remember that iVisa.com is a third-party company, but it still has the valid authorization to provide you the Health Declaration. You can check our reviews if you feel unsure about it.
I still have doubts, where can I find more info?
We understand that you might still have questions about this document since it is a very new requirement. You can contact our customer service to receive personal attention, or you can learn more about it with the FAQs on iVisa.com's website.
The COVID-19 has been an obstacle to travel nowadays, but it's still possible to get to know other nations by being cautious. We invite you to apply for your Netherlands Health Declaration today to get ready for this trip!