Some countries around the world have to apply for a Schengen Visa in order to visit the nations that belong to the Schengen zone. Applying for a Schengen Visa is not complicated, but it is important to consider some things first, including the price. Therefore, we have prepared this article with valuable information about the Netherlands Schengen Visa cost, as many travelers plan to visit this amazing country in Europe.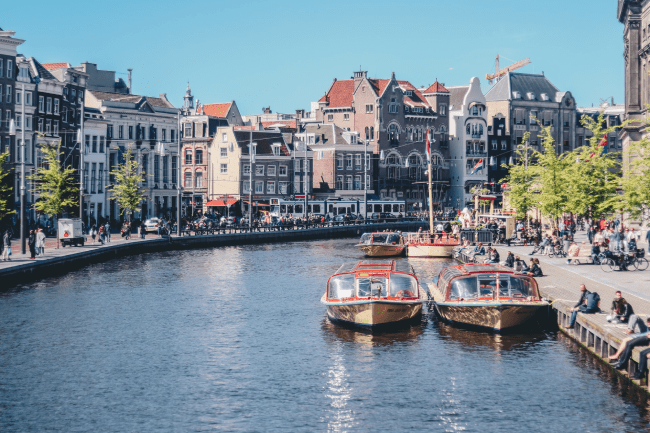 The Schengen Visa is a mandatory document required to enter the Netherlands. Start the Netherlands visa application with iVisa.com and learn more about the Netherlands Schengen visa fee. Keep on reading this article for more detailed information on the Netherlands Schengen Visa cost.
Frequently Asked Questions
What is a Schengen Visa?
The Schengen visa is a mandatory document to enter the Netherlands or the Schengen Area. If you are a non-European citizen who doesn't enjoy visa-free entry, then you need to apply for a Schengen visa. The good news is that you will be able to apply with iVisa.com to get the application processed as soon as possible.
Do I have to quarantine when I get to the Netherlands?
Yes. Practicing self-isolation for 10 days after arriving at the airport is highly recommended. However, travelers from the following countries do not need to present a negative test result nor to quarantine on arrival: Australia, New Zealand, Rwanda, Singapore, South Korea, Thailand, China (mainland China, Hong Kong, Macau), Israel, Iceland, Portugal, Finland, Malta, Ireland, Portugal, St Maarten, Saba, and St Eustatius.
What do I need to apply for a Schengen Visa?
Countries throughout the world have different visa requirements which can have extensive amounts of paperwork before granting you admission for tourism, business, or educational purposes. Visas can take up to several weeks for approval and cost a significant amount. Here, you require a simple process and easy requirements.
A valid passport scanned copy to get the details and contact information.
A valid email address we need to provide you the approved copy of the document via mail.
You can make payment for the application fee using valid debit/credit cards.
What should I know about the Netherlands Schengen Visa Cost?
The general visa fee is EUR 80 ($90), and for minors (between 6 to 12 years of age) the price goes down to EUR 40 ($45). However, keep in mind that once iVisa.com launches this document, there will be an extra fee to process it faster and reduce the tedious bureaucracy you have to stand by now.
These will be iVisa.com's processing options:
Standard processing service: It has a regular waiting time, and it is the cheapest alternative.
Rush processing service: Get the Schengen Visa faster for a higher price.
Super Rush processing service: Expect a fast-track service for your visa.
How can I apply for a Schengen Visa?
Applying with iVisa.com is much easier than other forms because you only have to do the following:
First, fill in your form here. Then choose your processing time according to your convenience.
Second, verify and double-check the information sent. Make payment through a debit/credit card.
Third, upload a scanned copy of your passport and other documents, if required. If you have any unresolved issues, then contact our customer support team. They will guide you to resolve the issue.
Can I trust iVisa.com?
Of course! Many travelers keep trusting iVisa.com with their travel needs. Therefore, you can trust us with the Schengen Visa.
Our previous clients have left their reviews in the comments section. Check them out and confirm we are your best choice!
Where do I get more information about the Netherlands Schengen Visa Cost?
If you have specific questions, get in touch with the customer service agents. Our experts can guide you through the Schengen Visa process, and we are available 24/7.
Dream about the Netherlands with iVisa.com We have all the tools to support you with the Netherlands Schengen Visa.
iVisa.com Recommends
The Netherlands is one of the favorite countries in Europe thanks to its variety of landscapes, cities with canals, tulip fields, and windmills.
In its capital city, Amsterdam, you can explore a wide variety of iconic places such as the Van Gogh Museum, the Rijksmuseum, the Anne Frank House, and the Stedelijk Museum, just to name a few. Additionally, Amsterdam is the perfect place to spend a pleasant afternoon drinking coffee in some of its cozy coffeehouses and pass through the bridges for a while, especially when walking along with beautiful gardens and lagoons.
The Netherlands is also famous for its colorful towns and vast flower fields. Without going too far, an example of this is Keukenhof, an extensive park of more than 32 hectares with immense tulip gardens, located between the towns of Lisse and Hillegom. This place is also known as "the garden of Europe", and it is one of the most beautiful places in the country.
Get ready for your trip to the Netherlands by applying for your Netherlands Schengen Visa soon!