A pleasant experience of travel makes you want to travel around more frequently. We knew that the world has changed for a few months and some are panicking about their travel plans. There are various ways to process your travel documents at different prices, but we assure you that all our services have high standards and are within your budget. We will process your visa application at record speed and deliver it online. Be confident to ask if you have any doubts when applying to get your Netherlands visa. Our team has experience handling various visa applications and knows how to process Netherlands visa applications.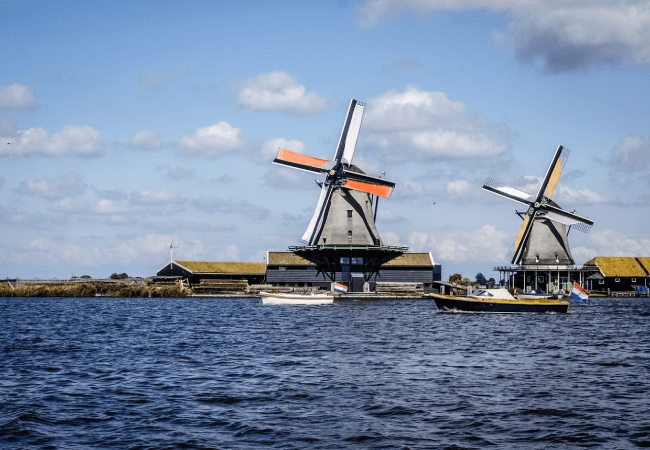 The Schengen visa is a mandatory document required to enter the Netherlands. Start the Netherlands visa application with iVisa.com and learn more about the Netherlands Schengen visa fee. Keep on reading this article for more detailed information on the Netherlands Schengen Visa cost.
Start your visa application with iVisa.com
Frequently Asked Questions
WHAT IS THE PURPOSE OF THE SCHENGEN VISA?
The Schengen visa is a mandatory document to enter the Netherlands or the Schengen Area. If you are a non-European citizen who doesn't enjoy visa-free entry, then you need to apply for a Schengen visa. Apply with iVisa.com to get the application processed as soon as possible.
Find out more about the Netherlands Schengen Visa cost.
CAN I USE THE SCHENGEN VISA TO TAKE A TRIP TO NETHERLANDS?
Yes. The Schengen visa is valid for all Schengen countries. You can enjoy entry to the Netherlands with the same visa before the expiry date of your visa and passport. The Schengen Area is a group of countries that have freedom of movement agreements. Netherlands is a member of the European Union and part of the Schengen Area. Complete the iVisa.com application and our team of experts will take care of the processing and paperwork. They will deliver the visa online as soon as possible. Read about the Netherlands Schengen Visa cost.
Do I have to quarantine when I get to the Netherlands?
Yes. Practicing self-isolation for 10 days after arriving at the airport is highly recommended.
However, travelers from the following countries do not need to present a negative test result nor to quarantine on arrival: Australia, New Zealand, Rwanda, Singapore, South Korea, Thailand, China (mainland China, Hong Kong, Macau), Israel, Iceland, Portugal, Finland, Malta, Ireland, Portugal, St Maarten, Saba, and St Eustatius.
Do I need to take a PCR COVID-19 Test before traveling to the Netherlands?
No, it's currently not mandatory. However, we advise you to stay informed and attentive to further instructions.
FOR WHICH CATEGORIES ARE THE NETHERLANDS SCHENGEN VISA COST WAIVED?
The visa fee is waived for applicants belonging to one of the following categories:
Children under the age of 6.
School pupils, students, post-graduate students, and accompanying teachers who undertake stays for a stay or educational training.
Researchers from third countries.
Representatives of NPO aged 25 or less.
Family members of EU/EEA citizens, concerning certain conditions.
If you are willing to pay an additional fee to get your travel documents processed faster, apply with iVisa.com. Our team of experts will take care of the rest.
WHAT ARE THE NECESSARY DOCUMENTS REQUIRED TO GET A SCHENGEN VISA?
Countries throughout the world have different visa requirements which can have extensive amounts of paperwork before granting you admission for tourism, business, or educational purposes. Visas can take up to several weeks for approval and cost a significant amount. Here, you require a simple process and easy requirements.
A valid passport scanned copy to get the details and contact information.
A valid email address we need to provide you the approved copy of the document via mail.
You can make payment for the application fee using valid debit/credit cards.
You may click here to apply with iVisa.com and access more details regarding Netherlands visa document requirements.
HOW MUCH DOES A NETHERLANDS SCHENGEN VISA COST?
The general visa fee of EUR 80 ($90) must be paid when you submit the visa application. For children between 6 to 12 years of age, the cost of Standard Netherlands is EUR 40 ($45).iVisa.com will also charge you a fee for administering and processing. You get a clear idea of your expenses by referring to the pricing. The team of experts at iVisa.com will help you calculate the total expense for visa application processing.
TELL ME ABOUT TIME TAKEN TO PROCESS DOCUMENT AND EXPENSE VARIATIONS WHEN APPLYING WITH IVISA.COM?
The authorization process does not require lengthy approval procedures. It is less time-consuming to apply through an online application form so click here, and make your processing experience easier. iVisa.com has three options:
Standard Processing Option: one of the affordable means to attain your document easily.
Rush Processing Option: compared to the above option, this is slightly more expensive and speedy to get the document.
Super Rush Processing Option: this is the most expensive option because it is the fastest. It will provide you with a document ASAP.
HOW WILL I APPLY FOR A SCHENGEN VISA TO NETHERLANDS?
Applying with iVisa.com is much easier than other forms.
First, fill in your form here. Then choose your processing time according to your convenience.
Second, verify and double-check the information sent. Make payment through a debit/credit card.
Third, upload a scanned copy of your passport and other documents if required. If you have any unresolved issues, then contact our customer support team. They will guide you to resolve the issue.
HOW TO KNOW IF I'M ELIGIBLE TO APPLY FOR NETHERLANDS VISA?
If you want to check your status, you can use our Visa Eligibility Checker tool. Just select your country of origin and Netherlands in the two drag-down menus. The result will let you know if you do not need a visa. If you do, it gives you the next link to information on the application process. If you have any unresolved issues feel free to contact our customer support team. For more detailed information, visit the iVisa.com webpage.
WHY SHOULD I CHOOSE IVISA.COM TO APPLY FOR THE NETHERLANDS VISA?
We are focused on serving our customers based on their needs and affordability. Start the Netherlands visa application with iVisa.com and see how our team of experts has experience in handling personal data. They know that to provide quality service, privacy, and security need to be upheld.