If you are planning a trip to the Netherlands, you may be wondering: Do I need a vaccine to travel to the Netherlands? The simple answer is that a COVID-19 vaccine is not currently required to enter the country. Other vaccines, such as tetanus and rabies, are not required but are recommended for traveling to the Netherlands. However, travel is restricted and there are other requirements you should know about for planning your trip, including the Netherlands Health Declaration. You can apply for this required document with iVisa.com. Read on to find out how iVisa.com can help you answer questions like Do I need a vaccine to travel to the Netherlands?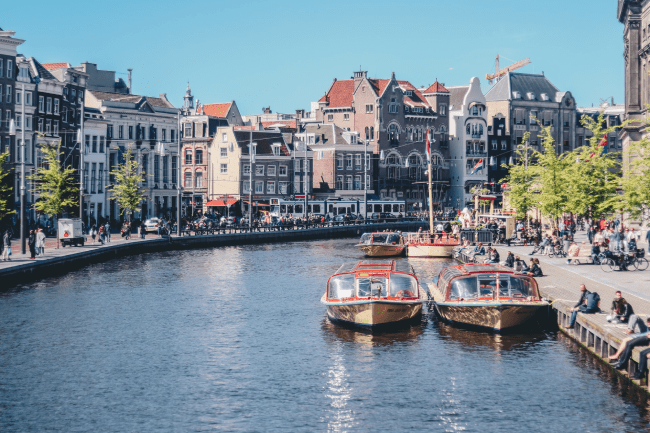 Apply for your eVisas and health declarations using iVisa.com
The first thing to do is to go to our website so that you can know what items you need to enter the Netherlands
If you're eligible for an online document, fill in our application form.
Select a processing speed and review the information to avoid mistakes.
Pay for the fees once you're sure of the information.
Attach the required items to the form and click the 'submit' button.
Now you can wait for your document!
Learn more about Netherlands Vaccine Requirements
Frequently Asked Questions
Do I need a COVID vaccine or vaccination certificate to enter Netherlands?
Yes, Netherlands has been taking steps to restore travel within its borders. If you are coming from a high-risk country or a very high-risk country, in order to enter the Netherlands, you'll need to display your COVID vaccine passport or vaccination certificate. You won't need to present a negative PCR test nor to follow a quarantine.
Approved vaccines are Pfizer, AstraZeneca, Johnson & Johnson, Moderna, Serum Institute of India, Sinopharm BIBP, Sinovac. You are considered vaccinated if all doses of a vaccine against SARS-Cov-2 have been administered for at least two weeks before traveling. If you were vaccinated with the Janssen vaccine, your proof of vaccination will only be valid after 28 days.
Which risk category is my country?
EU safe countries: There are no EU safe countries.
EU high-risk countries: Austria, Belgium, Bulgaria, Denmark, Cyprus, Czech Republic, Croatia, Estonia, Finland, France, Germany, Greece, Hungary, Iceland, Ireland, Italy, Latvia, Liechtenstein, Lithuania, Luxembourg, Malta (from 28 November), Norway, Poland, Portugal, Romania, Slovakia, Slovenia, Spain, Sweden, Switzerland
Safe countries from outside the EU area: Argentina, Australia, Bahrain, Canada, Chile, China, Colombia, Faroe Islands, Greenland, Indonesia, Hong Kong, Jordan, Kuwait, Macau, Monaco, Namibia, New Zealand, Peru, Qatar, Rwanda, San Marino, Saudi Arabia, South Korea, Svalbard, Taiwan, Uruguay, UAE, Vatican, Saba, St Eustatius
Very high-risk areas: Afghanistan, Anguilla, Armenia, Barbados, Belize, Cayman Islands, Dominica, Georgia, Haiti, Montenegro, Saint Kitts and Nevis, Serbia, Singapore, Somalia, Ukraine, United Kingdom, Venezuela
Countries with a virus variant of concern: South Africa, Lesotho, Eswatini, Botswana, Namibia, Zimbabwe
High-risk areas: All the other countries
Do I need to take a PCR COVID-19 Test before traveling to the Netherlands?
COVID test prior to arrival: PCR within 48 hours/antigen within 24 hours
COVID test exemptions:
Fully vaccinated/recovered travelers (apart from arrivals from very high-risk areas)
Travelers coming from EU safe countries
Children under 12
Information for arrivals from countries with a virus variant of concern:
COVID test prior to arrival- exceptional arrivals from countries with a virus variant of concern: PCR within 24 hours.
COVID test after arrival- exceptional arrivals from countries with a virus variant of concern: PCR on day 5 to end quarantine early with negative result.
Do I have to quarantine when I get to the Netherlands?
Quarantine requirements: 10 days for unvaccinated travelers from very high risk areas and all arrivals from countries with a virus variant of concern.
Quarantine testing: Day 5 to end quarantine early.
Can iVisa.com process a health declaration to the Netherlands?
Yes, we can help you get a Health Declaration depending on the country of origin.
What are the necessary documents to apply for a Health Declaration to travel to the Netherlands?
We are happy to show you how easy we make our forms. When applying for a Health Declaration with iVisa.com you will only need the following:
Passport, with a scan of the information page. That's the page with your photo.
A credit or debit card to pay the processing fee.
An email address, the answer will come to you by email.
Use the Visa Checker to check what you need
What are the processing times and prices to apply for a Health Declaration?
Our strength is helping our clients avoid the stress of time-consuming government pages and infuriatingly long wait times. On iVisa.com, you will find 3 processing speeds, the options are as follows:
Standard Processing : For the lowest price

USD 20.00

your document can be processed in a standard timeframe

1 Business Day

.
Rush Processing : If your flight is sooner, you will have to pay a little more

USD 35.00

for faster processing

8 hours

.
Super Rush processing : Choose this option if you need the fastest processing available

4 hours

and pay a higher rate

USD 60.00

.
You can pay the fee with a debit or credit card, as well as through Paypal.
Cut the queues by applying with iVisa.com
How long does it take to apply for a Health Declaration for the Netherlands?
Applying with iVisa.com is very easy and only takes you 20 minutes. Just:
Fill out a Health Declaration form
Answer the questions carefully to avoid delays in the delivery of documentation. Now pay the processing fee
Upload any documents that are required, then just wait for your Health Declaration to arrive.
Is it safe to use iVisa.com?
The internet is full of websites offering all kinds of services, so iVisa.com likes to differentiate itself by using the best possible security protection to ensure that customer data is protected against threats on the web. You can trust us to store your passport details in sealed databases that can be accessed by authorized staff members and no one else. We also have years of experience for you to apply with complete peace of mind.
Read our customer reviews to get more feedback on our processes
Where can I find more information?
You can find more information about Do I need a vaccine to travel to the Netherlands?, travel documents, and visas required to enter countries around the world on the website at iVisa.com. Our knowledgeable staff is waiting to hear from you.
Get in touch with any questions
iVisa.com Recommends
The Netherlands is a fascinating country and Amsterdam is a wonderful place to experience real Dutch culture and history. Our top advice for pedestrians is to watch out for the bikes. They're everywhere! As the Netherlands is a flat country, its resident's cycle everywhere. Visit the Anne Frank house and see the attic space where Anne wrote most of her diary. Take a trip to the Heineken beer factory- we can assure you that it slips even better in the tasting room at the end of the tour. The zoo is well laid out and always tops the list of favorites for kids and families. Outside the city, head to South Kennemerland National Park for an unforgettable experience. It's one of the best places in the country for nature-lovers. Spot wild horses and watch for birds amongst the grasses and dunes. Make sure you remember to try Dutch pancakes where you're over there too! Choose your filling and pop them in your mouth while they're still hot. Delicious!
iVisa.com will make sure that your trip gets off to a great start!