Dutch culture is the most impressive experience you can have in the Netherlands. Explore Zaanse Schans and check how Dutch life was in the 17th and 18th centuries. This open-air museum shows from ancient windmills to unique wooden houses. iVisa.com is ready to take you on a journey of a lifetime in the Netherlands.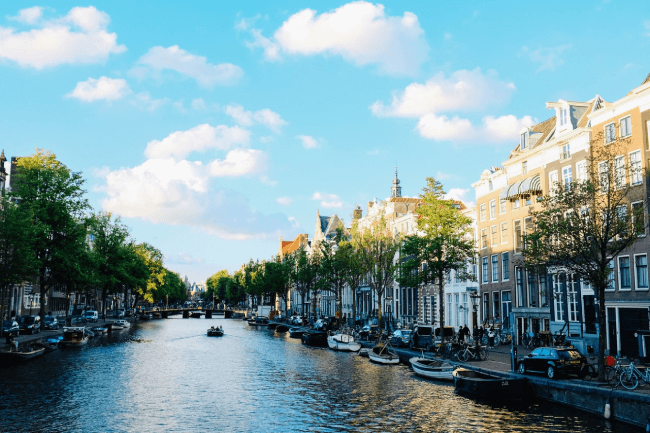 Nowadays, citizens of Georgia can visit the Netherlands without a visa. However, the European Union will be requesting a new authorization soon. This new entry requirement is called ETIAS. The Netherlands ETIAS for citizens of Georgia will be available by 2022.
iVisa.com has the simplicity, security, and speed to work on your Netherlands ETIAS. Check all the details about the Netherlands ETIAS for citizens of Georgia in the following lines.
Frequently Asked Questions
What does ETIAS mean?
ETIAS means European Travel Information and Authorization System. The ETIAS is an electronic system that will pre-screen incoming visitors before they enter Europe. This new mechanism will help EU immigration stop possible threats to the European countries.
Continue learning more about the Netherlands ETIAS for citizens of Georgia here.
Do I need an ETIAS as a citizen of Georgia?
Yes! Georgia is part of the 62 countries that don't need a visa to enter the Schengen zone. For this reason, citizens of Georgia should apply for the Netherlands ETIAS before entering Europe.
Is the Netherlands ETIAS valid for all of Europe?
The Netherlands ETIAS for citizens of Georgia is valid for the whole Schengen zone. The Schengen area gathers 26 countries in Europe.
Travelers must carefully check what countries they would like to visit in Europe, as not all countries in the European continent are part of the Schengen zone. Try the Visa Checker and confirm what countries admit the ETIAS authorization.
For how long is the Netherlands ETIAS valid?
The Netherlands ETIAS is valid for up to 3 consecutive years. Also, the Netherlands ETIAS for citizens of Georgia allows a maximum stay of 90 days in the Schengen zone.
Besides, you can have multiple entry benefits with the ETIAS document.
What information do I need to provide?
Citizens of Georgia must complete the electronic form with personal details like name, nationality, education, among others. Also, provide information about medical history, criminal records, and past trips to war zones, if applicable.
Make sure to have the following:
A copy of your passport, your passport should have a minimum validity of 3 months after arrival in the Netherlands. A valid email address to receive the Netherlands ETIAS safely. Payment methods, select between a Paypal account or use a credit/debit card.
What are the processing times and fees?
The Netherlands ETIAS for citizens of Georgia has three alternatives:
Standard service, in case you are willing to wait a regular time, then choose the cheapest option.
Super Rush service, receive the Netherlands ETIAS right away.
What are the steps for the ETIAS?
First, answer the questions in the online form and pick a processing time according to your preference.
Second, check your details and correct any mistakes. Proceed to pay with a credit/debit card or Paypal.
Third, attach a copy of your passport.
Get in touch with our customer support agents if you have any doubts.
What will I get in my email?
As the whole ETIAS process is online, then expect to receive the Netherlands ETIAS electronically. The iVisa.com team will send your travel documentation using the email address specified in the application.
Make sure to show your ETIAS document at your arrival because we are sure EU immigration will request it.
How safe is the ETIAS process with iVisa.com?
100% safe! iVisa.com works with the safest systems for all its services. Our applicants can be sure that we manage their information most safely.
Check our comments page and learn more details about our excellent results.
The stress-free Netherlands ETIAS for citizens of Georgia is only a click away with iVisa.com.
I have some questions. Who should I contact?
Connect with our customer service team that is available 24/7. We have all the answers to your inquiries about the ETIAS process. Also, you can write to [email protected]
Explore the Netherlands with iVisa.com! Have an incredible journey with our help!