Starting from late 2022 if you want to travel to the Netherlands then you should have an ETIAS Visa Waiver. As of now, Saint Vincent citizens do not require an ETIAS to enter the Netherlands. ETIAS is an online registration you can apply for ETIAS from wherever you are.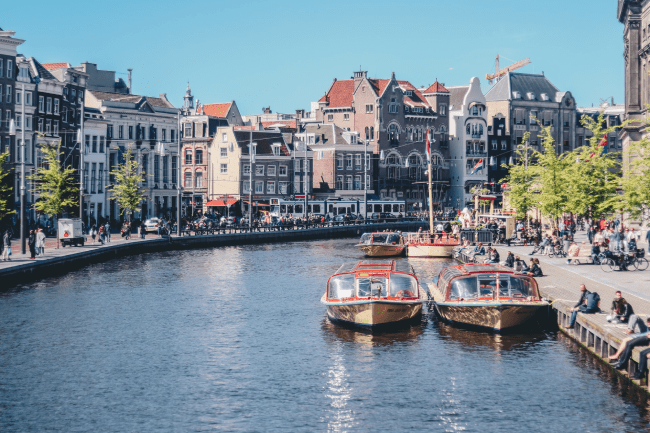 You can also get the Netherlands ETIAS through iVisa.com. It is a very simple process, and it is easy to apply with iVisa.com. It has a customer-friendly application process. Our team of experts will guide you through the entire process. If you are a frequent visitor to the Netherlands, then keep on reading this article for more information on Netherlands ETIAS for citizens of Saint Vincent.
Frequently Asked Questions
WHAT IS NETHERLANDS ETIAS VISA WAIVER?
ETIAS means European Travel Information and Authorization System. This will be effective in late 2022. ETIAS is not a substitute for a visa, it is a travel authorization. ETIAS authorization is to pre-screen the visa-exempt travelers. It aims to improve the security of the European countries and protect the country from any illegal immigration and other threats. It keeps track of visitors from countries that do not require a visa to enter the Netherlands.
ETIAS uses multiple security databases so it will verify your information within minutes itself, you should be honest when you are applying for ETIAS.
Visit this link for more information on Netherlands ETIAS for citizens of Saint Vincent.
What are the important documents I need to have with me to complete the application process?
Seek the help of iVisa.com to know the details regarding ETIAS requirements. To complete the ETIAS application process, you need to upload some essential items.
There are some important documents you need to have if you want to get a European Travel Authorization.
The first thing you need to have is a machine-readable passport and it should be valid during your stay.
The second thing you need to have is a credit/debit card. It's to pay the fees.
Next and one of the important ones is that you should have a valid email address because we will send all the details of ETIAS to your email.
When applying for ETIAS they will ask you to provide your personal passport, travel information and that includes your full name as it is in your passport, home country, date of birth. Passport details like its number, issuance, and expiry date. Travel details like your hotel reservations, return tickets, the purpose of your travel, and also you need to answer the questions related to your health and security. When your ETIAS is approved it will be sent to you via your email address provided within hours.
WHAT IS THE VALIDITY PERIOD OF ETIAS VISA WAIVER?
ETIAS will be valid for three years during those years it allows you to enter the Netherlands multiple times. Your ETIAS will be linked to your passport so if your passport expires ETIAS will become invalid. So you will have to apply for ETIAS again with your new passport. You will be able to stay for a maximum of 90 days within 180 days. You cannot stay over 90 days if you stay more than that it will not grant you another 90 days stay. Get your visa application processed through iVisa.com. It is fast, simple and reliable.
HOW LONG WILL IT TAKE TO COMPLETE THE ETIAS APPLICATION?
It will only take 10 minutes to apply for an ETIAS and after 10 minutes time is over your session will be timed out and you will have to do it again. If it denies your ETIAS application, they will inform you of the reasons for the denial and they will also give you instructions on how to appeal if it denies your ETIAS application. For personal assistance, contact our customer support team.
WHAT IS THE PROCESSING TIME AND COST OF IVISA.COM FOR APPLYING FOR ETIAS?
There are three processing options available with iVisa.com you can select anyone to process your ETIAS application. The cost of it will accord with the processing time it has.
Standard processing option: it is one of the basic options and if you are not in a hurry, then you can choose this option and this option is less expensive.
Rush processing option: this option processes your application faster and is a bit more expensive than the standard option.
Super rush processing option: if you are in a hurry it is better to choose this option. This option processes your application faster and is also expensive.
Applying with iVisa.com is not that expensive, it is affordable. You can apply for an ETIAS visa waiver easily with iVisa.com.
WHAT ARE THE STEPS IN APPLYING FOR ETIAS WITH IVISA.COM?
There are only three steps involved in applying for ETIAS with iVisa.com and it is very simple to apply for ETIAS. It has a user-friendly application procedure.
First step: fill the application by providing your basic details and answering the questionnaire and select the processing option.
Second step is to make payment for the ETIAS application. For that, you can use your credit/debit card. Before paying check all the details you provided is correct and be honest otherwise they can deny your application
Third step is to upload the scanned copies of your passport and other travel documents. When it is approved it will be sent to you.
IS IVISA.COM SAFE TO APPLY FOR THE NETHERLANDS ETIAS?
Yes, iVisa.com is safe to apply for any travel documents. All your information is secured with us. We are an experienced firm, so there is no need for any worries. Your privacy is our concern. For more proof, see our client's reviews.
IF I NEED HELP, WILL I BE ABLE TO CONTACT YOU?
Yes, you can contact us, our customer service agents will guide you and they are available 24/7 for your service. When you are applying with iVisa.com, our professional team will check all the information you provided, and if it needs you to provide further information, we will inform you. If you want more information on Netherlands ETIAS for citizens of Saint Vincent, you can visit our webpage.