The Netherlands Schengen Visa helps travelers explore all of the 26 Schengen Area member countries freely. The member countries are Austria, Belgium, Czech Republic, Denmark, Estonia, Finland, France, Netherlands, Greece, Hungary, Iceland, Italy, Latvia, Liechtenstein, Lithuania, Luxembourg, Malta, Netherlands, Norway, Poland, Portugal, Slovakia, Slovenia, Spain, Sweden, and Switzerland. So, if you have a Netherlands Schengen Visa, you can explore all of these countries after you land in the Netherlands.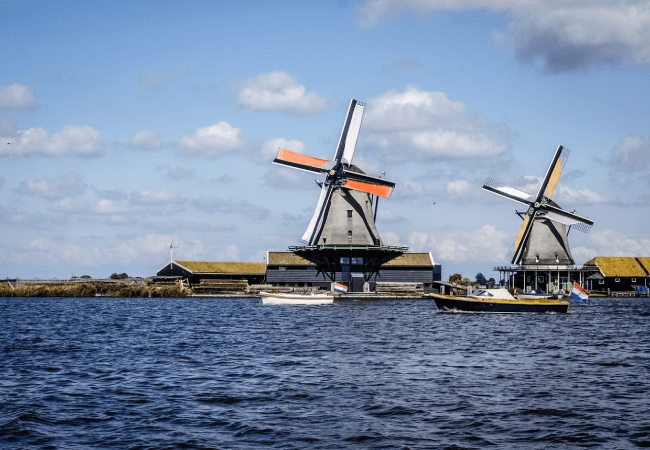 Read about the requirements for a visa including filling out an application online.
Frequently Asked Questions
You can check out our Visa Checker Tool to see the requirements for your specific country. Many of these answers apply to all applicants.
HOW MANY DAYS CAN I SPEND IN THE SCHENGEN AREA WITH THIS VISA?
You will have 90 days per entry to enjoy your trip in the area. We can help you learn about the Netherlands Schengen Visa countries.
IS IT REQUIRED THAT I HAVE A VISA TO ENTER NETHERLANDS AND THE SCHENGEN REGION?
It varies depending on where you are and what your journey is intended to do. These are Netherlands Schengen Visa countries that need to apply:
Afghanistan, Algeria, Angola, Armenia, Azerbaijan, Bahrain, Bangladesh, Belarus, Belize, Benin, Bhutan, Bolivia, Botswana, Burkina Faso, Burma/Myanmar, Burundi, Cambodia, Cameroon, Cape Verde, Central African Republic, Chad, China, Comoros, Congo, Ivory Coast, Cuba, Democratic Republic Of Congo, Djibouti, Dominican Republic, Ecuador, Egypt, Equatorial Guinea, Eritrea, Ethiopia, Fiji, Gabon, Gambia, Ghana, Guinea, Guinea Bissau, Guyana, Haiti, India, Indonesia, Iran, Iraq, Jamaica, Jordan, Kazakhstan, Kenya, Kuwait, Kyrgyzstan, Laos, Lebanon, Lesotho, Liberia, Libya, Madagascar, Malawi, Maldives, Mali, Mauritania, Mongolia, Morocco, Mozambique, Namibia, Nauru, Nepal, Niger, Nigeria, North Korea, Oman, Pakistan, Papua New Guinea, Philippines, Qatar, Russia, Rwanda, Sao Tome And Principe, Saudi Arabia, Senegal, Sierra Leone, Somalia, South Africa, South Sudan, Sri Lanka, Sudan, Suriname, Swaziland, Syria, Tajikistan, Tanzania, Thailand, Togo, Tunisia, Turkey, Turkmenistan, Uganda, Uzbekistan, Vietnam, Yemen, Zambia, Zimbabwe.
WHAT ARE THE ENTRY ALLOWANCES OF A NETHERLANDS (SCHENGEN) VISA?
You will be allowed a single entry through your selected port of entry. Many temporary visas are single entry which means you can enter the foreign country one time only for your trip. Discover more about the Netherlands Schengen Visa countries.
ONCE ISSUED, HOW LONG DO I HAVE TO USE THE VISA?
Make sure you begin your trip before the visa's expiration date listed on the visa. Use the visa within 180 days after arrival to be sure it is still valid for use. Read about the Netherlands Schengen Visa countries.
WHAT TYPES OF DOCUMENTS AND INFORMATION DO I NEED FOR THE APPLICATION AND INTERVIEW?
Last Page of Passport Scan (if necessary) - Authorities may ask to see if you have enough pages.
Passport Info - At least 3 blank passport pages for stamping and 180 days of validity remaining from the date you plan to land in the Schengen region.
Passport Photo - No black and white passport pictures are permitted. Only colored ones with a white background will be accepted.
Funds Documentation - Bank statements or official bank account information should work. You will also need 30,000 EUR in medical coverage to be eligible.
Onward Ticket - Proof you will leave the Netherlands (Schengen) before your visa expires.
Payment Information - Credit cards work. So does PayPal.
Hotel/Lodging Reservation or Letter from Friend - Give information on where you will stay in the Netherlands or the Schengen region during your trip.
Former Education/Work History (if applicable) - Get an official at your workplace or school to help you with this document.
HOW MANY DAYS DOES IT TAKE TO PROCESS MY NETHERLANDS (SCHENGEN) VISA APPLICATION?
For the application part with iVisa.com, you have three time periods to select from:
Standard Processing: 10 Business Days to complete.
Rush processing: will be finished within 8 Business Days.
Super Rush processing: will be finished within 6 Business Days.
Wherever you find yourself in the world, we at iVisa.com are here to help you have the most stress-free experience with the visa application and the rest of the process.
Have a fantastic journey!