When you plan a trip to Amsterdam, you must plan a visit to the Anne Frank House. This is the place where Anne and her family hid from the Nazis during WWII and where a famous diary was written by this remarkable girl. Her diary has been translated into 51 languages. When you go there, you can see the back of this house has been kept in its original state as much as possible. You must have to book your tickets in advance to see this place and need to apply for a Netherlands ETIAS if you are traveling from any of the sixty-two visa-exempt countries.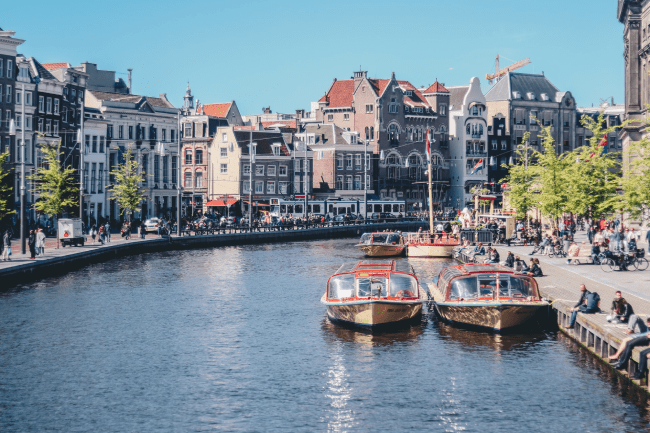 Netherlands ETIAS is an online travel authorization document that has a unique feature of Netherlands ETIAS multiple entry. You can learn more about this document by contacting iVisa.com. We assist our customers in obtaining their travel documents in a jiffy. You just have to fill out an application form that takes only twenty minutes of your time.
Get more information about the features of Netherlands ETIAS like Netherlands ETIAS multiple entry by checking the following FAQs:
Frequently Asked Questions
What is the meaning of Netherlands ETIAS?
ETIAS or Electronic Travel Information and Authorization System is a newly developed travel authorization document that can be applied and obtained online. You don't need to visit the embassy to get Netherlands ETIAS. As per this new rule, every citizen of any of the sixty-two visa-free countries traveling to the Netherlands requires this document to enter the country hassle-free. This document has various advantages such as Netherlands ETIAS multiple entry, and many more.
What do you mean by Netherlands ETIAS multiple entry feature?
When you apply for a Netherlands ETIAS, you can get a maximum validity of 3 years or until your passport is no longer valid. Another important feature of this document is Netherlands ETIAS multiple entry which means that you can enter the country within the period of the validity of your document multiple times. You can extend your stay in the country for a maximum of 90 days within a period of 180 days.
What is the procedure to apply for a Netherlands ETIAS?
When you select our services for obtaining your Netherlands ETIAS, we offer you to complete the procedure in the simplest possible way. You can complete the process while sipping your favorite cup of coffee. This process completes in three easy steps:
First, you have to visit our website and fill out an application form to provide your details.
Second, you have to double-check all the details you have given to avoid any discrepancies.
Third, you have to upload the required documents and submit the form.
Do I need any documents to apply for Netherlands ETIAS?
Yes, you must have a few documents when you apply with iVisa.com. As this document is still not operational, it is not possible to give the exact detail of the documents needed for the application. However, you must have the following documents to get your Netherlands ETIAS and enjoy the Netherlands ETIAS multiple entry feature:
A passport with at least six months of validity from the date of your departure and its scanned copy.
A valid email address to obtain your travel document online.
Payment methods like a PayPal account or a credit/debit card.
Can I get some information about the processing time and cost for the application of Netherlands ETIAS?
Since Netherlands ETIAS is not being implemented yet, we cannot provide you with the exact information about the processing time and cost for this document. However, choosing iVisa.com's services will let you select from the three options of the processing time. The cost of the processing depends on the processing time:
Standard Processing Alternative: Obtain your document in an average time at an affordable cost.
Rush Processing Alternative: Receive your document a couple of days earlier by paying a more expensive cost.
Super Rush Processing Alternative: Get your document urgently for the most expensive cost.
Are iVisa.com's services reliable?
Yes, iVisa.com's services are reliable for getting your Netherlands ETIAS as we have been utilizing advanced systems for securing your data.
What can I do to clear my doubts?
Visiting our website assists you in clearing all your doubts regarding Netherlands ETIAS. Calling or emailing our customer care support is also helpful in getting more info.