Floriade is one of the most anticipated festivals in the Netherlands due to its great initiatives related to sustainability. This garden festival is held every 10 years, so it is highly expected months before it is held. It is also the best opportunity to thank and honor horticulturists from the Netherlands and other parts of the world.
This event is recognized by the Bureau International des Expositions, and thanks to its modern and ecological nature, thousands of visitors enjoy it every year. This celebration was created to appreciate numerous innovations to maintain the environment and promote greener and more eco-sustainable cities. It is a joyful event that you can celebrate on your own or in the company of friends or family.
Keep in mind that you will need a Health Declaration (regardless of your nationality) to enter the Netherlands and enjoy Floriade. Now, you may also need a visa depending on your country of origin, and in that case, we will inform you through iVisa.com. Our services also allow you to apply for the Netherlands Health Declaration in a few minutes and without leaving home!
Continue reading to see when is Floriade held and also how to apply for the Netherlands Health Declaration.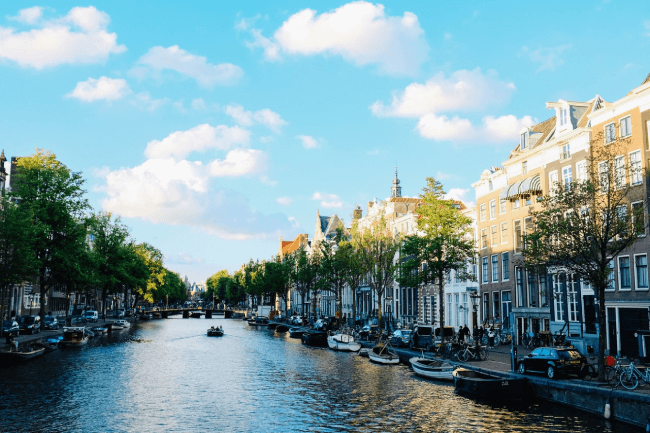 What you need to know about Floriade
What is Floriade?
Floriade is a once-in-a-decade garden festival held in the Netherlands. This colorful festival attracts thousands of tourists from all around the world, which is why it is so famous nowadays.
During Floriade, numerous experts worldwide explain their green solutions to make big cities and towns more sustainable and pleasant. In fact, the number goes up to 400 national and international participants, which shows how important this event is in Europe (and probably the entire world).
When is Floriade?
This garden festival occurs once every 10 years and is held in the Netherlands. The exhibition will make its third appearance of the 21st Century from April 14 to October 2022. Floriade's location will move from Venlo to Almere, a modern "garden city" near Amsterdam that was created on land reclaimed from the sea.
Learn more about this topic: When is Floriade? by reading the lines below.
Traveling to Floriade
Before planning your trip to visit Floriade and enjoy the Netherlands, you must first check that you have the required travel documentation. You will likely need a Netherlands Health Declaration before traveling to the country. but depending on the nationality, you may also need a paper visa.
At iVisa.com, we can assist you to obtain the health declaration easily, and therefore save you some time and effort.
U.S. travelers may also need a negative COVID-19 test result to enter the U.S. again. If you're from the U.S., you can make testing easier by obtaining a eMed self-testing COVID-19 kit online before returning to the U.S. This testing kit is small, light, and easy to take. You can self-test within the 24-hour period before you return to the US and get the results within 15 minutes.
To know when is Floriade, continue reading.
Frequently Asked Questions
Here we will answer some of the most commonly asked questions related to the Health Declaration now that you know when is Floriade held.
What is the Netherlands Health Declaration?
The Health Declaration is an online-based travel document you have to complete to travel to the Netherlands. With this document on hand, government officials can manage the dangers associated with the Coronavirus pandemic.
This health declaration is valid only for 15 days and offers a single entry.
Do you want to know when is Floriade? Read the questions below.
What are the current COVID-19 limitations to travel to the Netherlands?
This information is often changing, which is why we suggest you enter the Netherlands Health Declaration product page to obtain all the newest info on the vaccine, PCR test, and quarantine requirements for travel to the Netherlands.
To see the answer to when is Floriade, please read below.
How to apply for the Health Declaration with iVisa.com?
You only have to fill in an online form with basic information about yourself, so the process is very simple. Besides, we only require you to have the following:
Your valid passport
A digital copy of your passport information page
Your email address
A valid credit or debit card to pay for the fees
In addition to knowing when is Floriade held, you should also know the prices for the health declaration, so read the questions below.
What are the cost/processing times?
We offer three processing options, each with different prices depending on how fast you need your document. These are the options we provide:
Standard Processing Time: -

24 hours

-

USD $25.49

Rush Processing Time: -

8 hours

-

USD $45.99

Super Rush Processing Time: -

4 hours

-

USD $77.99
Learn more about this topic: when is Floriade? by reading the lines below.
How safe is iVisa.com?
Using iVisa.com is safe because we have a modern system that ensures the privacy of the information you offer. No one (except for the corresponding authorities) will have access to your private information. If you have doubts, you can always take a look at our customer reviews page.
Where can I get more information about Floriade?
Make sure to visit iVisa.com to learn more about when is Floriade and the Netherlands! Otherwise, you can always contact our customer service agents to get personal attention.
iVisa.com Recommends
Despite its small size, Holland is a country full of tourist spots that offer you an unforgettable experience. You will find some of them in Amsterdam, the capital city, but keep in mind that there are other cities and towns that you may also find interesting.
You may be surprised to know that this small country has one of the world's most diverse national park programs. The largest is De Hoge Veluwe National Park, located between Arnhem and Apeldoorn. Covering nearly 13,800 acres, this park is the biggest continuous nature reserve in the Netherlands, as well as one of the most popular day-trip destinations.
One of the most beautiful villages in the country is Zuiderzee, especially with the small hamlets along Lake Ijssel (Ijsselmeer). These towns flourished during Amsterdam's Golden Age, and to this day, it remains a must-see when traveling to the Netherlands.
If you prefer historical places, then you cannot forget medieval attractions. For example, in the picturesque Geul Valley, Romantic little Valkenburg is one of the country's only hilltop castles, and you should visit it for sure at least once.
Now that you know some of the Netherlands' most iconic places, why don't you prepare for your adventure by planning your travel documents with iVisa.com? You won't regret it!