Important Notice: The New Zealand ETA is available only for certain countries. iVisa isn't offering the New Zealand Visitor Visa anymore.
One of the benefits of living in this day is that you can use the internet for virtually anything. In this particular case, you can get a New Zealand ETA without going to the embassy. With the help of iVisa, you can get this document in a few minutes, all you have to do is to get some requirements and fill in an easy application form. Nevertheless, the first thing you should do is to check out whether you are eligible or not. You can use iVisa's Visa Checker to confirm this information.
You'll find more details about the New Zealand ETA in the information below.

Frequently Asked Questions / FAQs
What is a New Zealand ETA?
The New Zealand ETA is a document that allows you to enter New Zealand if you're from a visa-exempt territory.
How do I know if I can apply for the New Zealand ETA?
You can verify this information by using iVisa's Checker here. Once you enter this page, pick your nationality on the upper menu and then choose New Zealand as the destination country. You'll be informed at once if you can apply for this ETA or not.
What are the requirements for the New Zealand ETA?
As you can imagine, every applicant has to meet a set of requirements. Even so, iVisa asks the minimum of you so that you have a hassle-free application process. Here is what you need to provide so that iVisa can get the process started:
Passport – in case you opt to apply online for the New Zealand ETA, you need to get a valid passport. If you have it, then be certain it's valid for a minimum of three months from your flying date.

Digital photo – the image has to be as recent as possible and it has to follow the appropriate guidelines to get a passport photograph.

Payment options – iVisa will ask you to make the payment while completing the whole application process. So, use a credit/debit card, or even a PayPal account.

Email – you need to have a valid e-mail address because we'll inform you about your electronic authorization by that email.

Means of sustenance – once you are on the New Zealand territory, you must demonstrate that you can support yourself during your journey.

Return airline ticket – when you get to the airport, you'll be asked to present a return flight ticket to your home country (or a different destination if you are in transit) If you do not have this document, you must prove you that you have the money to buy it.

Proof of good behavior – you have to inform if you were convicted of a felony or served time in prison.
How long can I stay in New Zealand?
This depends on your nationality. Most citizens can stay 90 days Per Entry.
What is the price of the New Zealand ETA?
You might be worried about the price of your ETA, but don't worry, this document is very affordable to your budget. What you need to know is that the cost plus the iVisa's fee is not a fixed one. It is determined by the processing time option you choose for your application during the online process. Basically, the faster you want your ETA, the more you'll have to pay
First of all, the cost of this document is USD $35.75, and this is aside from the fee you have to pay to iVisa.
As for the processing time, you can choose any of these with iVisa:
Standard processing – you get your New Zealand ETA in 24 hours, and you'll need to pay USD $97.74.

Rush processing – your electronic authorizatrion will be ready in 4 hours. All you must pay is USD $149.74.

Super Rush processing – you have to wait only 30 minutes to acquire your ETA. Take into consideration that the cost is expensive. It will cost you USD $212.74.
These fees are based on the US Passport, but it's pretty much the same with other nationalities. If you want to confirm the total price according to your nationality, then we invite you to check this page.
How long is the New Zealand ETA valid for?
You can use this document for 2 years after issued.
How can I apply?
Apart from getting all the requirements, you must also fill in an application form. This is an easy task. It takes you about 20 minutes to do it, and iVisa provides support 24/7 if you need help.
The application form has three steps:
The first one asks you to offer your general information such as name, address, date of birth, passport info, and some details about your trip. You must also choose a processing time.

The second step asks you to revise step number one and make the payment. The revision is important since a single error, as insignificant as it may seem, can make your visa invalid. Double-check the accuracy and spelling.

The last step asks you to upload other documents if necessary. You will be notified exactly what you need. After you are done, send your application, and the document will arrive through email in the period of time you selected.
If you're ready to apply, click here.
What should I do after I finish the application form?
Once you complete your application form, you will get your ETA via email in a PDF document. This document is issued by the New Zealand Government.
How many times can I enter New Zealand with an ETA?
The New Zealand ETA gives you Multiple Entry.
How does the New Zealand ETA look like?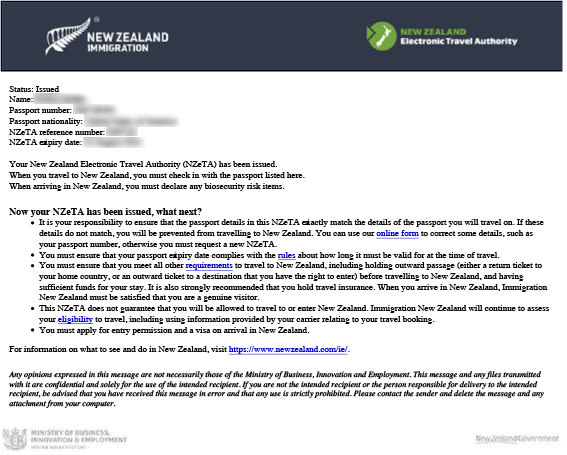 Is it safe to apply with iVisa?
Yes, you can trust iVisa's service. This company works hard every day to offer you the best methods to get a fast and trustworthy document on your hands, including an ETA. We can guarantee that we do not put at risk your personal data.
Where can I read more about it?
We really hope that you find this information very useful. Nevertheless, for further concerns about the New Zealand ETA, just contact iVisa's customer support.
If you want, you can read additional info about the New Zealand ETA here.
Important Note: The New Zealand ETA is available only for certain countries. iVisa isn't offering the New Zealand Visitor Visa anymore.