As claimed by New Zealand's visa policy, the citizens of all European Union countries are exempt from getting a visa if they wish to travel and stay in New Zealand for 3 months or less.
In fact, British citizens are the exception to the rule which states that the nationals of visa waiver countries do not require a visa for a period of 3 months. However, as a British citizen, if you want to stay in New Zealand for more than 6 months, you need to apply for a visa.
What you do need is an ETA, a travel authorization, iVisa can help you apply online so that you can avoid the embassy.

Frequently Asked Questions (FAQs)
What is a New Zealand tourist ETA (electronic travel authority)?
A NZ tourist ETA is an electronic visa waiver that allows you to enter the country multiple times. iVisa helps you step by step to get this ETA. Start your application here
What are the requirements for this NZ ETA?
An online application process does not require many requirements. At least not as many as an embassy! However, when you apply online with iVisa, you must provide some information and some documents. Below you will find a list of everything you need both when you apply, and when you arrive in New Zealand.
Valid passport – British citizens who wish to apply online need to have a passport. Furthermore, you need to make sure that the passport is valid for at least another 6 months from your date of departure from New Zealand.

Digital photo – the photo needs to be as recent as possible and meet all the other guidelines for a passport photo. For example, it needs to be taken against a white background.

Means of payment – iVisa asks that you make the payment while you complete the steps of the application form. You can do that using a credit or a debit card, but you can also pay using PayPal, WeChat, or Alipay.

E-mail address – iVisa sends you the visa via e-mail in PDF format. Do not forget to print a few copies so that you have a couple of spares.

Return flight ticket – when you arrive at the airport, you may be required to show a return flight ticket to your country of origin (or another destination if you are in transit.) If you do not have one, you need to prove that you have the money to buy one.
What processes are included in the application form?
The last requirement you need to go over is the application form. iVisa gives you the opportunity to fill in a form that is easy to comprehend and entirely online. If you need some help with it, the company has an excellent support service that is available 24/7 and free of charge, and you can reach us here.
You need to complete all three steps of the application form.
The first one regards your personal information and the processing time. The latter determines the cost of your visa.

The second step is about payment and revision. Make sure that all the information you provide is spelled correctly.

The last step is about documents upload. iVisa asks you that you give a copy of your passport, a digital photo, and so on. If there are any additional required documents, you will be notified.
After you finish all three steps, you just submit your application and wait for your ETA to arrive in the timeframe of your choice.
What are the processing times and fees?
While applying for an ETA to NZ, iVisa gives you three options for you to choose which one suits you better.
Standard processing – This the option most clients choose because rather than be fast is the cheapest. Your NZ ETA will be ready within 24 hours, but you will be charged only USD 57.00.

Rush processing – do you want it faster? This option is processed in 4 hours. But the fee is higher and you'll pay USD 77.00.

Super Rush processing – If you want it as fast as possible, you might want to choose this option. Your application is processed in only 30 minutes. This option is the most expensive and you will be charged USD 97.00.
How long is the NZ ETA valid for?
This ETA has a validity of 2 years after issued and is a Multiple Entry type, meaning you can enter the country many times but stay with a maximum of 90 days Per Entry.
After obtaining the NZ ETA, am I guarantee the enter to New Zealand?
No. And this is very important! Like any ETA and valid visa, they do not guarantee you the enter to the country. The NZ ETA is not automatic right to enter the country. The Immigration Officer can refuse any person based on his own judgement.
May I see an example of the ETA?
Here it is: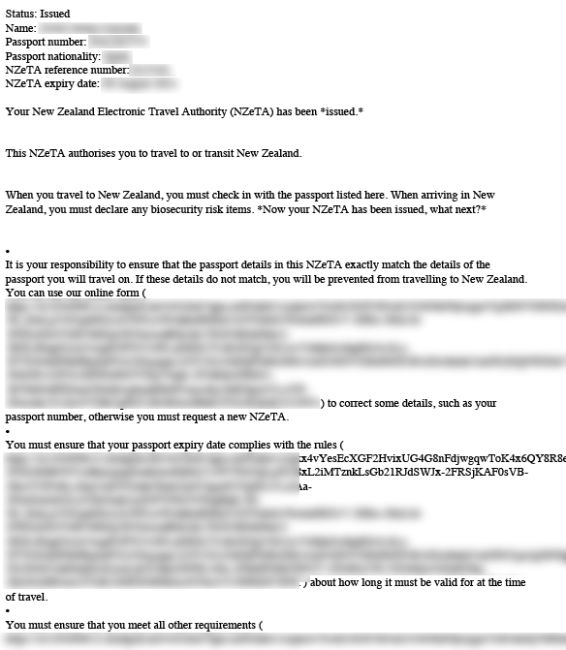 I have more doubts, where can I find more information?
If you have more questions follow this link, but if you still have more doubts, you can reach to our customer service 24/7! Click here to contact us.
As you can notice, getting a New Zealand ETA for British citizens does not present any challenges. And it's even more easy if you put the heavy lifting to iVisa! Put your trust in us and have a wonderful trip!