IMPORTANT NOTE: WE DO NOT OFFER THIS E-VISA AT THE MOMENT, BUT STAY TUNED BECAUSE WE WILL OFFER IT VERY SOON!
Hong Kong is one of the 60 jurisdictions whose citizens could travel to New Zealand without having to apply for a New Zealand visa. However, if you want to spend more than 3 months in the country, you need to obtain a Visitor Visa. With iVisa, online processes are short, and you can have your visa in just a few days.
Frequently Asked Questions
I'm from Hong Kong, do I need a visa to visit New Zealand?
Yes. Hong Kong citizens need a Consular Tourist Visa. Sadly, we do not offer this visa, but we're working hard to offer an electronic version in the future.
Remember that you can always check your eligibility for an e-Visa here. Just write your nationality and the country of destination and the information will unfold in seconds.
What are the requirements?
The New Zealand visa for the citizens of Hong Kong does not come with challenging requirements. iVisa does not ask very much of you. You must, however, provide some information and some documents when you apply. Here is what you need:
Passport – all applicants need to have a valid passport when they apply online. However, you need to make sure that the document keeps its validity for at least another 3 months from your date of departure from New Zealand.

Digital photo – the picture needs to be as recent as possible and meet all the other guidelines for a passport photo.

Payment Options – iVisa requires that you make the payment during the application process. You can do that using a credit or a debit card, but you can also pay using PayPal, Alipay, or WeChat.

E-mail address – iVisa will send you the visa via e-mail in PDF format. Do not forget to print a few copies so that you have a spare or two.

Means of sustenance – once you arrive in New Zealand, you need to prove that you can support yourself during your trip. A bank account statement should be more than enough.

Return flight ticket – when you arrive at the airport, you may be asked to show a return flight ticket to your country of origin (or another destination if you are in transit.) If you do not have one, you need to prove that you have the financial means to purchase one.
One other thing you should probably know is that you are obligated to disclose your criminal recordso you should have one. A criminal record can compel you to apply for a New Zealand visa even if you want to stay less than 3 months inside the country. Special procedures may apply.
What are the processing times and prices for Chinese citizens?
If you apply for your e-Visa with iVisa, you'll be able to choose one of the following:
Standard processing – you can obtain your New Zealand ETA in

24 hours

, and you have to pay

USD 57.00

Rush processing – your eTA will be ready in

4 hours

, but the total price is a bit higher. You must pay

USD 77.00

Super Rush processing – with this option you have to wait just

30 minutes

for your application to be processed. As you can imagine, this is the most expensive choice. You have to pay

USD 97.00

.
Remember that the service fees charged by iVisa are already included. You will be happy to learn that iVisa does not practice hidden charges or surcharges
How can I apply for this eTA?
It is easier for you to fill in the application form after you put together everything you need. And in case you need help, iVisa provides customer support 24/7. The service is free of charge.
The application form has three simple steps:
Step number one consists of personal information and processing time. The first thing is easy to figure out, but you must pay attention to the second one. The processing time you select establishes the cost of your visa.

Step two is about payment and revision. You have to make sure that all your information is correctly spelled and accurate. Otherwise, you may have to repeat the process due to an invalid visa.

The last step is about documents upload. iVisa needs a few documents from you, but you will get a list of everything you need. Once all three steps are complete, just hit the submit button, and you are done.
Do I need to get a New Zealand e-Visa if I travel with my children?
Yes, you have to apply for them separately. Remember that every foreign citizen who wants to travel to New Zealand requires a visa, even children.
How does this eTA look like?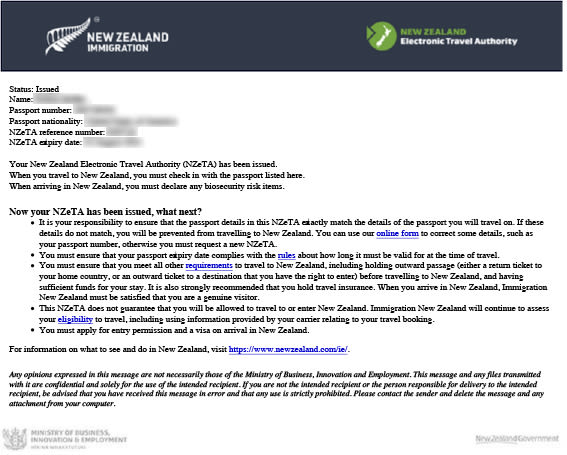 Where can I read more?
If you still have questions about the New Zealand ETA, please do not hesitate to contact iVisa's customer center. You can contact us via online chat or phone 24/7, and it is entirely free of charge.
Don't forget that you can also read more about this ETA here, so don't lose the chance to be informed about this destination.
Needless to say, getting a New Zealand visa for the citizens of Hong Kong does not impose any challenges. The process is short and easy, and iVisa does its best for you to enjoy it. The document you receive is valid for 18 months. You are granted a maximum stay of 9 months.
IMPORTANT NOTE: WE DO NOT OFFER THIS E-VISA AT THE MOMENT, BUT STAY TUNED BECAUSE WE WILL OFFER IT VERY SOON!