IMPORTANT: WE DON'T GIVE THIS EVISA AT THE MOMENT, BUT BE ALERT BECAUSE WE'LL OFFER IT VERY SOON!
Hong Kong is one of the 60 jurisdictions whose citizens could travel to New Zealand without having to request a New Zealand visa. However, if you want to spend more than 3 months in the country, you need to obtain a Visitor Visa. With iVisa, online processes are short, and you can have your visa in just a few days.

Frequently Asked Questions
I'm from Hong Kong, do I have to get a visa to go to New Zealand?
For sure. People from Hong Kong must have a Consular Tourist Visa. Sadly, we do not offer this visa, but we're working hard to offer an electronic version in the future.
Remember that you can verify if you're eligible for an e-Visa here. Just enter your nationality and the country you will go and then you will get the info.
What are the requirements?
iVisa does not ask very much of you. You must, however, provide some information and some documents when you apply. Here is what you need:
Passport – all applicants need to have a valid passport when they apply online. For that, assure that the document remains valid for another three months from your arrival in New Zealand.

Digital picture – the image has to meet all the guidelines to obtain a good passport photo.

Payment Options – you just need to use a credit or debit card, PayPal, Alipay, or WeChat to pay for your request.

Email – insert a proper email to receive your ETA. Remember that you need to have a copy of it.

Means of livelihood – once you are in New Zealand, you have to demonstrate that you can support yourself during your journey. If you provide a bank account statement, it will be sufficient.

Return flight ticket – you'll need to show a return airline ticket to your native country (or different destination if you're in transit.). In case you do not have those documents, you can prove that you have the financial means to buy one.
One other thing you should probably know is that you are obligated to disclose your criminal recordso you should have one. A criminal record can compel you to apply for a New Zealand visa even if you want to stay less than 3 months inside the country.
May I know the procedure times and fees?
If you apply for your e-Visa with iVisa, you'll be able to choose one of the following:
Standard processing – obtain your New Zealand ETA in 24 hours, and pay a total of USD $94.74.

Rush processing – your eTA will be ready in 4 hours. The amount is USD $136.74 in total.

Super Rush processing – wait only 30 minutes to get your electronic visa. All you have to pay is USD $183.74. It includes service fee.
How can I apply for this electronic visa?
It is easier for you to fill out the application form after you put together everything you need. And in case you need help, iVisa provides customer support 24/7. The service is free of charge.
The application form has three simple steps:
Step number one consists of personal information and processing time. The first thing is easy to figure out, but you must pay attention to the second one. The processing time you select establishes the cost of your visa.

Step two is about payment and revision. You have to make sure that all your information is correctly spelled and accurate. Otherwise, you may have to repeat the process due to an invalid visa.

The last step is about uploading documents. iVisa needs a few documents from you, but you will get a list of everything you need. Once all three steps are complete, just hit the submit button, and you are done.
Do I need to get a New Zealand e-Visa if I travel with my children?
In that case, you have to apply for them separately. Remember that every traveler who plans to visit New Zealand will need a visa, even children.
How does this eTA look like?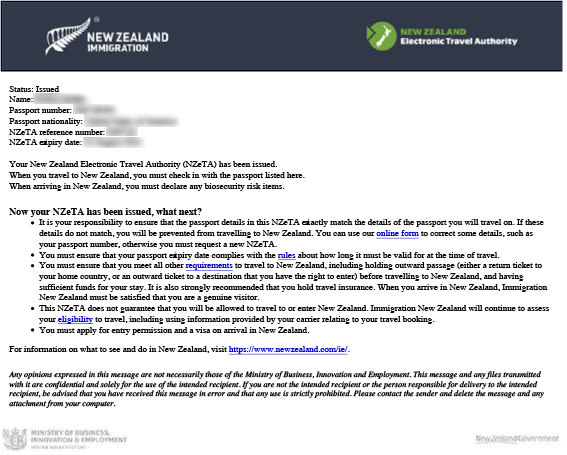 Are there other ways to find more info?
If you want to talk with one of our operators about the New Zealand ETA, just enter here.
On the other hand, obtain additional details about this ETA here. Don't lose the opportunity to be informed about this wonderful country.
Needless to say, getting a New Zealand visa for the citizens of Hong Kong does not impose any challenges. The process is short and easy, and iVisa does its best for you to enjoy it. The document you receive is valid for 18 months. You are granted a maximum stay of 9 months.
NOTE: WE DON'T PROVIDE THIS E-VISA AT THE MOMENT, BUT BE ALERT BECAUSE WE WILL GIVE IT VERY SOON!